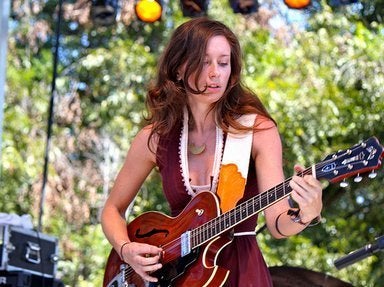 Lera Lynn has a penchant for writing, though it might not be what one would expect from an Americana artist who was born in Houston, grew up listening to George Jones, Ray Price and Conway Twitty, and trades text messages with R.E.M.'s Mike Mills.
Encouraged by her Southern parents to go to college and get a degree, Lynn did just that at age 19, enrolling at the University of Georgia, where she majored in anthropology.
"I remember my dad saying, 'What? Anthropology? Why? Study business,'" said Lynn on October 13, about 24 hours before making her first appearance at the 2012 Austin City Limits Music Festival.
Though business might have come in handy for someone who today admits she is "the epitome of DIY here -- do-it-yourself label, do-it-yourself publicity, do-it-yourself management," Lynn (right) went down a scientific path simply because, "I like writing. And anthropology is so inspiring and it's mostly researching and writing and I really enjoy that. Papers about mandibular evolution."
The development of the jaw from back in the day hasn't worked its way into song yet, but give Lera Lynn time. While the woman with the golden pipes who plays acoustic and electric guitars is versatile enough to handle ballads ("Whiskey") and blasters ("Good Hearted Man") in folk, country and rock, she's a throwback to musicians who also knew how to turn a phrase. Having already covered the June Carter-penned "Ring of Fire" and Leonard Cohen's "I Tried to Leave You," her goal is to make a tribute-type record that includes more of the good ol' stuff.
But before that happens, she stands in a long line of earnest artists who have to work extremely hard just to make a living.
Lynn made the 14-hour drive from Athens, Georgia to Austin just to appear with three bandmates for a one-hour slot in the midday heat on the BMI stage, one of the smallest among the eight dotted throughout the festival. Competing during that time on the last day with local blues favorite Gary Clark Jr. and the Bear and Bo Rinehart-fronted NEEDTOBREATHE on opposite sides of Zilker Park, Lynn attracted a modest but enthusiastic crowd that enjoyed a nice respite from the heat provided by two large shade trees.
Though she has experienced the madness of Austin with South By Southwest appearances the past two years, Lynn made the most of this visit to get out from under the radar. Have You Met Lera Lynn? is the name of her dynamic debut album, and she wants more and more people to answer that rhetorical question in the affirmative.
As soon as she arrived for the three-day weekend, Lynn spent five hours conducting interviews in the media tent and was back on Saturday and again after her Sunday appearance.
Lynn's only disappointment about the festival was missing several top-notch acts while she worked to promote her music. In a subsequent email after the event, the confident performer who appeared at the Cambridge Folk Festival and Secret Garden Party in England this summer was pleased how her 60 minutes of ACL fame went, calling the experience "a great resumé builder."
She did find time to enjoy the Whigs, her friends from Athens who played "a rockin' set to such a big, enthusiastic crowd" on Saturday, and caught glimpses of Kimbra walking by and Father John Misty while waiting in the drink line.
During our Saturday interview in the cool Austin Convention and Visitors Bureau Airstream trailer, Lynn revealed the whereabouts of her band members -- Ben Lewis (lead guitar, right), Ben Wills (bass) and drummer C.k. Koch, an engineer/producer who made Have You Met Lera Lynn? the first release for the Slow Records indie label in March 2011.
"They're all here," she said, quickly adding, "Well, they're not here. I think they've been sleeping off their hangovers."
Before heading to Austin, the foursome spent a week rehearsing in Athens, which was Lynn's home since college until she decided to make the big move to Nashville just recently as part of her expansion plan.
It was only a few years ago when, as a waiter and bartender at Trappeze Pub in Athens, Lynn met Atlanta entertainment attorney David Prasse, whom she considers to be "a great mentor" responsible for "pushing me and trying to put me in front of people in the biz."
She was in a band called Birds and Wire before teaming with Koch (left). "We just started recording sort of as an experiment," Lynn said. "See how we worked together and just to record for fun, basically. We did two songs, and then did a couple more and before we knew it, we had an album worth of songs and decided to just release them. ... He gave me a lot of creative liberty in the studio. I said, 'I want to put a socket wrench on this song,' and he's like, 'OK, I'll set up the mic.' "
Assisted by only a couple of other musicians, including drummer Marlon Patton and bassist Robby Handley, Lynn added her own harmonies -- "that's kind of my thing," she said -- and with Koch essentially did all the rest in the studio at Slow Records, located in a renovated barn in downtown Athens.
Demos for Lynn's follow-up album have been completed, but she's still writing more songs and laughs when asked about the status of the still-unnamed record.
"I don't know if we'll do a second round of demo-ing," she said. "I don't really favor that process. I feel like it sort of just drains the inspiration out of you. Over and over again is just kind of beating a dead horse. ... You know there's a fine balance between pre-production and not milking all the energy out of it."
Remembering even as a little girl that "Joni Mitchell was lyrically unlike anyone I'd ever heard," Lynn was inspired to eventually become a more illustrative songwriter. For a budding artist, though, there are compromises to make.
Lynn (at right with touring bassist Ben Wills) promises that this new record won't take a big leap from the first one as she tries to make her music more accessible. "I used to write overly complicated songs and I toned that down a little bit," she said.
"I think when you're trying to build an audience from scratch, it's gotta be easy to swallow, easy to remember," said Lynn, who took voice lessons and coaching from her mother Lyn Bowles, a onetime aspiring singer who's now a dental assistant. "And then once you start to gain fans, you have a little more liberty to do some more creative things, I guess."
So in search of a prominent label and producer, Lynn is leaving Athens behind, despite becoming a member of a tight-knit musical company. They included Mills, her R.E.M. acquaintance and text buddy, Hope for Agoldensummer's Claire Campbell and Patterson Hood, the Drive-By Truckers frontman who got them and others involved in his Downtown 13 project that recorded "After It's Gone" in protest of a Walmart going up in the heart of Athens.
"You know just traveling a lot, I think, whenever you get home to a small town, sometimes you can feel a little restless," Lynn said, perhaps inheriting that wanderlust from her parents, who moved from Houston to Shreveport, Louisiana to various places around Atlanta while their only child was growing up. "You just want to be challenged a little more and expand your network a little more. Spending 10 years in a small town, you know it's ... how do I put this delicately. (laughs) It has its benefits, obviously. Athens has a real strong sense of community, but it's a very small community so ... I just want to expand it a little bit."
Besides, Lynn declares she hasn't used her anthropology degree "a single day of my life."
Why would she? Putting the pen to more personal use, the songwriting is on the wall. There's certainly no reason to change the subject now.
Popular in the Community