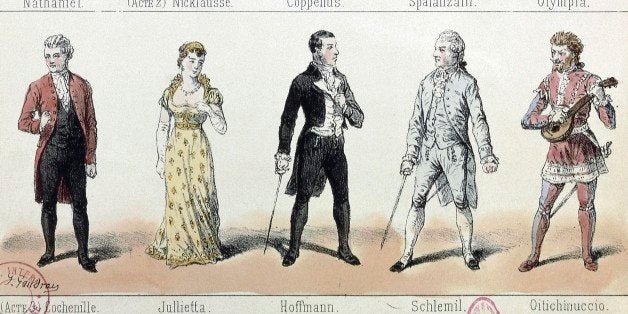 As always with James Levine in the pit, a night at the opera is something special, and the Metropolitan Opera's second round of performances of Offenbach's Les Contes d'Hoffmann with a new cast led by the tenor Matthew Polenzani is no exception.
When the Met returned Offenbach's last opera to the stage in January it had a top-notch cast singing under the able baton of the Canadian conductor Yves Abel. For the last six of the dozen scheduled performances this season, however, the Met has a new line-up of principles and Levine bringing that indefinable little bit more that makes an opera outing memorable.
Polenzani has been one of the Met's go-to tenors for nearly 20 years and he delivers an emotionally charged reading of the title role. He has a rich tenor voice that easily reaches the high notes the score demands and conveys the tortured self-loathing that consumes Hoffmann as he recounts the tales of his past loves. In Polenzani's hands, Hoffmann becomes at once more reckless, more angry, and more desolate, and his third-act aria "O Dieu! de quelle ivresse" is a defining moment.
The French mezzo Karine Deshayes brings a bigger voice and a more commanding presence to the trouser role of Hoffmann's muse and friend Nicklausse. In Deshayes' hands there is never any doubt who is control of Hoffmann's fate, and her Act 2 aria "Vois sous l'archet fremissant" is poignant.
As Hoffmann's parade of nemeses, the French baritone Laurent Naouri is more fearsomely Mephistophelian in all four roles of Lindorf, Coppelius, Dr. Miracle and Dapertutto. He has a strong yet luxuriant voice that is dominating, and his Act 3 aria "Scintille, diamant" sparkles like the diamond he barters for Hoffmann's reflection.
The trio of Hoffmann's love interests in the new cast are no less strong. The soprano Audrey Luna admirably tosses off the run of high notes in "Les oiseaux dans la charmille" as the wind-up doll Olympia, while Susanna Phillips is tender and touching as Antonia, especially in her heartbreaking "Elle a fuit." The Russian mezzo Elena Maximova, in only her second Met appearance, is voluptuous as the courtesan Giulietta and shines with Deshayes in the famous third-act barcarolle.
Bartlett Sher's production is always a marvel to behold, from Luther's tavern in Germany to Spalanzani's toy factory in Paris to a courtesan's palazzo that could be the Venice branch of Plato's Retreat with its bevy of live mannequins in nothing but G-strings and pasties. And along the way there are delightful touches including a floating violin, gondolas, and dancing clowns, ogres and historic figures.
But it is the mastery of Levine, who has been conducting this opera for 35 years and understands the score better than anyone, and the brilliant playing of the Met orchestra and the singing of its chorus that makes these last performances of Offenbach's masterwork an exceptional event.
Calling all HuffPost superfans!
Sign up for membership to become a founding member and help shape HuffPost's next chapter