Now that Alex Timbers is a big Broadway director and also the co-creator/writer of an Amazon series (Mozart in the Jungle), I was afraid we wouldn't see much from his theater company, Les Freres Corbusier. But not so! Les Freres is back with a tribute to, or a roast of, our nation's 31st president, Herbert Hoover. I've seen the majority of Les Freres' past works, from Dance Dance Revolution to Heddatron to, my favorite, A Very Merry Unauthorized Children's Scientology Pageant. My friend and I loved A Very Merry Unauthorized Children's Scientology Pageant so much. She gave birth on October 29 and, a few days later, I asked her what the baby was for Halloween. She replied: "How about he wore this tunic that is reminiscent of a costume in our favorite Scientology pageant?" I seriously can't believe it doesn't come back every season, but, moving on.
Les Freres is back to its roots, off-off-Broadway, with a special workshop production of Here's Hoover! The Historic Herbert Hoover 2014 Comeback Special, written by Sean Cunningham, with songs by Michael Friedman (Broadway's Bloody, Bloody Andrew Jackson with Timbers) and directed by Timbers. The piece--running at the Abrons Arts Center through December 21--is inspired by Elvis Presley's iconic 1968 Comeback Special, except its starring Hoover. He doesn't have the same sideburns, but he is desperate to reclaim his relevance, politically and culturally. Who doesn't want to see a Herbert Hoover concert spectacular? But -- who thought of it? And why?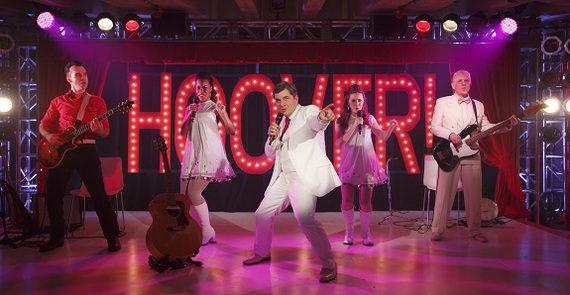 I posed some questions to the creatives behind the hysterical piece:
Q: When did you start working on the show?

Timbers: The show began life about 8 or 9 years ago.
Cunningham: I believe it was 9 years ago now: Alex and I had an evening when we went out for drinks and came up with 4 possible shows concepts. 2 were forgotten almost immediately, 1 received a reading at Ars Nova and stalled out, and the last reached Michael Friedman and became Here's Hoover.
Friedman: I got involved right before we did some development work in La Jolla. I had done three shows with Sean, and Bloody Bloody Andrew Jackson with Alex.
Q: Why Hoover? What sparked the interest in him specifically?
Timbers: Les Freres has always been interested in legacy and the reappraisal of historical figures. In part, what sparked us to Hoover was that he was one of the few Presidents of the 20th century that hasn't undergone a major reexamination by historians.
Hoover also lived for quite a long time once he was out of office. It seemed like an intriguing question to wonder what it would be like to have your political life defined so clearly by a single historical event and a perceived reaction to said event--and then live out the remainder of your life knowing your legacy has been defined and not being able to do anything to alter it.
Cunningham: We were fascinated by the fact this was a genuinely extraordinary man - an orphan from Iowa who became a globetrotting mining millionaire by 27 and then headed massive humanitarian efforts during World War I - who is remembered now for the only part of his life that didn't go amazingly well. Throw in that he died at 90, having survived for 31 years after leaving the presidency and another 20 after the death of his beloved wife of 45 years, and we thought, "This is a little more interesting than Gerald Ford." Not to knock Jerry.

Q: What do you think constitutes a failed vs. successful presidency? Were you thinking of that when working on this show?
Timbers: One of the key qualities to being a successful politician is one's ability to connect emotionally with your constituents. A lot of historians view Hoover's greatest flaw as his inability to communicate effectively his empathy for the American public. But one looks at Carter's "crisis of confidence" speech and can make a case that too much empathy repels. So it's a question we thought would be ripe to explore.
Cunningham: That is an extremely interesting and virtually impossible to answer question! I think it's a mix of:
1. Undeniably great achievements: Keeping America unified during a Civil War like Lincoln or desegregating the military like Truman are feats that only become more worth celebrating with each passing year. Presidents like Rutherford B. Hayes don't have a whole lot of these.
2. Inspiring or dispiriting the nation: Clearly some leaders - say, George Washington or JFK - made Americans think, "Anything is possible." And others - thinking Andrew Johnson and Nixon - made Americans muse, "What's the point of even trying?"
These two criteria are often (but not always) connected, which is something I think infuriated Hoover both during his term and in the years to come.
Friedman: I think after [Bloody Bloody Andrew Jackson], which was about an apparently successful presidency that history has increasingly judged a disaster, in terms of economics, human rights, it was interesting to look at a presidency that ended in apparent failure, but which history hasn't yet made its final judgment on. I don't tend to agree with Hoover more than with Jackson, but his failure doesn't really have anything to do with the things I disagree with.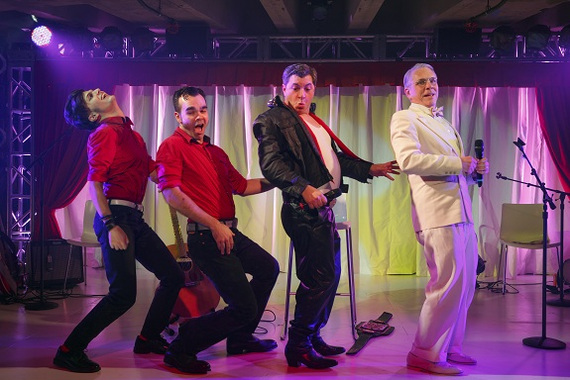 Q: Who came up with the Elvis conceit? How did that person/people come up with it?
Timbers: Sean Cunningham and Michael Friedman are responsible for all the brilliant dialogue and songs in the show and the realization of the situation and these fantastic characters, but the crude premise of the show stems from my fascination with the 1968 Elvis special.
I loved a few things about it:
1. The idea of having the self-awareness of one's own career arc to call your concert a "comeback" special (whether this was Elvis' idea, the producer's, or whomever).
2.The wild emotional intimacy that Elvis had with the concert attendees and his ability to break the "fourth wall" without any sense of artifice.
3. And, finally, from a purely directorial perspective, Elvis had a thrust stage set up with girls surrounding him and fawning, seated on pillows. Simultaneously though, Elvis had this quite gruff and playful relationship with his older, male instrumentalists that seemed so casual that it almost had no interest or regard for the surrounding audience at all.
The set up of all this was a precursor to the later Unplugged and Storytellers series--and just had an informality and general strangeness that seemed worth exploring. Eventually pageantry and pop instincts kicked in on the Elvis special, with costume changes, back up singers, and enormous light up signs--but the first gesture of the special was truly idiosyncratic and borderline bizarre.
We wanted to honor all those elements--the pillows, the muttering ax men, the leather jumpsuits, and lightbulb billboards--as well as the rockabilly sound, and we thought: who is more ripe for a comeback than Herbert Hoover? So that's where the idea came to be of mashing up the peculiar idiom of the Elvis special and the specific historical figure of our 31st President.
Cunningham: I'd also been obsessed by the Elvis '68 Special - when I was working at the sadly unlaunched magazine Maxim for Kids many years ago I remember going on my lunch break to Times Square to buy the DVD set at the then-existent Virgin Megastore - and I thought there was something wonderful about someone as practical as Herbert Hoover deciding he needed to connect with people on a more emotional level and stumbling upon footage of The King and thinking, "I shall do that," as if overpowering sexual charisma comes with a handy on and off switch.
Friedman: I mean, Elvis. What's not to love?
All photos © Joan Marcus. Damian Baldet (Herbert Hoover), James Barry (Scotty), Alex Boniello (DJ), Erica Dorfler (Lucille), James Nathan Hopkins (Wallace), Talene Monahon (Sheila), and Lawrence Tobias (Harry S. Truman) star.
REAL LIFE. REAL NEWS. REAL VOICES.
Help us tell more of the stories that matter from voices that too often remain unheard.