SEOUL, Feb 8 (Reuters) - South Korean military conscripts may have dreamed a dream of defending the homeland, but their life is one of snow shovelling and thwarted love - at least in a parody of "Les Miserables" starring real airmen that has become an Internet hit.
The opera-style video "Les Militarables" was made by 80 conscripts for $900 and has garnered over a million views in three days, raising hopes it could be on the way to a repeat of rapper Psy's "Gangnam Style" blockbuster hit.
In the opening scene, a group of young airmen shovel snow to music from the Claude-Michel Schonberg adaptation of Victor Hugo's novel, singing "Dig down, dig down, raise your shovels high" to the tune of "Work Song".
"There is no end to this accursed snow. Dig down, you still have two years service to go," they chant, referring to their national service stint with the air force.
South Korean men serve for 21 months minimum in the army and longer in the air force as part of mandatory military service in a nation shadowed by the threat of North Korea.
During that time, they are cut off from their families and friends for months on end. They are not even allowed to use smartphones despite living in the most wired nation on earth.
The parody tells the story of hapless conscript Jean Valjean, or "Airman 24601," who because of the shovelling, manages to spend only 10 minutes with his visiting girlfriend Cosette. She dumps him - the fate, his comrades assure him, of any military man.
Besides the take-off of "Work Song," the parody features versions of "I Dreamed a Dream" and "Red and Black."
"Snow removal is like a black hole. There's no start and no end of it," said Lieutenant Chung Da-hoon, 25, who directed the video and was a film student before being called up.
Inspiration came as he and a fellow conscript began singing a song from "Les Mis" after seeing the movie, he told Reuters.
"We thought we could get sympathy from all Korean men and women who have brothers or sons. But we didn't expect the response from overseas," he said.
The three main characters in the video are members of the air force band. The sergeant playing Valjean was a college freshman studying opera when he was called up, while his heartless commanding officer, Javert, majored in opera.
The video has struck a chord not only with the young Korean men who have to serve in the 600,000 strong armed forces - and for whom autumn means shovelling leaves and winter shovelling snow - but also celebrities like actor Russell Crowe, who starred in the Oscar-nominated movie version of "Les Miserables" and retweeted a link to the video. (Editing by David Chance and Elaine Lies)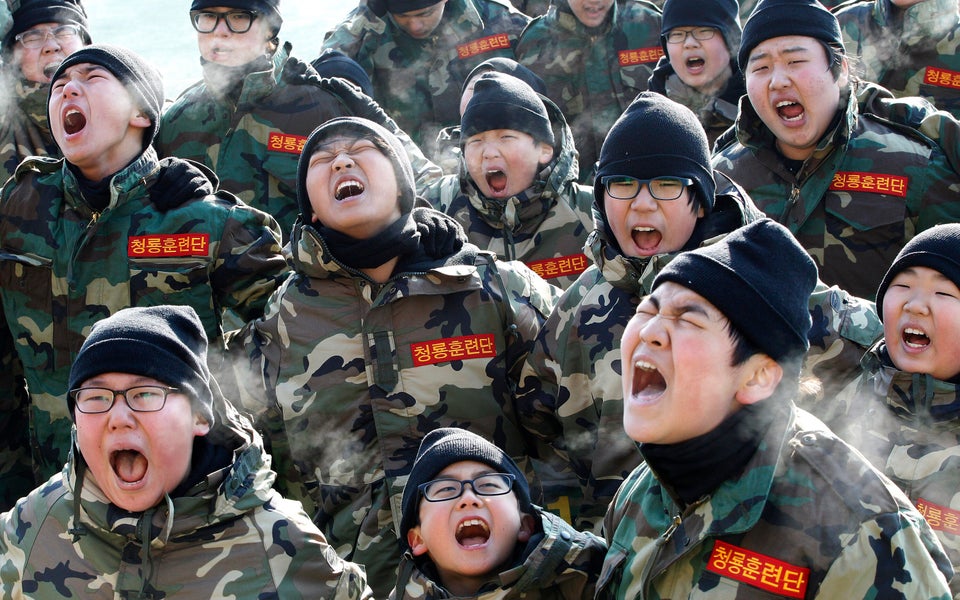 Winter Boot Camp For South Korean Kids
Popular in the Community