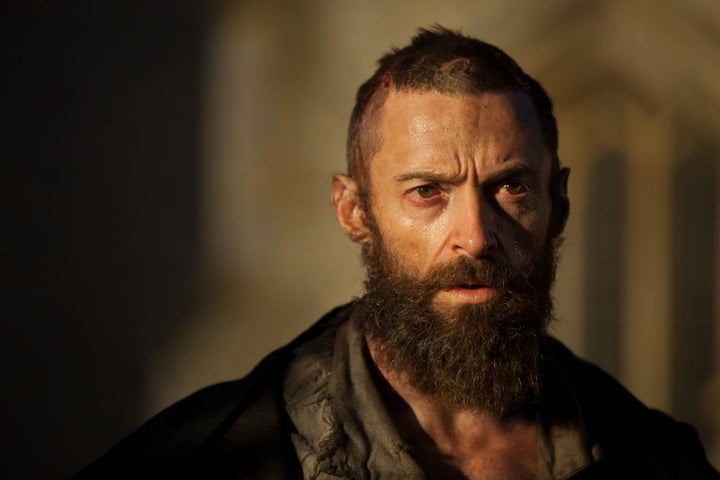 Welcome to For Your Consideration, HuffPost Entertainment's weekly breakdown of all things Oscar. Between now and Feb. 25, 2013, executive arts and entertainment editor Michael Hogan and entertainment editor Christopher Rosen will chat about awards season and which films will make the most noise at the 85th annual Academy Awards.
Rosen: As the great Lane Brown might exclaim: Boom! The Thanksgiving holiday brought more than just another belt loop to the table: "Les Miserables" and "Zero Dark Thirty" both screened for media elites and guild members in New York and Los Angeles, putting two of Oscar season's biggest question marks into clear focus.
We're not allowed to review "Les Miserables" yet, but nothing in the film made me question its standing as a likely double-digit Oscar nominee. Nominations for Best Picture, Best Director, Best Adapted Screenplay, Best Cinematography, Best Art Direction, Best Costumes and Best Original Song are a fait accompli, with Anne Hathaway acting as this year's Octavia Spencer: She's the runaway Best Supporting Actress winner, meaning Amy Adams, Sally Field, Helen Hunt and whoever occupies the fifth slot in the category (my current hunch: "Les Mis" co-star Samantha Barks, with "Zero Dark Thirty" co-star Jennifer Ehle and "Silver Linings Playbook" co-star Jacki Weaver running close behind) can stay home on Feb. 25.
For me, the big surprise in "Les Miserables" was Hugh Jackman. While I definitely didn't love the film as much as you -- again, not a review -- Jackman was a force as Jean Valjean. It's really a perfect role for his talents: Valjean is physically imposing, yet graceful, charming, yet brusque, and sings all the time, meaning Jackman can show off his incredible voice. Jackman does heavy lifting in "Les Miserables," sometimes literally, and he's definitely in the top-five for Best Actor. Who does he push out? Not Daniel Day-Lewis, Denzel Washington or John Hawkes, so that leaves Bradley Cooper and Joaquin Phoenix as the vulnerable ones. Call me crazy, but I think it's Phoenix who gets left out -- occupying the "OMG HOW DID HE GET SNUBBED?" space that Michael Fassbender purchased real estate in last year.
Back to "Les Mis": Is it the new Best Picture front-runner? I'm not so sure. While "Les Mis" and "Lincoln" have gotten a lot of deserved heat in the last two weeks, it's "Argo" that remains atop the list in my eyes. Ben Affleck's film has done nothing to lose its standing as a front-runner and is still the most down-the-middle crowd-pleaser of the bunch. All those reasons we loved "Argo" as Best Picture back in October -- the comeback narrative, the love-letter to Hollywood, the box-office success -- still hold. "Les Miserables" and "Lincoln" will have vocal supporters, but equally vocal naysayers. That gets each film a Best Pic nomination, but not the win. In the end, I think it's "Argo" that becomes the consensus choice.
Which is too bad for "Zero Dark Thirty." We can review that one, and I have no trouble in saying it is, by far, the best movie I've seen in 2012. Kathryn Bigelow's "Hurt Locker" follow-up is superior in almost every way to that Best Picture winner, and it makes Jessica Chastain and Jason Clarke legitimate movie stars. (Jason Clarke's Oscar campaign starts here, by the way. He's like Jeremy Renner, if Jeremy Renner was interesting.) "Zero Dark Thirty" is an amazing achievement, and it has no chance at winning Best Picture. I feel bad writing that -- I'm obviously not giving the AMPAS any credit -- but if "The Social Network" and "There Will Be Blood" didn't win Best Picture, I don't necessarily see how "Zero Dark Thirty" can, especially when the similar-in-theme "Argo" is just hanging out with its $100 million gross and Hollywood flash. "ZDT" is too clinical and, well, too awesome to win Best Picture. It'll get a slew of nominations (Best Picture, Best Director, Best Original Screenplay, Best Actress, Best Cinematography, Best Editing and maybe Best Score), but, except for Mark Boal's script, I think it gets shutdown on Oscar night. Prove me wrong, AMPAS, and make me the happiest.
Hogan: Hey Chris, this has to rank as one of your all-time greatest long weekends, no? You got to see two long-awaited Oscar hopefuls, "Les Miserables" and "Zero Dark Thirty," and ... something else happened, didn't it? What was it again? OH, THAT'S RIGHT, YOU GOT ENGAGED! Congrats, dude! (Readers, please take note: Chris and his fiancée celebrated that night by watching "Les Mis" at Lincoln Center. Is this guy committed or what?)
As Mike Ryan, who sat next to me at both screenings, has already written, our audience for "Les Mis" was extremely jacked-up. At one point during the post-screening Q&A, Anne Hathaway's mom (who once played Anne's character, Fantine, in a touring version of the stage production) stood up to wave, and I wouldn't have been surprised if there weren't a few hundred other friends and family members in that audience. They were cheering during dour Tom Hooper's opening remarks -- and practically roared when he told us we'd be the first people anywhere to see the final version. And you've already heard about the Standing O it got. But let's not lose sight of one important fact: that was an Academy of Motion Picture Arts and Sciences screening, so at least some of those people were real live Oscar voters. And they were supremely happy to be there.
I agree with your assessment of the film's Oscar chances: Hathaway is a lock, even though I don't understand why she had to sing with a British accent (her character's French!), and so is Jackman, though I think Cooper gets bumped before Phoenix. I also think Eddie Redmayne has a better chance than Sacha Baron Cohen of crashing the crowded Best Supporting Actor party.
Meanwhile, though I didn't love "Zero Dark Thirty" quite as much as you did, I agree with you that it's an excellent, excellent film with limited Oscar potential. Jessica Chastain will be nominated but won't win. Best Actress winners must cry early and often, and they must have at least one scene where they unload on someone in a sobbing, cathartic, love-drenched fury. Her character may be fiery on the inside, but her stone-cold exterior will hurt her in this tradition-bound contest. Also, with the image of sexagenarian Oscar voters fresh in my mind after Friday's "Les Mis" screening, I really can't imagine being in a room with them as Jason Clarke waterboards Khalid Sheikh Mohammed's nephew to within an inch of his life. It would be like watching "Faces of Death" with your grandma.
That said, the final act, chronicling the raid on Bin Laden's compound, is one of the greatest things I've ever seen. It's enough to guarantee a nomination for Best Picture and, I think, Best Director. And Mark Boal's innovative melding of investigative journalism and screenwriting should certainly earn him a nod, if not a win.
I hear what you're saying about "Argo," but at the end of the day I'm not sure I'm convinced. At this point, it looks to be like "Lincoln" and "Les Mis" will have far more nominations. "Argo" will have only one acting nod -- maybe not even one, if Arkin gets squeezed out of the Best Supporting Actor category. And does the Academy really reward crowd-pleasers? At the end of the day, don't they get a bit grand about celebrating the art of fine filmmaking?
Also, now that I know Jessica Chastain is not going to go the distance, do I really have to give up and accept Jennifer Lawrence as my Best Actress favorite? Any chance Naomi Watts can save the day here? (Love you, J.Law, but it just ain't an Oscar movie.)
Rosen: Ha, thank you, Mike. If "Les Miserables" and "Zero Dark Thirty" were "booms," getting engaged was a "BOOM!" Oscar season never rests, however! (OK, it does, but for the sake of this discussion, let's pretend it doesn't.)
Before we dive into the meat of this debate, let's recap Best Actress once again: Lawrence is wonderful, but the movie is really Cooper's to run with. If it was a busier lead actress year, you can imagine TWC running J.Law as a Best Supporting Actress candidate and getting her the win. So, maybe Watts does sneak in and pull out the victory. Or maybe Riva does. Or Wallis does. Why not, at this point? Better yet: Can Viola Davis run again in 2013 for "The Help"?
Anyway. Of all the "Argo" vs. "Lincoln" vs. "Les Miserables" arguments, you may have hit on the one rub I have neglected to consider: the actors' branch. In September, we were all drunk on the idea that Arkin and maybe John Goodman could earn "Argo" nominations as supporting actors and that even Ben Affleck might get considered for lead actor. The sober light of November, however, reveals a decidedly different scenario: Goodman is better and more Oscar-y in "Flight," Arkin might get bowled over by the slew of strong actors, performances and narratives in the Best Supporting Actor category (biggest guffaw of Oscar season 2012 so far: Dave Karger calling Best Supporting Actor weak), and Affleck is barely on the top-15 list for Best Actor. Meanwhile, "Lincoln" and "Les Miserables" are acting showcases.
Before I turn into a member of Team "Les Mis" (one day more, right?), let me remind you that the Academy does reward crowd-pleasers: "The Artist," "The King's Speech," "Slumdog Millionaire," "The Departed," "Crash," "Lord of the Rings: Return of the King," "Gladiator" ... the list goes on and on. (Alternate: Are you not entertained?) And while "Les Miserables" is pleasing and ends with a rousing finale, it's also jet-black depressing with a high amount of tragedy. "Lincoln" is thoughtful and smart and wonderful, but not necessarily emotional. "Argo," meanwhile, is a stand-up-and-cheer production. We both saw "Les Miserables" with a crowd pre-programmed to applaud; "Argo" gets applause from actual ticket-buyers. (The screening I saw it at, a mix of media members and regular folk, was met with applause, and I don't think that was an isolated incident.) Plus, to continue to give as little credit as possible to the Academy, do we really think an old Oscar voter is going to pick the all-singing spectacle of "Les Miserables" over Arkin's gruff Hollywood-speak in "Argo"?
One last "Argo" vs. "Lincoln" vs. "Les Miserables" note: Can we imagine a scenario where one of them wins Best Picture and another wins Best Director? Like "Les Miserables" and Ben Affleck, or "Argo" and Steven Spielberg?
Hogan: Not only can I imagine that but I'm actually predicting it. Right now, I have "Lincoln" as my Best Picture pick and Tom Hooper as Best Director for "Les Misérables." My reasoning is this: Hooper will get credit for taming the wild beast that is the three-hour stage version of "Les Mis" and for leaving enough space for really moving performances, enabled by his bold decision to record all the singing live. But the pig still grunts from time to time. (I know you ran to the novel's Wikipedia page for info to pour into its plot holes, and you're one of the more observant people I know.) "Lincoln" is just a glorious cinematic accomplishment, with acting, writing, directing and design of the highest possible order. And yes, I saw it with civilians (OK, semi-civilians -- this was at the industry-friendly ArcLight, in L.A.) and my audience gave it a hearty round of applause.
Speaking of new predictions, "The Master" has slid out of almost every category for me -- I'm standing by Joaquin and still pulling for Philip Seymour Hoffman, but I no longer think P.T. Anderson will be nominated, and I no longer think the script will win Best Original Screenplay. Not with Mark Boal ("Zero Dark Thirty") and perhaps Quentin Tarantino ("Django Unchained") clinging to the inside lanes.
Back in September, when The Weinstein Company was busy unveiling both films at the Toronto International Film Festival, I don't think there's a person alive who would have predicted that "Silver Linings Playbook" would be enjoying this much momentum while "The Master" would be this stalled. Unless Harvey knew -- and has been playing us all along!
Popular in the Community