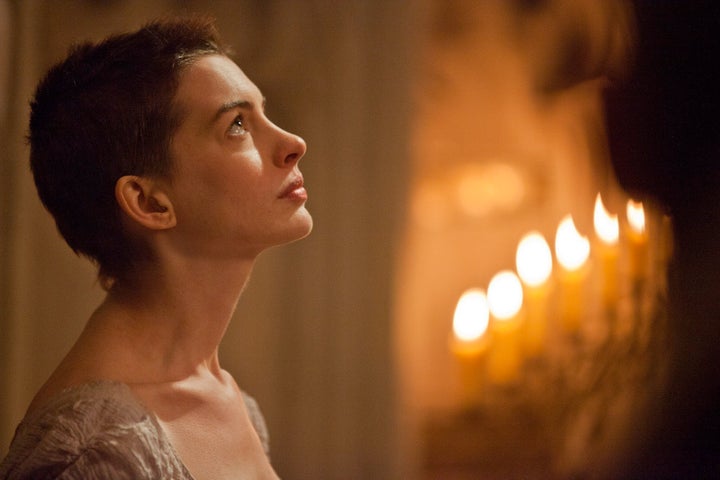 We were under the covers my little man and I, nestled together in the narrow hospital bed. He wanted to sing through the night, and he chose that song, so, we sang. We kept our voices just low enough not to wake the others in the pediatric ICU, and just loud enough to block out the beeps and the fears. His head on my shoulder, his tiny hand in mine, we sang. Only one of us knew the whole of what the lyrics meant.
Lives have soundtracks. "Les Miz" is ours. It is shared by our whole family, but mostly by Evan and me. He first heard the music when he was four and my parents happened to tape the 10th anniversary that aired on PBS. As four-year-olds are fond of doing, he played it over and over and over and over again -- so many times that the VHS tape wore through and started showing us patches of the Jeopardy program that lay underneath.
The Alain Boublil and Claude-Michel Schönberg creation filled many a car ride; it was the perfect length, we discovered, to get us from our home in New York to our cousin's in Boston. "Do You Hear the People Sing?" we sang, all together. The boys giggled as I muted the volume, with cartoonish fanfare, each time Thénardier and his wife used bad words during "Master of the House."
It became Evan's first Broadway show, back when he was still so small that he had to sit on a pile of coats in order to see. "I Dreamed a Dream," Fantine sang. That was hers. This was his. For three hours, he watched the actors, and I watched his face.
Over the years his iPod filled with tracks that had nothing in common with this lush, melodramatic musical. If it is the job of each generation to love music that their parent's can't stand, he did his well, and to those he listened without me. But still, the show remained our touchstone. "One Day More" he belted as he barreled into my room the day before early decision letters came out. He did the same the day before he left for college.
"Les Miserables" is the story of revolution and justice, yes, but really it is a story about parenting. About a mother who can't protect her child and about the father who keeps a promise that he will. "Your mother gave her life for you. Then gave me to your keeping," Valjean tells Cosette, while the spectre of Fantine hovers nearby. That's always when I start to bawl.
Bawl I did last week as we sat together in the dark, Evan and I, watching Hugh Jackman sing it to Amanda Seyfried while Anne Hathaway looked on. As he sang, we mouthed the words so not to disturb the others in the theater, for whom this was probably just a movie.
And as I cried, my son -- long recovered from the urgency that brought him to the ICU, still young, but no longer a boy -- reached for my hand and gave it a squeeze. He held tight as I put my head on his shoulder.