There's something especially jazzy about today's Google logo.
In honor of musician Les Paul, Google has replaced its go-to multicolor doodle with guitar strings that you can strum.
The logo lets users "play" the guitar by plucking the strings, and even lets them record their melodies (Watch the video below to see how to record and play the doodle). Did you compose a ditty on Google's guitar doodle? Send it to us at technology[at]huffingtonpost.com or by clicking "Send Photos/Video" below! We'll post the best songs. We've highlighted some of the best here.
Les Paul (née Lester William Polsfuss) was born June 9, 1915. He was an talented guitarist and an innovator who pioneered the solid-body electric guitar and a slew of other musical inventions that were instrumental in paving the way for rock-and-roll and defining the musical sounds that followed.
In 1940 or 1941 — the exact date is unknown — , Mr. Paul made his guitar breakthrough. Seeking to create electronically sustained notes on the guitar, he attached strings and two pickups to a wooden board with a guitar neck. "The log," as he called it, if not the first solid-body electric guitar, became the most influential one.
"You could go out and eat and come back and the note would still be sounding," Mr. Paul once said.
Google wrote in a blog post about the guitar logo, "If you're curious, the doodle was made with a combination of JavaScript, HTML5 Canvas (used in modern browsers to draw the guitar strings), CSS, Flash (for sound) and tools like the Google Font API, goo.gl and App Engine."
Les Paul--in his own words:
LOOK: See a picture of Google's guitar logo below: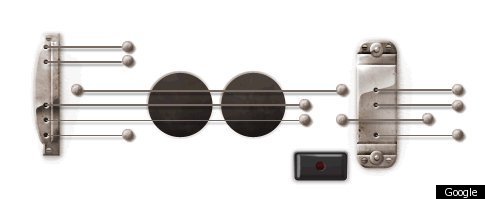 Related
Popular in the Community