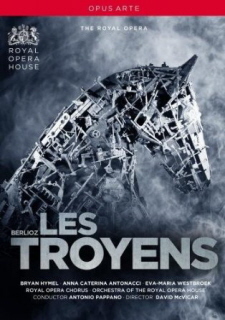 French composer Hector Berlioz wrote both the music and libretto for Les Troyens in tribute to 'The Aeneid' Virgil's epic saga of the invasion of Troy, the portends of Cassandra and the ill- fated love of Dido and Aeneas. Berlioz created, without doubt, epic opera, but his icy relationship with the opera establishment created problems from the start with rumors that the score was, among other things, unplayable and unsingable. Berlioz only saw portions of the opera staged in his lifetime, but Troyens has since triumphed over its rocky beginnings and is recognized as the innovative masterpiece it is.
In 2012, Troyens' titanic scale was fully realized at the Royal Opera House who mounted a new production, for the first time in 30 years, starring a stellar international cast. Fortunately, for those who couldn't be there, Opus Arte has just released a 2-disc DVD edited from two filmed ROH live performances.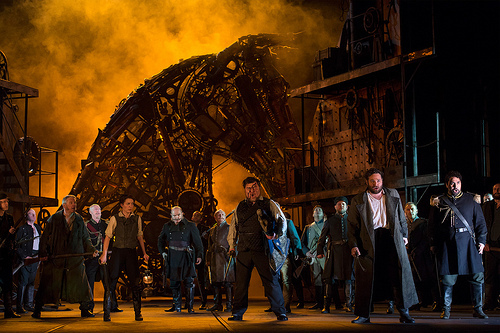 Barbara Senator as Ascanius, Ashley Holland as Panthus, Bryan Hymel as Aeneas and Fabio Capitanucci as Coroebus in Les Troyens © Bill Cooper/ROH 2012
The stage designs by Es Devlin , in tandem with hi-tech stagecraft and video projections, read spectacularly onscreen. The curtain goes up on the looming metal fortress of Troy from which the citizen chorus emerges, as they sing lustily of being freed from Greek siege and bring in the skeletal armature of the mammoth horse sculpture into Troy.

The Trojans rejoice, ignoring the warnings of the seer Cassandra, who portends doom, "what plan lies behind this curious haste/Everything bears out my dark foreboding." Her fiancée begs her to "prophesy no more" and implores her to return to her senses. The priests sanctify the city as the Emperor and Empress are escorted into the palace for ritual celebration. "God of Olympus, God of the seas" the chorus sings.
Meanwhile, Aeneas is awakened by the bloodied ghost of the slain Hector, crawling toward him singing of Troy's demise and commanding that Aeneas lead his men out to found a new city. As the Trojan women wait outside of the citadel, Cassandra's third eye sees the wages of the bloody battle within as being lost. Meanwhile, Greek soldiers emerge from the horse's turret and attack. Cassandra implores the Trojan women to join her in suicide rather than be defiled by the Greeks and that a new glorious city will thrive with the children of Troy. The Trojan Horse is set afire as the women perish and Aeneas and his men flee.
The action shifts to Northern Africa as Aeneas takes refuge in Carthage. Dido, queen of Carthage, beloved by her people, sings of the city's new day of peace and prosperity as young men vie for her attention by flexing their muscles and the maidens swirl around in a harvest dance.
Andrew George choreographs several dances for these scenes, but he also fuels character movement throughout that are just as compelling. George divertessment ensemble, in the gardens, is a mating dance has a ritualistic aura and, George inlays witty dance quotes from modern movement neo-retro classicism as couples perform an erotic male-female duets with Aeneas and Dido reclined in wedding robes.
Dido and Aeneas may be constantly kissing, but the real love between them is heard serenely in their duet (Night of rapture and ecstasy without end) Vocally, this is a triumphant romantic poem from Virgil and Berlioz. The ominous winged figure finishes the Act, its menacing wingspan a silhouette against midnight blue and the chorus imploring "Italy.' Act V opens with the haunting sailors song from the crow's nest of the grand galleon for Aeneas' fated journey back to Italy. Dido rushes in distraught and implores him to stay. Dido knows that he must return to Italy, and is ashamed that Dido found out why he left. The part has such pathos as events unfold and Hymel gives such an immediacy to and powered intimacy as he contemplates leaving to settle old scores. "May I perish if I leave Carthage."
This is a crowded scenario and musically there is so much more that ups the ante. Under the direction of Renato Balsadonna, the chorus has triumphal scenes throughout. Among the supporting players, the arresting basso Jihoon Kim brings profound universal pathos to Hector, with unrelenting vocal tragedy. Dido's court poet Iopas, serene baritone of Ji-Min Park, is poignant and stirring.
As Dido and Aeneas, Eva-Marie Westbroek and Bryan Hymel have searing vocal chemistry. Tenor Hymel (who sang the part at the Met later in 2012) is as strong an actor as he is a singer in his interpretation of this poetically nobly flawed hero. Westbroek shows the range of Dido's warmth in the arias and chillingly in ariatic rages at the prospect of Aeneas leaving her.
For Mezzo-soprano Anna Caterina Antonacci, after Act II, the curtain rises for a solo bow for her met with thundering applause who plays Cassandra in an indelible, arresting physical, and utterly towering vocal performance.
The costumes by Moritz Junge time-travel without fuss. A mix of Napoleonic military court and royal dress, completely complimenting this French sung opera and mournful robes for the Trojan woman and oasis couture for Dido and Aeneas.
David McVicar's direction deftly keeps scene focused to character and story, even with all of the spectacle swirling around. Conductor Anthony Pappano and the Royal Orchestra are musically, just as grand in scope and detailing the symphonic narrative that would definitely please the local gods and for Berlioz, complete poetic justice at last. For those new to opera on disc, the Trojan Horse will stealthy conquer you too.
Calling all HuffPost superfans!
Sign up for membership to become a founding member and help shape HuffPost's next chapter