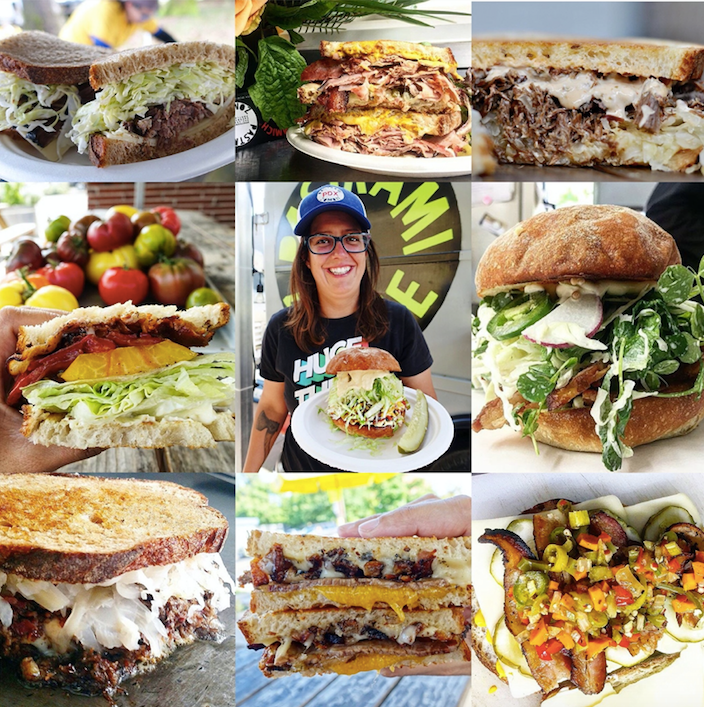 Chef Melissa McMillan is a bad ass. She's dominating the world of meat and proving that smokers aren't just for the boys anymore. She is the chef and owner of Sammich is Ashland, Oregon and the food truck Pastrami Zombie in Portland. She crafts all of the meats she sells, and people are going crazy for her creations.
In fact, she recently killed it at Feast Portland's Sandwich Invitational, winning the People's Choice Award by beating out some big-time favorites both local and far flung. This was her first time cooking at one of the country's hottest food fests. What'd she think?
"I won," she says. "So, I had a blast. I'm stoked. I went in with an all-girls team with guns a blazing. I knew I had to do pastrami because my truck is called Pastrami Zombie. I wanted to do it differently than I've ever done it before. I wanted to make a big impression. Like, 'Woah!'
The meat was like a straight up slab. And I took it one step further and used only the fatty pieces of the brisket. Naomi Pomeroy is my mentor and coach. I did three or four tastings with her. She was a good sounding board to bounce ideas off of. She kept saying thicker. I was nervous. But I went outside of my comfort zone."
McMillan is smart. She knows what she's great at; she knows how and when to ask for help; and she knows how to build a team. "None of those girls had I ever cooked with before. But they had all worked with Naomi before. I cherry picked the best women in the city, including Lauren Breneman, Naomi's pastry chef at Beast, who I got to make the bread.
I made the pastrami and I prepped, and then I taught them in like twenty minutes. We made six or seven and then we were off to the races. It was a testament to my leadership skills and finding the best people who are better than I am. You saw the fucking line. [It was massive.] There was no way I could make it all myself. We had so much fun. Why we work so hard is to get noticed and get invited to these things."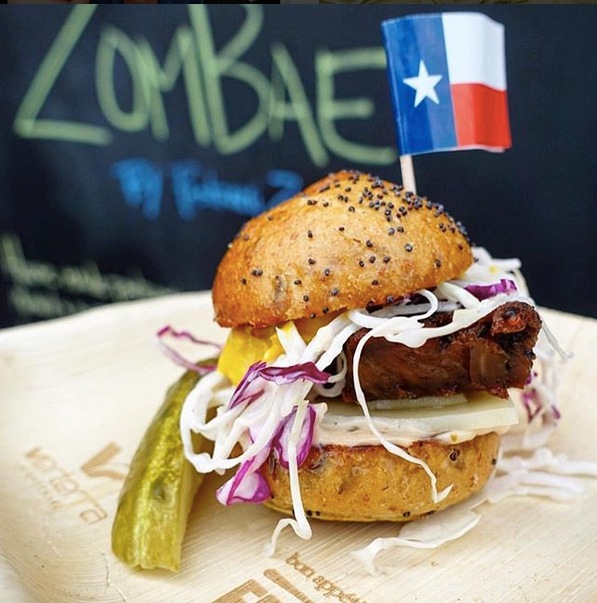 McMillan is no stranger to the food universe. She has been working in restaurants her entire life, but always in the front of the house. Then things changed. A lot.
"Three-and-a-half-years ago, I taught myself how to cook. I was married to a chef, and she and I were living in Southern Oregon. You could not get a sandwich anywhere. I remember the places my parents took me in Chicago when I was a kid. There's just nothing like it on the West Coast. So, I opened Sammich with my ex-wife. Then she left and there was the great debate of who would get the restaurant. I told her, 'I'm keeping the restaurant.' That day I begin to teach myself how to cook."
True to her Texas roots, McMillan roasts, smokes, and cures all of her meats in-house. And true to herself, she sources everything as locally as possible. That's the simple magic. And, before she knew it, she was cooking on her own. "I started thinking, 'I know what I'm doing now.' Then, I opened a food truck in Portland because I couldn't get into a brick and mortar at a reasonable price there and now I just won the People's Choice Award at Feast Portland. I don't give up. I keep going. I have had a lot of obstacles and that's only made me work harder."
That drive is apparent in everything McMillan does and in every word when she describes her work. "I have an emotional attachment to food" McMillan says. "I am a firm believer in what we were doing years ago. I feel like we've lost that. So many people skip steps.
Like I use firewood to cook. I'm brining and smoking and steaming. I'm still going the extra mile that no one goes anymore. No one has touched the pastrami game in years. It's such an old-school thing. It takes 7-8 days to make a sandwich. Like my Italian beef. Even in Chicago 99% aren't going through all of the steps."
McMillan believes in the motto that her very favorite team the Cubs live by – Do simple better. "You'll hear me say that a million times. And, try not to suck. Those are things I think about every day when I wake up."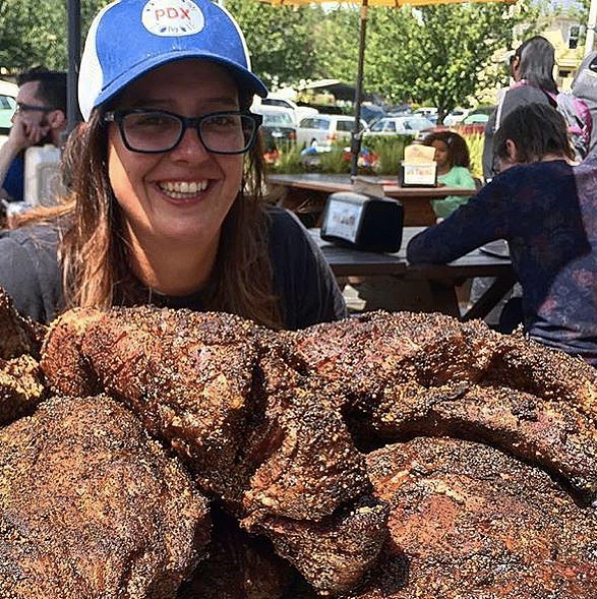 That explains how every day McMillan's Pastrami Zombie truck offers seven or eight sandwiches. And at Sammich, she offers twelve sandwiches, two salads, and two specials every day.
"Sammich a wild and loud sandwich shop. We take your order at the counter and then throw it down the line. There's all of this yelling and we deliver it to your table. It's not like any other sandwich shop. High end service, medium end prices. We have awesome customer service. People call us the Cheers of sandwich shops."
McMillan trusts in her creations so much that if you make too many changes, she'll gently show you the door. "If you special order too much, I tell you to go to Subway down the street. You're an expert writer. I'm an expert sandwich maker. I don't tell you how to do your job. No reason for you to tell me how to do mine."
That's what makes McMillan shine, her passion, her commitment, her enthusiasm, her honesty. "It's pretty exciting. I know that it's not a cheap sandwich. But once you taste it and know what it is and how it's made, it actually is cheap. But you have to show people that and gain their trust. I take a lot of pride in that. Every time you come in, it's going to taste the same."
One of McMillan's other enviable traits is her ability to build community, becoming fast friends and partners with a number of the top movers and shakers in Portland's remarkable food scene. In July, she did the Chefwich at Lardo restaurant with Rick Gencarelli, chef/owner of Lardo and Grassa. It's a fundraiser with a monthly specialty sandwich created with a different, monthly chef partner.
"Rick wanted to do pastrami. I said, 'Chef, do you know what you're getting into?' This isn't something you can just show somebody and move on. There are smoke masters for a reason. And I believe I am one. You can't rush it. You can't just put it in the oven.
So, when we did it the first time, I lost my shit a few times. But then we got it right. 2,390 sandwiches went out of his kitchen in one month. And he has twelve other sandwiches on his menu. We smoked over 2000 pounds of brisket. It's not a small task. Like he didn't know how to use the smoker. He had inherited it. I told him I would teach him.
You know, you're not going to meet many women in the culinary world who can dominate the smoker. There's just not that many of us doing it. I put in sixteen to twenty hours on my Texas brisket. You have to be careful with the monitoring. If you're lookin', it ain't cookin'. So, sometimes I drink too many beers."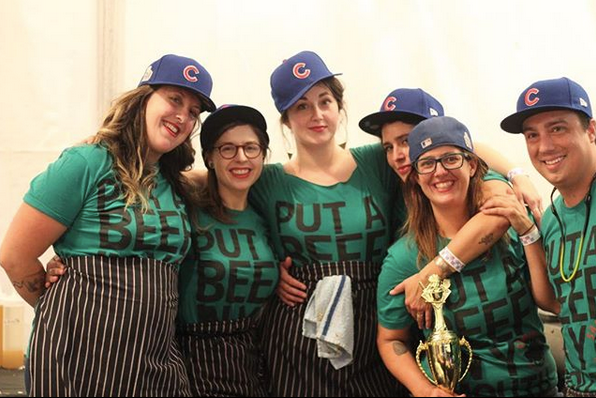 When it comes to her food, McMillan's customers have some of the best reactions. "'I was having the worst day until I came in here,' they tell me. Or, 'I can feel the love in your Sammich.' Or, 'That's the best fucking sandwich I've had in my life. One time an eighty-year-old man told me that my burger was the best burger he's had in his whole life and you know he's had a lot of burgers.
I have four brothers and three of them live in Texas, and once a week either them or one of their wives text and want my meats or sandwiches." Not surprisingly her family loves her food so much that McMillan says they are dying for her to open a Sammich in Austin. "Maybe September 2018. I'm going to partner up with a guy who was a brewmaster for four years in Portland."
With everything that's going on in the world right now, McMillan says food is more important than ever. "We can change the world with food, and that's my mission. To change the world one 'sammich' at a time." McMillan says it's all about how you treat your customers and employees, as well as where you get your ingredients. McMillan knows local is king. She believes that if people are willing to pay a fair price and she pays a fair wage, we can change things. "I'm building the middle class with every single sandwich."
McMillan is clearly much more than a chef. "I'm also a mentor for all the kids who cook for me. This is my team. This is my family. People can tell how much fun we're having when we're working. I try to inspire people to be better and treat people how they want to be treated. People count on me. It makes me teary eyed."
Believe or not, food actually has some stiff competition when it comes to being McMillian's true love. Coaching baseball also commands a huge hold on her heart. "People always ask me why I coach boys' baseball instead of girls' softball, and I always have the same answer. One, I love baseball and, two, I connect with these boys the way no one else does.
I am an openly gay woman who takes care of them and treats them well. I am part of assuring those boys are going to grow up to be great dads, brothers, uncles, and friends. They get the most raw experience of someone different from them and they love it. It changes the way they view the world. I have guys in the kitchen who get that same experience with me. You know, if I had my way, I would sell enough sandwiches that all I had to do was coach baseball."
McMillan operates from the heart on all bases, and that's a good thing. A really good thing. What she does is all about life experience. In fact, she says that the fact that she didn't go to "fancy chef school" is a big part of what makes her who she is as a chef and as a person.
Of course, it also leads to some funny moments. "We make fun of what I call stuff and what stuff is really called. Like the tilt skillet. I called it a trougher, instead. Now Rick calls it that too. That's what it is. That's food. It's not about the fancy words. It's about what you put in your mouth. We started out with the Chefwich and then there were on the stage together," she says of the night of Feast Portland's Sandwich Invitational when she won People's Choice and the judges chose Rick's Nashville Hot Fried Chicken Sandwich with bacon, honey butter, sweet pickles, and Duke's mayo.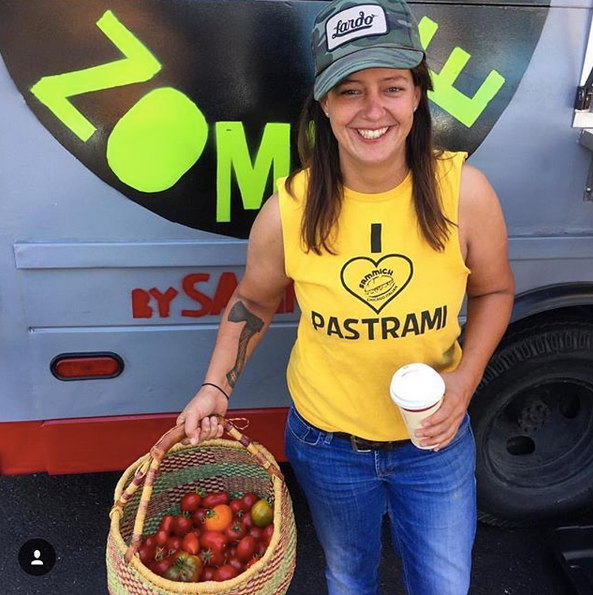 It's those moments, those humbling "look where I came from, look where I am now" moments" that make McMillan who she is as a person as a chef. She's giddy when she tells these stories, like when famed Portland chef Naomi Pomeroy (of Beast restaurant) came to her truck for the first time. Mc Millian always asks customers their names and whether they live or work nearby. That day was no different. And it was completely different.
"I asked her what her name was and she said Naomi. I could feel myself get hot and nervous. I asked if she lived or worked nearby and she said both. And then I said, 'I brought a girl to your place one time to impress her.' 'Did it work,' Naomi asked. 'Come on chef. You know the answer to that,' I told her.
Then I burnt her food. I told her she made me the most nervous of anyone I've cooked for. She ended up waiting 30 minutes for sandwiches. I panicked the whole day. Then I went on my Instagram later - and I will never forget this. Naomi posted, 'Holy balls. That shit's on fire.' Made my month. Made my year. My hero loves my food. She didn't even know she was my hero."
There's no doubt McMillan is making waves in food, and there's no doubt that she's loving every minute of it. "I'm excited every day. Byron Beck said one of the nicest things to me. He came up to me and said, 'You don't know me. But I know who you are and I've been following you. Thank you for changing the way people do food in Portland. Because of you, people are changing the way they do food in Portland.'
I was like, 'Woah.' The girl I was working with and I both had goose bumps. We'd be out at parties at Feast and he'd be like, 'I love you." How much respect and support the chefs in Portland have given me is amazing, including the male chefs, which is the way it should be. All I know is that I just put myself out there and work like a crazy person."
First Oregon, next Texas, then, who knows. Chefs have become the new rock stars, and Melissa McMillan has earned her place on the big stage. There's no doubt that she'll continue to soar, because stagnant and sated she will never be. "If I don't wake up and try to be a better person than I was before, then I have to change what I'm doing."
Chef Melissa McMillan makes it incredibly tough to argue with her philosophy or her pastrami...
REAL LIFE. REAL NEWS. REAL VOICES.
Help us tell more of the stories that matter from voices that too often remain unheard.