As we approach August, traditionally the month of the Michigan Womyn's Music Festival, which sadly ended in 2015, and MichFest attendees again mourn a summer without music, questions about contemporary lesbian communities are front of mind. What is the state of lesbian communities? Where are we? Where have we been? Where are we going? Some of us look back with sadness at what was; we mourn our losses and at times believe that what will be will never be better than what has been. Amid my reflections, two stories from a more distant past have become important to me.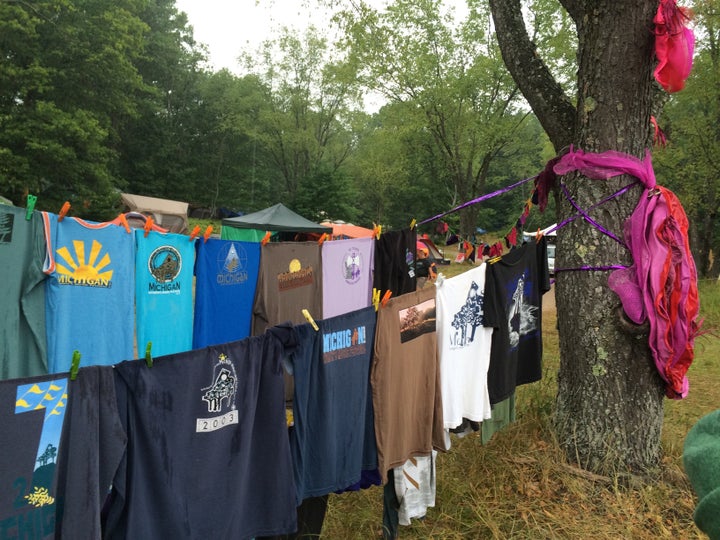 In 1977, the film Word is Out, directed by a collective of six people who called themselves the Mariposa Film Group, featured twenty-six lesbians and gay men talking about their lives. The film offered an important portrayal of lesbians and gay men and their reflections on identity; it also documented the oppression of lesbians and gay men in families and under the law during the 1960s and 1970s. Word is Out is a powerful film; even watching today, it is a moving testament to the resiliency of queer people. The lesbians in the film, including Sally Miller Gearheart, Pat Bond, and Betty Powell, among many others, are powerful, visionary women. In the film, people try to imagine a future for lesbians and gay men better than the past they have experienced. Yet, they cannot imagine what actually happens. Only dishonorably discharged Pat Bond understands what might happen to people brave enough to come out in the 1970s if society takes a turn for the worse in ten years. Of course, it did. AIDS and the Reagan administration are just around the corner. None of the subjects can see that future.
Early in 1968, Barbara Grier wrote a review of lesbian literature published in 1967 for The Ladder. She wrote, "[T]here have been several dozen valid, literate studies published in just that short time. The entire span of literature before these last eleven years has provided a lesser quantity. . . .Those mainstream novels that have included Lesbians as perfectly acceptable ordinary members of society at large have done a good deal to make the world a better place for all of us: a place where being Lesbian doesn't begin to carry even half the stigma it did some fifteen years ago." These observations are important, but a later sentence demonstrates how not even Barbara Grier could see the future that was barreling toward her. She wrote, "I haven't any idea what the next eleven years will bring, but I do sincerely doubt that the changes will be any more sweeping, any more important." (Emphasis mine.) Grier is like everyone: entrenched in the past, bound by the present, unable to see the future. The truth is the next eleven years brought sweeping important changes to lesbian literature. Fortunately, Grier witnessed these changes and celebrated them. Still, I want to go back and whisper into her ear, Barbara, hold on, hold on, you couldn't be more wrong.
The lessons I take from these stories include: We cannot know the future. We cannot imagine what is yet to come. We can create various futures through our labor, through our imaginations. There are lesbian pasts that I hunger for; things I remember, losses I mourn, realities I would like to recreate. There are also things happening right now that remind me of the vibrancy of contemporary lesbian communities. Here are five glimmers that fill me with optimism for the futures of lesbian communities.
1. Weekend by Jane Eaton Hamilton. Do you remember what it feels like to read a novel that has lesbian lives, lesbian bodies, lesbian minds thoughtfully and carefully rendered by a writer of extraordinary talent? If you feel like it has been a long time since you read a novel like that, pick up Jane Eaton Hamilton's Weekend (Arsenal Pulp Press, 2016). Examining two lesbian couples, their romances, their conflicts, and their lives, Weekend reminds me how lesbian writers render lesbian characters with extraordinary grace, humanity, and insight.
2. Women organizing to imagine new instantiations of Michigan Womyn's Music Festival. Yes, the organizing is as fraught as the forty years of festival. Yes, it is unclear what the outcome will be for the land, for the items used on the land, and for the future of wimmin's gatherings in Michigan. Still it inspires me that there are womyn who feel passionately about the space and the idea that "when women did things they did them a little bit differently—and that it would be useful for the world" (Cris Williamson from Live in Concert: Circle of Friends).
3. Golden Crown Literary Society. In the same spirit of the MichFest organizing, devotees of lesbian literature gather annually as the Golden Crown Literary Society. Each year, the Golden Crown Literary Society sponsor the "Goldies," awards for lesbian literature including romance, science fiction, poetry, anthologies—the whole waterfront of literature, as well as recognizing excellence in cover design. It is a voluntary organization that promotes lesbian literature, carrying on the work of Jeannette Howard Foster, Barbara Grier, and thousands of others.
4. BLF Press and S. Andrea Allen. S. Andrea Allen says of BLF Press, "Our goal for this press is to continue the tradition of small feminist presses that gave rise to such publications as This Bridge Across My Back: Writings of Radical Women of Color, Home Girls: A Black Feminist Anthology, Don't Explain, Loving Her, and Sister Outsider: Essays." A lofty goal—and she is fulfilling it. Allen joins feminist publisher Lisa Moore of Redbone Books and artistic curator and promoter JP Howard of Women Writers in Bloom in sparking a black feminist (and lesbian) literary renaissance.
5. Young lesbians engaging with Sinister Wisdom. When I took on editing and publishing Sinister Wisdom in 2010, I knew that one of the biggest challenges would be bringing younger readers, writers, editors, and activists into the journal to work on it. Six years later, the journal continues with the support and labor of a wide, intergenerational mix of lesbians. I'm proud of what lesbians are doing with Sinister Wisdom and of the new futures we are collectively imagining.
All of these projects are examples of lesbians imagining and invigorating lesbian communities. Who are we to say that the past is better than the future? Who are we to limit our imaginations about the future?
Popular in the Community