On Friday night, as the LGBT community and their allies celebrated Pride throughout the nation, a teenage lesbian couple in Texas were both shot in the head and left to die. Mollie Judith Olgin, 19, died from her wounds, and Kristene Chapa, 18, is in serious but stable condition after surgery.
The women were shot in a park in Portland, Texas. They lay in knee-deep grass for nine hours before being discovered by visitors to the park.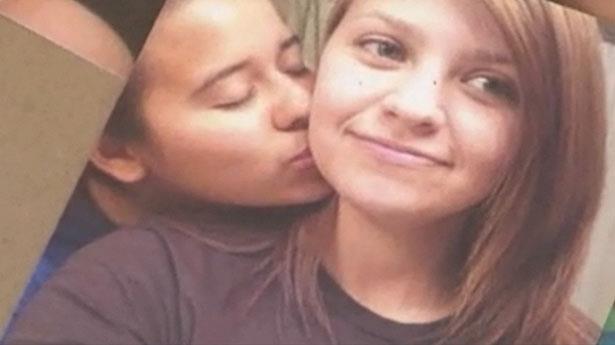 Photo: MSNBC
Matthew Shepard was brutally beaten and left to die in 1998, 14 years ago.
At this point police have no leads on a suspect, but are saying that the attack appears to have been targeted.
The teenage couple had been openly dating for five months. In MSNBC video coverage of the story, friends stated that they were at a loss as to who would do harm to the couple, and that the two girls faced no open discrimination while they were dating.
The MSNBC online coverage broke last night and spread like a wildfire of heartache across social networks. It's impossible to look at the picture of the two women and imagine the horror that befell them.
Matthew Shepard was attacked and left for dead in 1998.
Mollie and Kristene were attacked and left for dead last Friday, June 22, 2012.
So much has changed in the United States between 1998 and 2012, and yet the similarities between the tragedies are undeniable.
What is different between 1998 and 2012 -- what has to be believed to be different -- is how we collectively respond to such a tragedy.
Activists in the LGBT community -- and, really, any organized community that faces discrimination -- have learned that it is important for there to be a swift and clear response and raising of awareness about these acts. Awareness coupled with public mourning, grief and a demand for justice are necessary.
Cleve Jones, a protégé of Harvey Milk, sent out word on Facebook last night -- announcing a vigil to be held in San Francisco on Wednesday, and encouraging communities around the country to also gather locally.
The world has changed so much for LGBT youth in America since 1998. But even all of that change cannot stop a hateful and violent individual from committing such a disgusting act. It breaks my heart, but no matter how much work has been done to make the world better, nothing accomplished could protect those two girls that awful night.
What we can do in the wake of such tragedy is to make clear that such evil, such careless disconcern for two teenage women, does not occur without our notice.
The only way we can make this 2012 situation different from the 1998 heartbreak is in our response. In a collective and loud and unified public statement that this matters. That the lives of Mollie and Kristene matter. That no one should face the horror that they did. That communities, regardless of political leanings, will not allow such hate to occur without outcry and outrage.
Mollie and Kristene matter. The story of what happened to them matters. What we do now in response matters. The only potential for progress between 1998 and 2012 is now in our collective hands.
Popular in the Community