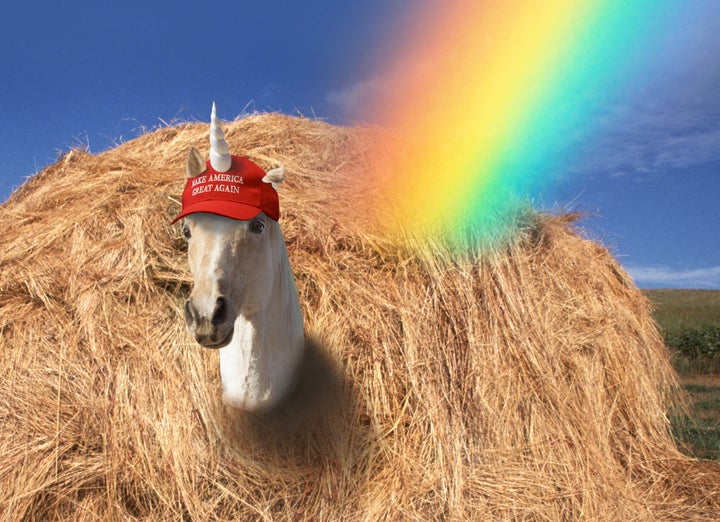 WASHINGTON ― Attention lesbians: if you're not sold on Donald Trump for president, you've got to check out his wife's girl-on-girl photo shoot from 1996. Those pictures are so hot that once you see them, you'll definitely want that going on in the White House.
But Rush got me thinking: are there lesbians out there who are voting for Trump? I don't know of any in my lesbian circles in Washington, D.C. I didn't come across any in July at the Republican National Convention, where I sought out LGBT attendees. I could only find one article that featured an interview with lesbian Trump supporters. There were two of them. Is that it? Two?
I decided to try to find a Trump-supporting lesbian to see what makes her tick. I hit up about 20 lesbian friends to see if they knew anyone. There's only so many of us, I figured the six-degrees-of-separation theory would be my greatest asset. Their responses were not helpful.
"Bahaha," emailed one friend.
"We met a crusty old dyke at Lincoln Park Cafe a month ago," wrote back another. "She hates HRC, loves Trump. Needless to say, everyone around her was provoked. I think this is a needle in a haystack but will be on the lookout."
"I feel like someone told me about a lesbian couple who supports Trump recently......shit. I'm thinking," wrote another.
This was going to be harder than I thought. Trump is no champion of LGBT rights; he opposes same-sex marriage and is fine with businesses denying services to gay people in the name of religious freedom. Yet that hasn't stopped some gay men from supporting him. Where were the ladies?
I contacted lesbian GOP strategists in Washington. I sent Facebook messages to friends of friends of friends. I reached out to every gay-ish Republican-ish group I could think of. Log Cabin Republicans. Twinks4Trump. Pink Pistols, a Philadelphia LGBT group centered on the idea that guns can go a long way in combating homophobia (!). Nobody knew any lesbians for Trump.
"Oh wow, all I can do is wish you good luck!" said Rachel Hoff, a D.C. delegate to the Republican National Convention who spoke out against anti-LGBT provisions in the party platform. "I know several gay men supporting Trump ― but no lesbians."
"Geez. That is a tough one," said Jerri Ann Henry, a lesbian GOP consultant in Washington. "I have wondered about it a bit. Are the same factors driving women away from Trump and (some) men towards him the main factor here, or are lesbians looking at other factors? I don't have the answer."
Henry asked her wife if she knew of anyone. "No, there aren't any because we are the smartest of the species," she said.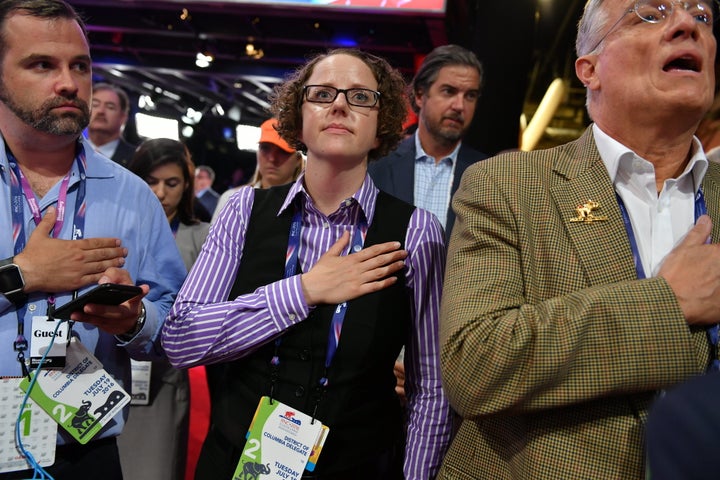 I was running out of leads. One friend suggested I find "that Nebraskatude lady." That would be Shelly Dankert, a Midwestern right-wing lesbian who used to run a blog called NebraskAttitude. She went on an incredible drunken, profanity-laced tirade after President Barack Obama was re-elected in 2012 ― and filmed the whole episode, which went viral. Even she isn't voting for Trump.
"I'm a conservative lesbian who believes that Trump, similar to Hillary & Obama, is more akin to the 2nd coming of Christ … rather than a 'saviour' of the USA," Dankert emailed, ending her note with a smiley face emoji.
I was about to give up on my quest. How could it be that Melania Trump's naked photos hadn't inspired hordes of lesbians to step forward and make America great again? But then, thanks to a friend's colleague's acquaintance, I found her: my unicorn. Her name is Jessica. She's an open lesbian and a closeted Trump fan.
"Most of my friends don't know I'm supporting him," said Jessica, who is in her 50s and lives in Washington, D.C. She asked that her last name not be used, for fear of losing her aforementioned friends. "Most of them are really enthusiastic Hillary supporters."
Jessica said she supports Trump because she's worried about the economy. She has a lot of family members in working class jobs, living in rural areas plagued by heroin abuse and shuttered factories. She doesn't think anything would change under Hillary Clinton, and thinks Trump's ideas about stronger trade deals and corporate tax reform could lift up those towns.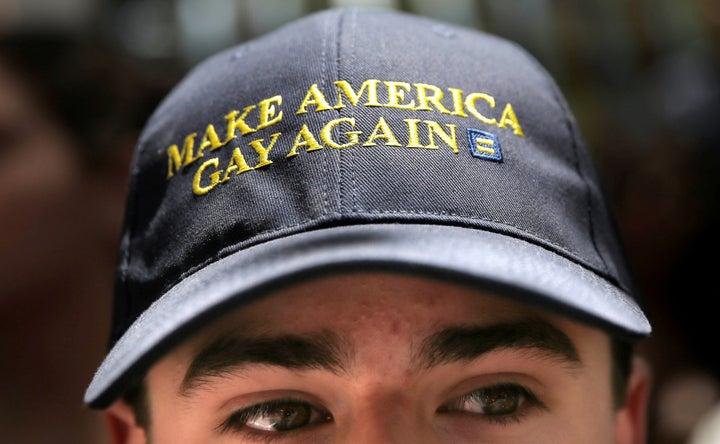 Miracle of miracles, another unicorn came out of the woodwork a few days later. A friend's friend's friend put me in touch with Anita, a lesbian who lives in Fredericksburg, Virginia. She said she is definitely voting for Trump, and she is definitely not telling her friends, who all support Clinton.
"There's some who I know, if I would tell them, they wouldn't speak to me, at least until the elections are over," said Anita, who also asked not to use her last name. "It is really hard because most of the time we have to keep our mouths shut, because it's almost like you throw a kitten to a pack of wolves."
It's a sensitive topic in her social life. Anita plays on a hockey team and she's the only one backing Trump. One teammate talks about moving to Canada if Trump becomes president. Another teammate, who Anita told about her support for Trump, makes fun of her whenever his name comes up.
"She'll say something like, 'Yeah, that's your boy,'" laughed Anita. "She's a good friend. It's not going to affect our friendship. We just don't talk about it most of the time."
She seems to take it all in stride. But last week, she had to briefly leave a friend's party when people started bashing Trump.
"I cannot sit here and just grind my teeth, because I will say something, and I was invited, and it was a dinner party. I didn't want to insult the host," she said. "I went outside and got a beer and came back in. That's when my friend Millie was like, 'Yeah, I know. I don't understand you, but I know.'"
For Anita, Trump's appeal is that he's a straight talker ― which she said is the complete opposite of Clinton, whom she doesn't trust. She also likes "the fact that he wants to make the country great again."
Anita has just one lesbian friend who is supporting Trump, Lee. She's an attorney in Richmond, Virginia. They seek each other out when they want to talk politics.
"We're in the minority, no doubt," said Lee, who also asked not to use her last name. "In general, I don't discuss politics and religion with people."
Lee likes Trump for the same reasons as Anita: she thinks he's direct and he's trustworthy.
She's not completely sold on him, though. She said she doesn't like him "offending people on a personal level," and that it was a bad move to criticize the military record of Sen. John McCain (R-Ariz.). But she's holding out hope that Trump will clean up his act between now and November.
"I'm seeing a little bit of a change in him," Lee said. "I think he's trying to appeal to more people, trying to be a little more presidential."
She paused before adding, "We'll see if it picks up."
Before You Go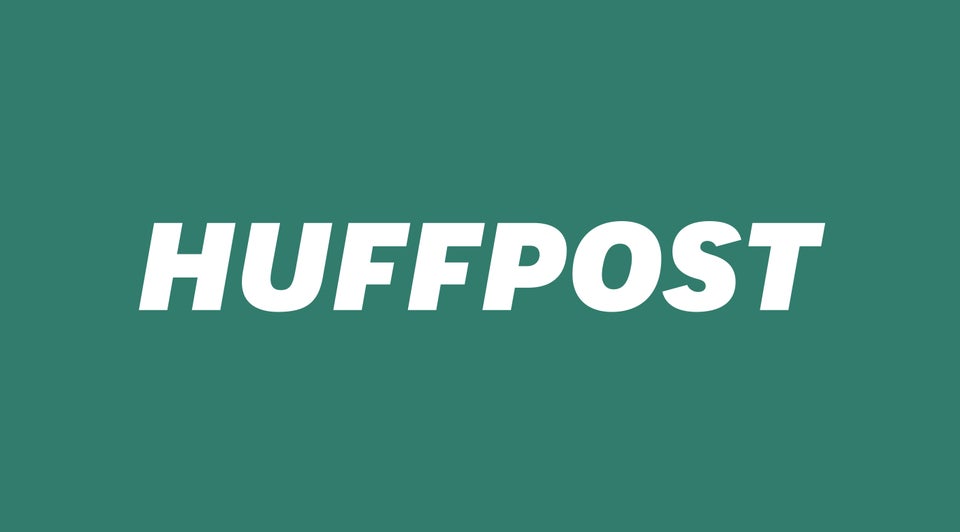 How Donald Trump Is Affecting Relationships
Popular in the Community