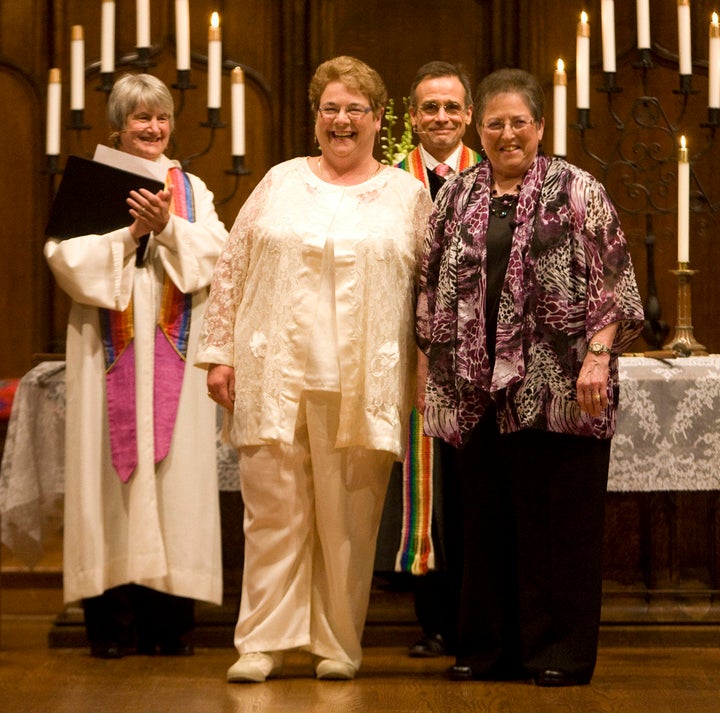 BUFFALO, N.Y. -- Jen Henry had no idea how her own wedding would end. What would the ministers say at the culmination of the ceremony when they would ordinarily pronounce a bride and groom husband and wife?
On Sunday, the Rev. Jane Spahr and the Rev. Tom Yorty proclaimed Jen Henry and Mary Callaghan "truly married."
The two ministers simultaneously recited the pronouncement in Westminster Presbyterian Church in Buffalo. They said they were acting with the authority both the state and the church granted them. Some Presbyterians, however, will argue that Spahr and Yorty had no right to bless the marriage of a couple of senior citizens who have been living together and loving one another for 19 years.
"Jen and Mary," Yorty told the beaming brides as they stood in the front of the Victorian Gothic sanctuary, "we're making history today. This is the first same-gender wedding in this sanctuary in 156 years.
"This is a Rosa Parks' moment, and we decided to sit in the front of the liturgical bus."
Last year, the Presbyterian Church rebuked Spahr for marrying gay and lesbian couples in California. The 69-year-old San Francisco grandmother has appealed the verdict but refused to wait until February, when her church's highest court is expected to decide her case, before performing what appears to be New York's first legal gay wedding in a Presbyterian church.
By blessing Henry and Callaghan's marriage, the lesbian evangelist knew she was tempting her denomination to press charges against her once again. If the church does charge Spahr, it would be the third time she has faced trial for performing same-sex weddings.
Yorty, pastor to Westminster's nearly 1,000 members, also knew full well that he was defying legal rulings of the Presbyterian Church (U.S.A.) by officiating at the wedding of a couple who never dared imagine being able to walk down the aisle.
An organist played the processional from a choir loft slowly, underscoring the gravity of the occasion, while her niece escorted Henry from the back of the cathedral to the chancel. The 66-year-old grief counselor with an artificial knee wore an off-white shirt and slacks with matching sneakers, a lace jacket and a million-watt smile. Her brother, who once warned that her choice in love would destroy her chance at eternity, snapped photographs.
Callaghan clutched her brother's arm as they walked down the aisle. The 71-year-old retired physician's assistant wore a purple jacket over a black shirt and pants.
An abiding faith in God bound the two brides when they met at a meeting of GROW -- Gay Rights for Older Women. From 1958 until 1964, Callaghan had served as a nun before becoming a nurse, enlisting in the U.S. Army and going to Vietnam. Henry's father was a Presbyterian preacher, and she met her ex-husband, who attended Sunday's wedding with his second wife, while studying in a Presbyterian seminary.
Henry, who is taking Callaghan's name, had not stepped into a Presbyterian church since 1978, when the denomination's legislative body voted to deny gays and lesbians ordination rights. After the church opened ordination to gays and lesbians in the spring, Henry contacted Yorty and described herself as a "Presbyterian in exile."
Yorty wanted to invite Henry home. A rainbow flag flies outside Westminster to welcome the gay, lesbian, bisexual and transgender community to the downtown Buffalo church. But before Yorty agreed to perform the nuptials, he reviewed the rulings in Spahr's two previous same-sex marriage cases and shared them with the 24 members of his governing board. When the board voted unanimously to give him the green light, he sent his parishioners a letter about the wedding. The Sunday before, he preached about it to about 250 of his approving flock.
He said he reads nothing in the Bible or in the denomination's constitution prohibiting same-sex marriage. "We are participating in the transformation of the Presbyterian Church," he said. "We are largely middle class and mainline, but we still have one foot in the old world of institutional bias and bigotry against lesbian, gay, bisexual and transgender people."
On Sunday afternoon, the brides took seats at the front of the sanctuary while Yorty and Spahr, wearing rainbow stoles over their robes, stood and delivered homilies to them. After Yorty thanked them for choosing his sanctuary to pledge their love, Henry whispered to Callaghan, who dug into her pocket and pulled out a tissue. Henry dabbed her tears gingerly, careful not to smudge her makeup.
She was not the only one crying. Many of the some 125 spectators shed tears. Among them was Carol Speser, a friend and community activist who worked on the successful campaign to convince state Senator Mark Grisanti, a Buffalo Republican, to change his mind and cast a pivotal vote in June to make New York the sixth state to legalize same-sex marriage.
During the ceremony, Spahr, who was ordained before she came out as a lesbian, told of meeting Henry in 1978. "We heard the things the Presbyterian Church was saying, and we thought we would never be in this place," Spahr said. "What a day for us.
"This is the final puzzle piece. By this church saying 'yes,' you have reclaimed the deepest part of yourselves," she told Henry and Callaghan.
The brides stood, faced one another, held hands and looked into each other's eyes. They promised to love one another in times of music and laughter as well as is sickness and in health, to hold each other first in their hearts, to honor each other's confidences and to know God together.
Two boys, their ring-bearer great-nephews, carried their gold wedding bands around the sanctuary so that everyone present could touch and bless them.
Spahr ended the ceremony as she ends all the weddings she performs. She pointed her finger at the audience and warned: "Those who God has joined together, let no one ever mess with."
Calling all HuffPost superfans!
Sign up for membership to become a founding member and help shape HuffPost's next chapter