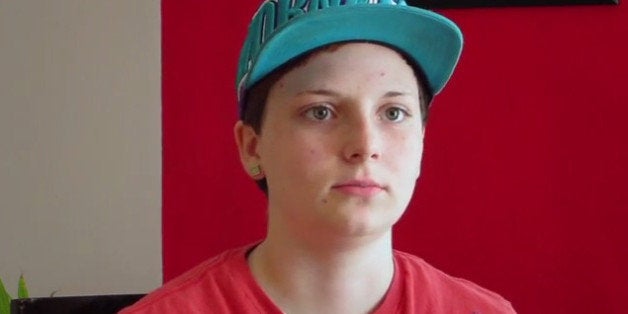 On her first day at Magnolia Junior High in 2011, Destin Holmes remembers hearing whispers among other students asking if "it" was a boy or a girl. According to a federal lawsuit filed Tuesday, things got much worse from there.
Holmes, who identifies as a lesbian, didn't dress like most of the other girls in her school district in Moss Point, Miss. Her fellow students gave her a hard time about her differences, she said. But they weren't the only ones.
Holmes, in interviews and her lawsuit, alleges multiple examples of discrimination by the teachers as well: Teachers routinely referred to her as "it." One teacher made her use the boys' bathroom. Another teacher refused to let her participate in a "Jeopardy"-like test prep game in math class. The students were divided into teams, boys on one side of the classroom, girls on the other, and in front of the entire class, Holmes' teacher told her she would have to sit in the middle because she was an "in-between it."
"I actually cried during that class," Holmes, now 17, told The Huffington Post on Tuesday. "And what was running through my head was, 'Why would a professional teacher say that to a student. Why?' I'm still human. I'm not an alien."
When she tried to talk to the school's principal about the harassment she was facing, he was unhelpful, Holmes said. After one meeting, according to the lawsuit, the principal told her that she was a "pathetic fool" and added that he didn't "want a dyke in this school."
On Tuesday, the Southern Poverty Law Center filed a federal lawsuit against the Moss Point school district, school board and superintendent, and the Magnolia Junior High principal, Durand Payton, accusing them of targeting and harassing Holmes because of her gender expression and sexual orientation and violating her constitutional right to equal protection.
A representative from the school district did not immediately respond to a request for comment.
"Destin was discriminated against from the moment she entered the Moss Point school district in 2011," said Anjali Nair, a staff attorney with the Southern Poverty Law Center. "These district officials that are supposed to be protecting the children are not only ignoring the claims, but they are blaming the students for the behavior and they are participating in the discrimination as well."
By the spring of 2012, Holmes and her family had had enough. The daily harassment was making her school day miserable, and it was nearly impossible to focus in class, "when paper balls and broken pencils and erasers are being thrown at you," Holmes said. Some days she would pretend to be sick, putting her forehead against a light bulb until it grew hot enough that she could claim she had a fever. Other days, she would come home from school so angry that she'd break a window or bust a hole in the wall at her grandmother's house.
When her father tried to intervene, the lawsuit claims, the principal told the family he would "address the bullies" but nothing changed. Eventually, the family decided it would be best if Holmes withdrew and began homeschooling.
"It was quite obvious after a while that we were fighting a losing battle," Jennifer Holmes, Destin's grandmother, said.
But homeschooling was expensive, and Destin Holmes missed her friends at school. "My only friend was a computer," she said. "And it was slow."
This fall, Holmes returned to the school system and entered high school. There has already been an incident in math class, she said, when her teacher wrote a disciplinary note referring to Holmes as a boy.
Holmes and her lawyers say that her experience is not unique. The lawsuit describes other gay, lesbian or transgender students in Moss Point who were repeatedly harassed by their fellow students and faculty. One of Holmes' friends, a gay eighth-grader, was assaulted at school and told by another student, "Faggot, you don't deserve to live," according to the lawsuit. He later attempted suicide.
Holmes and her grandmother say they filed the lawsuit not just to try to improve Holmes' high school experience, but to try to change the culture of the school system. In addition to asking for monetary relief, the complaint demands a series of reforms at the school district, including training for students and staff that would address issues of bullying, diversity, homophobia and tolerance.
"My main thing is, I want to see some change in the Moss Point school district for all people," Jennifer Holmes said. "Kids shouldn't have to go to school with this type of atmosphere and be afraid to go to school. There were many mornings that Destin would cry, and kids shouldn't have to live like that."
Destin Holmes seconded that. "I want to be treated like all the other kids that are in the school district," she said. "I go to school to get an education, not to be bullied."
Popular in the Community