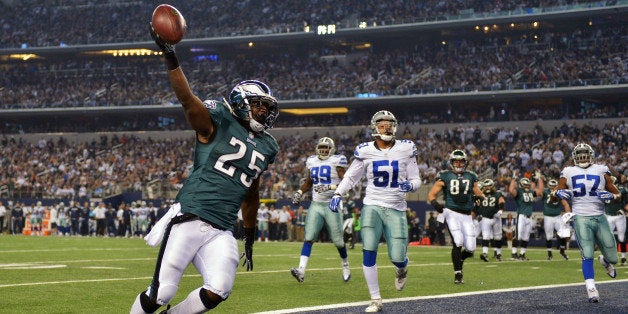 Philadelphia Eagles All-Pro running back LeSean McCoy has been a busy man of late, both on and off the football field. The 26-year-old is enjoying being a father to his baby boy as he prepares for the start of the football season and to undertake his quest to break the 2,000-yard rushing mark. The Huffington Post recently spoke with McCoy about some of the league's dramatic rule changes, the Chip Kelly experiment in Philly, and whether or not the running back position is being shortchanged.
This interview has been edited and condensed for clarity.
What is it about that elusive 2,000-yard mark that stands out for running backs?
I think the preparation, and being healthy and trusting in the scheme and also my teammates. The guys upfront, my offensive linemen, are tremendous -- by far a top-five best running group, in terms of offensive linemen in the NFL. So that actually makes it a lot easier on my behalf. So then just keep working: Keep working and chase perfection.
I read in an article in ESPN The Magazine about how you have completely adjusted your diet. You were at your own birthday party and didn't have any cake, or you had a bite. In terms of the little things, whether it's nutrition or rest, how much has that changed for you since college?
A lot -- tremendously. The small thing that you think doesn't matter, does. From what you eat, to how much sleep you get, to the way you take care of your body. Players tend to think, "Well, I'm productive, I'm good, I'm young," but you can be so much better if you do get all the small things right. There are a lot of things like that where Chip provides the information for us to do better.
Your coach, Chip Kelly, is a guy who obviously came into the league with zero NFL experience. Why has he been successful leading this team?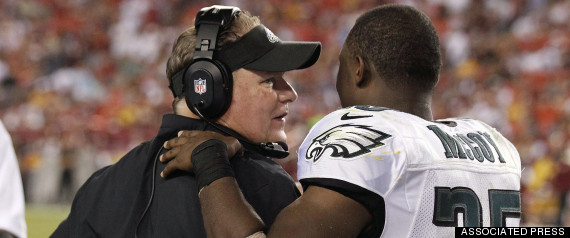 Just so many different things: the winning attitude that he has, his approach to the game, everything he does to help the players out. The first thing you notice with him: He wants to win. He wants to win big in every game, and we believe in him. I think that he's led us in the right direction so far, and that's why we'll keep believing in him.
You suffered a brutal knee injury in high school and then, two seasons ago, a concussion that forced you to miss four games. What did you learn from that second one, when your NFL career came to a pause?
You try to do all the small things to make yourself better. One thing for myself is that being a dad, you probably don't realize the stuff that you miss out on while enjoying the NFL life, being at home and seeing my son as he's preparing for the upcoming week.
How has fatherhood changed you and made you look at life differently?
You do a lot of things for him. There are times when I find myself in a tough place, and I think of him to get me out of it. I'm doing this for [my son]. He's kind of my stone to motivate me. As you mature, the things that you maybe do before you have a son ... so now you're a dad and you're a role model. You don't want him reading something and going, "Oh, my dad did this?" So to just be a great role model for him.
Do you ever find yourself looking back at some of the all-time great running backs, modeling your game after them? I've talked to Barry Sanders, for instance, and one of the things he said to me is how much you remind him of himself on the field.
I think Barry Sanders is being modest and being cool when he's saying that. I think that in this game, you always have somebody to relate your game to, especially when you're younger. Being in my sixth year, I expect that to happen even more. I've seen a lot of players want to play that game, and it's easy because a guy like Barry Sanders I looked up to while playing. I liked the way he played, so I tried to copy his style. And I might not have perfected it the way he did, but I liked it a lot. I look at Kobe Bryant, he looks so similar to Michael Jordan. He doesn't want to be Mike, but he probably modeled his game after him as a youngster and it carried over. So similar things like that. You can't help who you love.
Who is the best runner in the game today not named LeSean McCoy?
I would go with AP [Adrian Peterson]. He's going to go to the Hall of Fame. He's a heck of a player, and obviously he gets it done. And I look over at Jamaal Charles, I like his game too. Two guys like that, they really blow other backs out of the water.
Are you surprised at how much the running back position has been devalued? There wasn't one drafted in the first round in 2013 and 2014.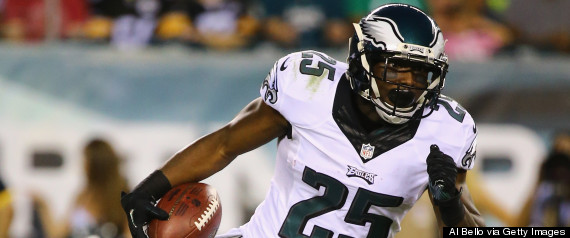 Hopefully it changes back, hopefully this is a phase right now we're going through. I think the top backs make it so it's not so big of a deal, but in the draft [teams] like that they can get a good back in the later rounds. But sometimes you get guys who are just playmakers, and if you take those guys off a team, then they're nowhere near as successful as they should be.
We have seen quarterbacks and wide receivers get mega-contracts. Looking at the top 10 earners by position, according to ESPN The Magazine, running backs are making less than defensive linemen, receivers and quarterbacks. Does it surprise you that running backs are getting much less money?
I think so. On the flip side, I've noticed that a lot of the guarantees lately for the quarterbacks have been more like you've got to earn it instead of flat-out giving it to you like usual. You have to earn it, simple as that.
The league has changed its rules significantly to protect players against concussions. I've spoken at length with premier defensive players about this and how the speed of the game makes it very challenging. Do you notice guys laying off a tad or pulling back to avoid the illegal hit?
That's a good thing. They're slowing up? Good. I guess on defense it's hard that they can get penalties, but as a back I'm used to getting hit. But there are always ways where I don't take direct blows -- I never really take direct blows. I want to try to prolong my career and to be safe, but to stay aggressive and be a good player while playing smart. And I try to do that myself.
A lot of running backs don't have that skill, or seemingly don't care. When did you develop that tool?
Yeah, Dave Wannstedt, my coach in college, told me that. That the smart backs -- the great backs like the Barry's and the Emmitt [Smith]'s -- they try to get as many yards as they could, but they're also smart. They save themselves from the big hits, because after a while they wear and tear on you, and you want to be fresh.
Given the physical toll they take, do you feel like running backs have been shortchanged in contracts?
A lot of guys are getting banged up or hurt so much more, so like I said, I think it's smart to avoid a lot of those hits. Because one, you want to prolong your career; and two, just because of life after football. And you want to be playing long enough where you can reach 16 weeks of football. You don't want to be missing two games here, missing three games, come back, miss another one, concussions. That all starts to add up, it really does.
Has Commissioner Roger Goodell and the NFL done enough to protect its players, to protect its investments? Because at its core, football remains a very physical sport, and at some level that cannot be changed.
The best thing you said is "investments." And we are investments, and I think they're trying to do their best within their abilities to keep us safe. Each year you hear about different rules they're making to make the game safe, so I think they're doing a good job.
I have my fantasy draft tonight. With that top overall pick, why am I picking you?
I'm only the best skill player in the league.
Email me at jordan.schultz@huffingtonpost.com or ask me questions about anything sports-related at @Schultz_Report and follow me on Instagram @Schultz_Report. Also, be sure and catch my NBC Sports Radio show, Kup and Schultz, which airs Sunday mornings from 9-12 ET, right here.
REAL LIFE. REAL NEWS. REAL VOICES.
Help us tell more of the stories that matter from voices that too often remain unheard.