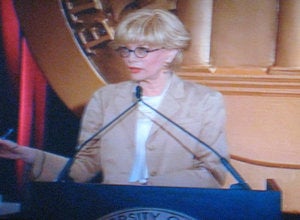 CBS' Lesley Stahl was a last-minute replacement for NBC's Brian Williams as the host of the 67th Annual George Foster Peabody Awards ceremony at New York's Waldorf Astoria Monday afternoon. Williams' NBC colleague, Tim Russert, died Friday afternoon at NBC's Washington bureau, where he served as bureau chief, and Williams released the following statement:

I hope you can all understand the degree to which our NBC News family is hurting right now. This morning represents my first opportunity to see my friends and co-workers and speak with our staff, as I just returned from Afghanistan a few hours ago. Of course, what makes this so sad has a lot to do with what the Peabodys represent: we have lost a great practitioner of the craft. We've lost a great friend, a great man, and some of us have lost a partner. My congratulations to this year's recipients, my thanks to Lesley for being there -- and may God bless Tim Russert.
Stahl opened the awards with a tribute of her own to Russert, explaining how he was the first to call any time she had a good interview, even though he was her chief competitor. "With that in mind, let's do some back-patting of each other today at the Peabodys," Stahl said.
He was the Washington Bureau Chief at NBC when I was moderating "Face the Nation," and if I did a particularly good interview the first person who would call me was Tim Russert. And it's small and it's insignificant to all of you but it's just one more little act of kindness and that was who he was. And as everybody in this room knows, there is no higher compliment that makes you feel better than praise from a colleague and from our peers. So with that in mind...let's do some back-patting of each other today at the Peabodys.
Related
Popular in the Community