 Leslie Uggams may have been just 17 in January 1961, but she brought panic to the boardrooms at NBC when she joined the cast of "Sing Along With Mitch," starring Mitch Miller. At the time she was the only African-American performer on network television, and NBC and its sponsors were feeling the heat from the South. Eventually the show became such a hit that the issue of Uggams' skin color was no longer a concern.
Sammy Davis Jr. recognized this triumph and a few years later told Newsweek: "She's very special. Everybody identifies with her. The first great step has happened with her...Leslie's bridged a very important space."
Uggams acknowledged it was a heavy load to carry because she wanted people to have respect for the black community. "At that particular time you carried your race on your back," Uggams said. "Today you can do anything you want, but back then you couldn't because it reflected the whole race. If you did something wrong people would say, 'See how they are!' That was a great responsibility, but I was willing to take it on."
Born on May 25, 1943 in New York City, Uggams made her show business debut at 6 playing Ethel Waters' niece on the TV show, "Beulah." Three years later she made her way to the Apollo Theater, where she made frequent appearances until she was 16. It seems only fitting that the young woman who broke ground on television would go on to star in "Roots," one of the most successful TV miniseries of all time.
Uggams hasn't allowed race to stand in her way in her personal life either. In 1965 she married Grahame Pratt, a white Australian businessman -- against the advice of friends such as Lena Horne. This October the couple will celebrate their 47th anniversary.
At 69, Uggams has conquered almost every avenue in the entertainment industry and shows no signs of slowing down. She's recently released "Uptown Downtown," a new CD that tells the story of her life based on her one-woman show. Huff/Post50 recently spoke with Uggams about her career.
What made you want to do the CD, "Uptown Downtown"?
My husband believes in recording everything. When we started doing the show, he said, "I just want to record this, whether we have a record company or not." It was really his idea. He loved the show, so he said, "I want to hear it!"
How would you describe the environment where you grew up?
There was always music in my home. I had an aunt who was in the business. She was in "Porgy and Bess" and quite a few other Broadway shows. My mother played piano and had been a Cotton Girl briefly. My father was with the Hall Johnson Choir before they had become famous.
How did you get into show business?
My parents got me into the business because they wanted to keep me occupied. We lived in kind of a tough neighborhood in Washington Heights. I was knocked-kneed, so my mother believed if I took dance lessons that would straighten everything out. They didn't realize I was that talented until a friend said, "She's got talent." They thought I was just cute and sang. The friend took me around to all of these auditions. In the meantime, my father believed in an education. He made sure I studied hard and hit the books. They kept an eye on me. There was no messing around.
You credit the Schiffman family, who took over the Apollo Theater in 1935 for discovering you. Tell me about them.
They had an amateur hour radio contest, which I was on. I just kept winning all the time. They took a liking to me and decided they wanted to put an act together for me. They put me on the Apollo stage. The first time I worked the Apollo I was there with Louis Armstrong.
How did you maintain your strong character?
My mother traveled with me up until the time that I got married. My father wanted it that way. He didn't trust anybody. There were always people who wanted to get you into trouble. I worked with a lot of acts who were into drugs. My mother was like the police woman at the same time. I think a lot of times these kids are thrown out there away from their family, and there is always someone who wants to get you into trouble. If you don't have the backbone, you go the way of that. It's a different time. It would be scandalous if you did anything back then. I remember Confidential magazine. You'd read it and say, "Ohhhh! They said he was smoking marijuana!" It's a looser time now. We have such a drug society that people are very forgiving.
You were the third African-American female to win a Tony Award for your performance in Hallelujah Baby! How has Broadway changed over the years for the African-American community?
It's changed in some ways, but not enough for me. It's hard to get an African-American project up on the stage -- ones where we are starring. It's still an effort. I would like to see more projects. Of course if someone like Beyoncé says, "I want to do the show;" it's done. But there are so many wonderful actors and actresses who are struggling to get in a show, and if they are in the show, they have a small part or are in the ensemble.
What do you think of today's performers?
I studied my craft. A lot of these kids have the talent and they are on these shows. Then they win and they get thrown out there, but they don't know how to sustain and do a show every night. Their voice goes because they haven't studied their craft. If you look at people who have sustained their careers, they have studied since they were kids. Even Beyoncé. Her parents were rehearsing her all the time. She has that background.
Absolutely. Alicia Keys too. They have studied their craft. They know what discipline is.
In 1977 you portrayed Kizzy in "Roots." Where does that movie sit in your heart today?
Number one. It was such an extraordinary experience.
When people look back on your career, is that what you want people to recall?
Absolutely. That talked about our history. In schools we are not in the history books much. This show was groundbreaking. I really believe it was meant to be. It just so happened that there was a blizzard on the East Coast when "Roots" came on. Everybody was forced to stay indoors and our show came on the air. The show was so mind-blowing that every night people stayed home to watch this extraordinary story.
You are still working so hard. What is your secret to saying ageless?
You've got to eat right, and you've got to do that damn exercise. When I was growing up, my mother was constantly saying, "Come in the house!" I was always outside jumping rope. I was a bit of a tomboy. Now you can't get people to leave the house.
Next year you will turn 70. What do you hope to accomplish in the next decade?
I want to keep working and doing the projects that can challenge me and have something to say. I want to keep playing strong women.
After everything you've accomplished, what are you the most proud of?
My longevity. This career has been so wonderful to me. I've gotten to meet people. I've gotten to travel all over the world. I'm doing what I love to do, and I've been managing to do it since I was 9 years old.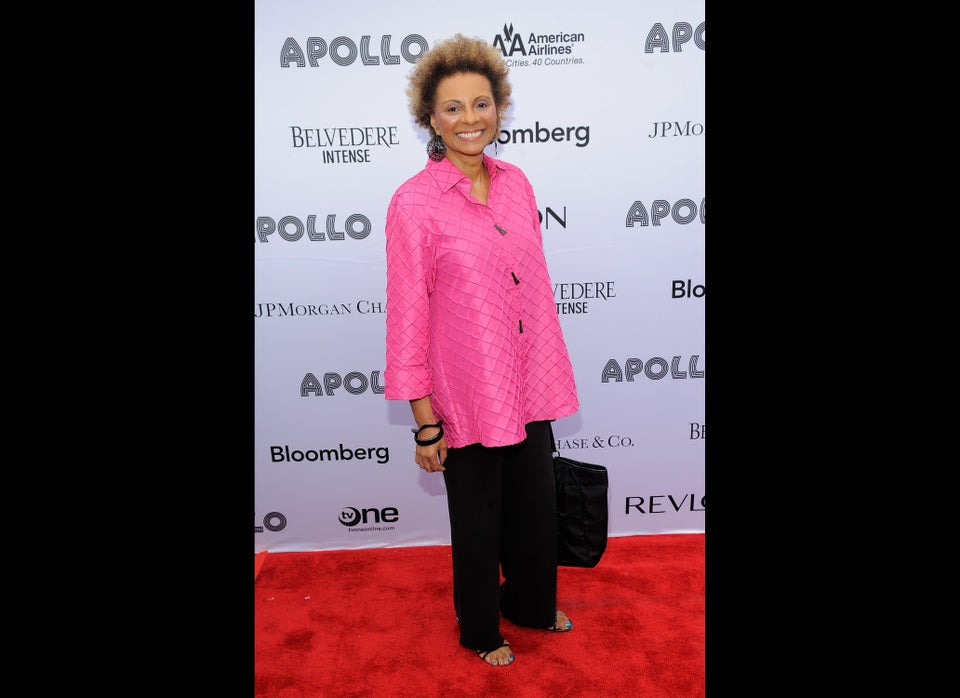 Leslie Uggams
Related
Popular in the Community