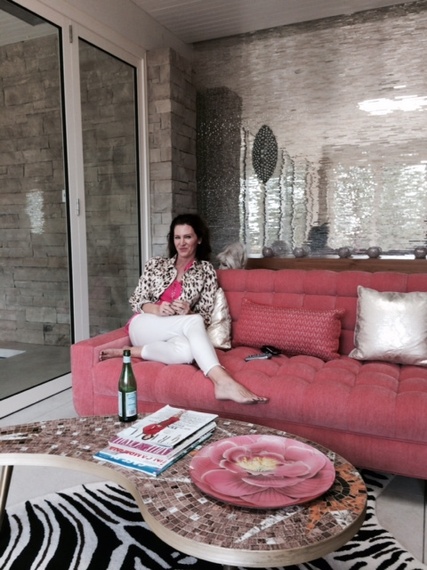 Pictured here, Leslie Zemeckis, in the pool house of her sustainable home. Photo courtesy of Leslie Zemeckis.
MONTECITO, CA -- One usually thinks of a supermom as a corporate or Wall Street hotshot by day, June Cleaver at home with the kids and Angelina Jolie in Mr. and Mrs. Smith when alone with her husband. Oh, and that's in addition to running a fully sustainable home, daily grueling workouts and girl time with her BFFs. While not exactly a corporate climber, Leslie Zemeckis checks all these boxes, and thus validates the moniker "unconventional supermom." So let's get to know this glamorous, green bookworm.
I recently had the opportunity to sit down with Leslie at the poolhouse of her environmentally correct compound in this low-key, but ultra-prestigious burg, just south of Santa Barbara, to talk love, life, kids and burlesque. No that is not a typo -- in researching her recent treatise on this novel subject, Behind The Burly-Q, Skyhorse Publishing, 2013, Leslie became one of the world's most knowledgeable experts and memorabilia collectors of this gone, but not forgotten, performance art. Prior to the book's publication, she produced and directed a documentary film by the same name in 2010. And before that, she performed a one-person live show entitled Staar: She'd Rather Be a Mistress in which her signature song was "Boobs."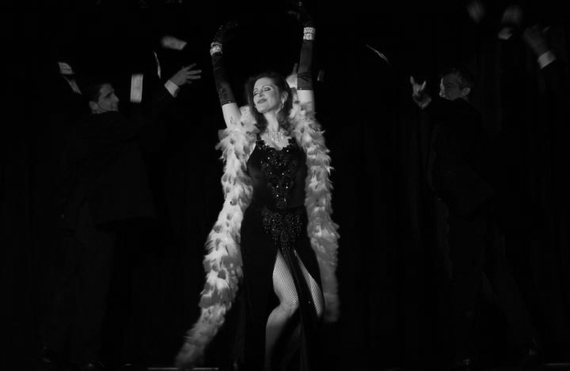 Zemeckis performed a one woman show titled Staar: She'd Rather Be a Mistress. Photo courtesy of Leslie Zemeckis.
Not only does this supergirl rock an organic garden, but she also dons a bling-bling beekeeping suit to tend her hives, which delights her youngest child, six-year-old Zsa Zsa (yes, as in Gabor). This on a manicured, seven acre spread sprinkled with the latest green accoutrements, including solar panels, drip water irrigation, low flow plumbing, bamboo floors, reverse osmosis water and drought-tolerant plant species, all designed by Leslie and her husband, the legendary film director-producer Robert Zemeckis (as in Forrest Gump, Back to the Future, and Flight, among many others). The Zemickises drive hybrids and electric vehicles, and went to great lengths to avoid use of chemicals and poisons in construction of their home. Chickens are raised to produce organic eggs. In all, an admirably green lifestyle that is a family affair. And, in typical offbeat Leslie Zemeckis fashion, an aviary is being constructed in anticipation of the exotic birds that will soon inhabit it.
What makes Leslie unique is she also is a master researcher and talented writer-historian. So why burlesque?
I have always been drawn to people who are judged by their looks or livelihoods, for better or worse. Many times, these people do not have the opportunity to tell their real stories. The burlesque movement came and went, and nobody really asked or cared about the backgrounds of these women. Their lives -- as mothers, daughters, divorcees, survivors -- I thought they had compelling stories to tell, and many of the most revered and notorious burlesque performers are still alive. So, I set off to find them, and to listen...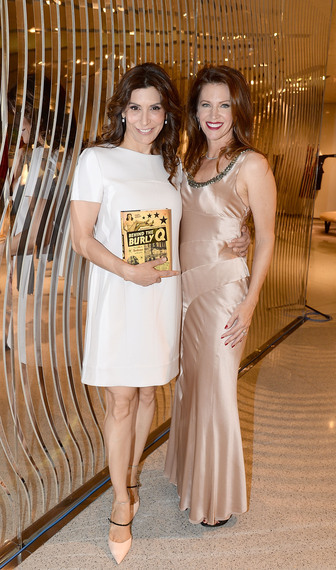 Actress/model Jo Champa and Leslie Zemeckis attend Zemeckis' book signing for Behind the Burly Q at Alberta Ferretti Boutique on November 14, 2013 in West Hollywood, California. Photo by Chris Weeks/Getty Images for Alberta Ferretti.
In the foreword by Blaze Starr, she purports that "Men need strippers." I asked Leslie if she subscribed to this theory. "Yes, men are visual creatures, it is in their DNA," explained the forty-ish, auburn-haired beauty, herself a former actress and model. "I also believe that women need to dress themselves up, not everyday, but don't sit around eating bon-bonsin sweats all day, either.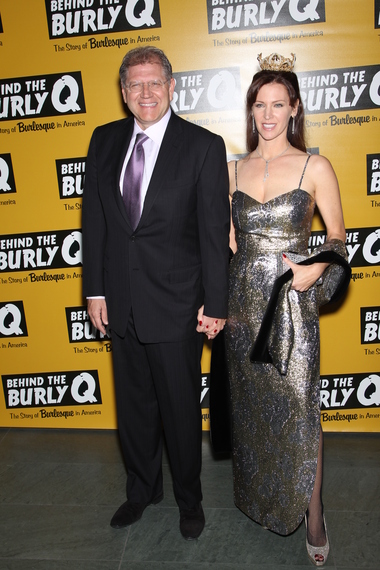 Leslie and Robert Zemeckis at the premiere of Burly-Q at MoMA in New York. Photo courtesy of Leslie Zemeckis.
Indeed, Leslie got them talking. I read of Blaze Starr, Lily St. Cyr, Tempest Storm, Gypsy Rose Lee and many others, all of whom were indeed notorious in the heyday of burlesque. This was during the 1920s-50s until widespread availability of hardcore pornography and x-rated magazines eclipsed this subtle but scintillating adult entertainment genre in shock value -- and thus its commercial viability. During their reign, these women were the Holly Madisons if not Jenna Jamesons of their day -- scandalous, beautiful, sexy and popular for the working class folk.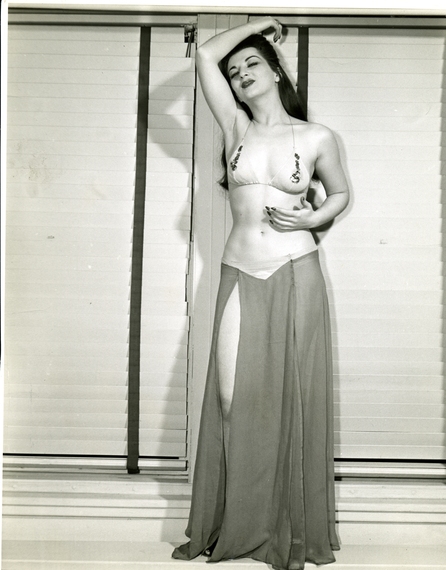 Sherry Britton, shown above, is a dear friend of Zemeckis and is the topic of her next book. Britton was not only a stripper, but was made an honorary Brigadier General by President Franklin D. Roosevelt. Photo courtesy of Leslie Zemeckis.
Leslie is a relentless researcher and spins her tales with straightforward, easy to understand yet elegant prose. There is also a treasure-trove of period photos of the women, the costumes, the theaters, the glamour and the seedy underground lives of some performers. Overall, a part of life that is foreign to most of us but worth a trip back in time.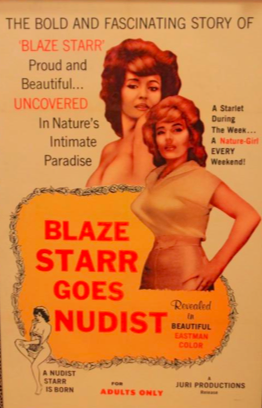 A poster from Blaze Starr's movie, Blaze Starr Goes Nudist. Photo courtesy of Leslie Zemeckis.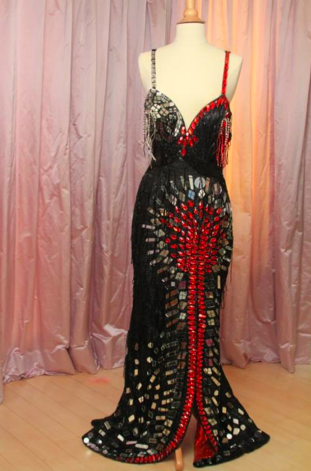 A hand sewn gown by Blaze Starr, soon to be on display as part of Zemeckis' upcoming burlesque exhibition. Photo courtesy of Leslie Zemeckis.
With two sons and a daughter, ages 10, nine and six, Leslie is a doting but not smothering mom who also is careful to carve out alone time for Robert and herself. When asked what he thought about the mother of his children deciding to become the world's top expert on burlesque, Robert says, "I thought, it's show time!" I also asked him where Leslie gets her John Malkovich-like literary point of view on the world? "I believe Leslie's creative take on almost everything comes from her insatiable love of all things artistic and fashionable -- I mention fashionable because Malkovich always wanted to be fashionable."
So how has Burly-Q been received thus far, any interest in taking this subject matter into other mediums like Broadway or Film?
We have already been approached by Broadway because of the "Americana" aspect of the story to do a musical. As of this writing, the book has already been optioned for what she envisions as a weekly TV series revolving around life at a burlesque club.
So who would play Blaze Starr?
"Christina Hendricks from Mad Men, or perhaps, Amy Adams," mused Leslie. "I am drawn to her red hair, although a cartoon-like voluptuous character may be more physically appropriate," she chuckled.
Given the family's history in the entertainment industry, the question must be asked: Would you steer your children toward a life in Hollywood? "I would not steer them anywhere. I would try to instill in them a love of music, art and books," explains Leslie, who herself devours five to ten books per month.
As a lover of unusual subject matter, Leslie recently completed a documentary film about Siamese twins, which is currently on the film festival circuit.
Watch the trailer for Leslie's Zemeckis' film, Bound By Flesh.
"I'm not interested in things everyone else is doing. I like things that the populace may reject or may not see value in." The film focuses on the Hilton sisters, who were significant Vaudeville and Hollywood Siamese twin film stars during the early 1900s through 40s. She will soon publish another tome on burlesque, this time about Lily St. Cyr, another burlesque stripper who ruled the nightclubs during the 40s and 50s.
At the end of the day, Leslie Zemeckis' first love is researching a subject that is of great interest to her. "I wish I had known that you could make a living doing research. Back when I had a day job, it would have been a great gig for me."
Related
Popular in the Community