Just type "Leslie Uggams" into YouTube and it auto-fills with an infamous moment in her career, singing, "June Is Bustin' Out All Over" on Washington, D.C.'s Capitol Lawn. One of Rodgers and Hammerstein's best-known tunes from Carousel, it wasn't known to Uggams that day, who forgot the words but continued like a trooper - swapping the lyrics for something that more resembled the goo-goo gaga of baby talk.
Leslie Uggams Sings "June Is Bustin' Out All Over":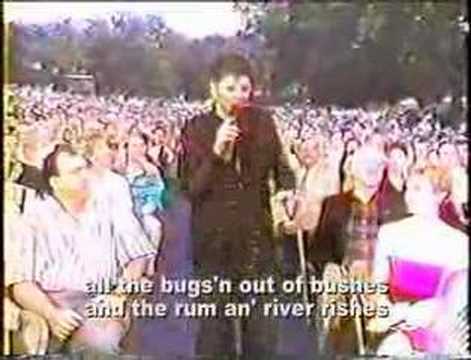 https://www.youtube.com/watch?v=Mrma76T5Wa4
A legendary singer and actress, known for her roles on TV (Roots, The Leslie Uggams Show) and Broadway (Hallelujah, Baby!, Jerry's Girl's, Anything Goes), that moment is not one most performers would want remembered, and certainly not immortalized on the internet.
But Uggams reminds us that life isn't always perfect, and we can't stress out about it. Instead we just need to laugh.
Preparing for her latest venture, a new cabaret show designed specifically for New York City's "54 Below" (June 6-7), Uggams brought the incident up in an interview and admitted, with a hearty chuckle, "It was just one of those situations where whatever came out of my mouth, came out of my mouth."
Instead of trying to forget it and shift focus to her success, she's given it a prominent place in her show, alongside the peaks, "fun experiences and classy people" she's worked with, "like The Beatles and Frank Sinatra".
In fact, she admits it opened up a whole new world to her [of viral videos] and appreciates that it has become somewhat of an anthem, each passing June.
Uggams says that experience simply reminded her that "the show must go on," "Which in a way is great. It's more human. Not everything is perfection all the time. In fact, sometimes the things that are not perfection are more interesting."
Great advice, Ms. Uggams.
REAL LIFE. REAL NEWS. REAL VOICES.
Help us tell more of the stories that matter from voices that too often remain unheard.