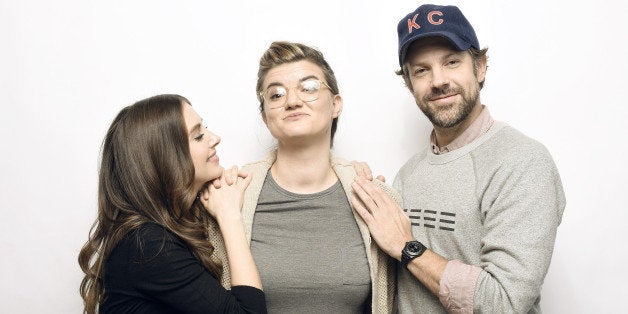 Sitting down with Leslye Headland is like swigging an espresso shot, especially when you do it in the thick of the sleepless Sundance Film Festival. She barrels toward you with the zeal of someone who couldn't possibly have anywhere else in the world to be. And she didn't: Her latest film, "Sleeping with Other People," had its world premiere on Saturday night of the fest, marking Headland's second Sundance debut after the 2012 comedy "Bachelorette."
By Sunday morning, the buzz in Park City, Utah, had christened this the year of Sexy Sundance. "The Bronze," "The Overnight," "The D Train," "I Am Michael" and "The Diary of a Teenage Girl" not only contained sex scenes that swayed between increasing levels of humor and eroticism, but each, in its own way, was a movie about sex. If the title alone doesn't make "Sleeping with Other People" an obvious addition to the Sexy Sundance catalogue, consider this: In its standout scene, Jason Sudeikis instructs Alison Brie about proper masturbation techniques using an empty green-tea bottle.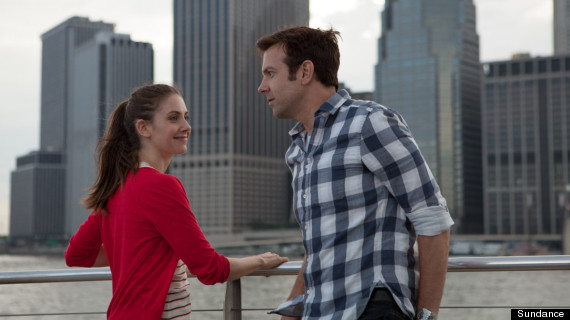 It might seem Headland, who wrote and directed the film, enjoys shock value. But like the outlandish "Bachelorette," which featured Lizzy Caplan delivering a monologue about blow jobs, "Sleeping with Other People" tempers raunchy humor with a sweetness that belies its bawdiness. Which would double as a fitting Twitter bio for Headland.
"I think it's just the way that I talk with people," she said. "I am a big softie. I cry at the drop of a hat. I'm so vulnerable about what I do and the relationships that I have in my life. And then I will say the most shocking, offensive things. Like, I just can't help it. It just comes out. And I'm not sure where I got that from. It might have been being raised religiously, being raised Catholic ..."
We'd been talking for only a few moments at this point, but someone from one of the broadcast-interview operations in Sundance's press lounge walked over to ask we keep our voices down. "That's not the first time that's happened," Headland said.
"Maybe there's something about being emotional and vulnerable where you want to say the thing that nobody wants to hear," she continued, again conjuring memories of her Catholic-school upbringing. "Not to be shocking to be shocking, but you want to be, like, 'How does this make you feel?' Like, 'How does it make you feel if we really talk in-depth about the vagina? If we talk really in-depth about where the cervix is and actually put a name on these things?' It's the same thing with the blow-job monologue in 'Bachelorette.' If we actually name stuff, how uncomfortable are you guys going to get? These are the things that we are all thinking. We're talking about them behind closed doors."
In "Sleeping with Other People," the characters are very much not thinking about these things from behind closed doors. Brie plays a neurotic sex addict with a hang-up on a married doctor (a mustachioed Adam Scott), with Sudeikis portraying the guy who deflowered her in college. When they reunite years later, they uphold a platonic relationship that carries an obvious romantic connection, á la "When Harry Met Sally," one of the movies Headland counts as inspiration alongside "Carnal Knowledge," "The Graduate," "Punch-Drunk Love," "Shampoo" and "Silver Linings Playbook" (as well as Jane Austen novels). She wanted sex to be the film's subject -- not to be vulgar, but in an effort to make a romantic comedy in which it does not serve solely as the couple's reward at the end.
Having one character teach another how to pleasure herself -- if you don't know what a "dirty DJ" is, visit Urban Dictionary before seeing the film -- is culled directly from Headland's life. After moving during her sophomore year of high school, Headland attended public school, first on a Maryland campus with primarily black and Hispanic students and later with an all-white, BMW-driving population in Connecticut. While drunk at parties, Headland, who didn't have sex until college, would find herself in the corner educating her female friends about how to masturbate and informing her male friends what womanly anatomy provides the most stimulation.
"I was like, 'Why don't we just tell everyone where the fucking cervix is?'" she said. "'Why don't we just tell everyone where the G-spot is?'"
She introduced that notion to Sudeikis and Brie, who helped to flesh out the scene during rehearsals. What resulted is the film's highlight: a fast-paced conversation that acts as a raunchy bookend to the duo's honeyed interactions.
"Jason, I feel, could sell a ketchup Popsicle to a woman wearing white gloves. He could play anything," she said of directing the scene. "I just feel like he could make anything likeable and anything sexy and anything fun. And Alie, too -- just the right amount of turned on, but not too much. She's just like, 'Oh, oh, okay.'"
Headland will be the first to tell you it's a sort of antidote to "Fifty Shades of Grey," which she says, along with "Gone Girl," is an example of the contemporary evolution of Austenian social satire.
"Can I just be honest? I couldn't get through it," she said when asked how she feels about E.L. James' novel. "I really was so ready to like it and be excited, and I was like, 'This just isn't sexy. It's just not sexy.' I was so intrigued by why people were loving it and I just didn't find it as emotionally stimulating as I thought it was going to be."
What "Sleeping with Other People" boasts that -- according to Headland -- something like "Fifty Shades" doesn't, is an intimacy not tied exclusively to the removal of clothes. "I think the reason that scene really resonates with people is not just because it's super funny and super button-pushing and crazy, but I think it's also because it's this weird analogy or visualization of him teaching her about herself, which is really what intimacy is. You know what I mean? That's actually what intimacy is: into you, you see me. Your partner teaches you about yourself, and so it's this ridiculous thing -- or the wedding dress in 'Bachelorette.' But I think people connect to it because it is emotional. It ultimately is an emotional scene. That's how I directed it and that's how they played it."