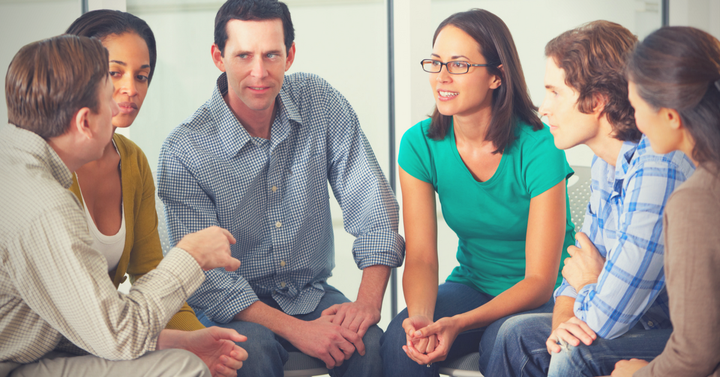 If you're an introvert, this may be one of your natural strengths. If so, it may also give you an edge on your leadership.
It's not uncommon for introverts to be the quietest people in the room or to be the last ones to speak in a meeting.
It is important to have something to say and to have something of value to contribute, but when and how you do this can be quite powerful and possibly even your super-power.
When everyone else is speaking, you are actively listening. Active listening is observable. It shouldn't mean that you are invisible in the room. You are present in your listening. You may be intermittently taking notes and making eye contact with those who are speaking and sharing ideas.
Don't underestimate the power of silence.Through active listening you can begin to not only hear what is being said, but you also discern what is not being said. This is vitally important. You listen to words, but also observe body language, intonations, and where connections are being made with others who are present.
The key to deliberate, intentional, and active listening as a leader is that when you are ready to speak you can acknowledge what has been said and who said it. You can connect their points to the desired outcomes and people will feel heard and seen by you.
There is less conflict when people feel heard. Trust begins to form and collaboration is more effective. Respect is present and there is an opening to consider more perspectives. Progress can be made more easily and swiftly thanks to these connections. People often ask me how their silence or quiet nature is a strength in leadership. This is an example of how the dynamic works. You probably already do this, but being conscious and aware of why it works can be helpful.
It is an act of respect to listen fully. It can't be done in a manipulative fashion.That's not sustainable and people will see right through it. Listening is a skill, and it isn't passive. It often develops naturally as part of a quiet and mindful nature. It's more natural for introverts to lead in this way.
It's not always easy, especially if we are not in agreement with much of what we are hearing. It's a discipline and that's where the true leadership comes in. In the words of Stephen Covey in his much appreciated book, The Seven Habits Of Highly Effective People, this is the 5th habit: "Seek first to understand, then to be understood".
Even better, allow for silence to be okay in meetings that you lead. People may not be used to it and it may feel uncomfortable and awkward at first. They might try to fill the silence to alleviate their uneasiness. Set the example that silence is okay and valuable.
Pose important, well-thought-out questions, and allow the group to formulate ideas, answers, and solutions in response. This should be without interruption and fully expressed one at a time. This is where creativity and innovation can show up.
Remember that introverts in the meeting might also be actively listening and need to follow up with contributions after the fact.State openly how this can be done and invite the follow-up at the close of meetings. You might be surprised at how much information, innovation, and creativity continue to flow.
By acknowledging all that is said and ultimately allowing ideas to be expressed in a safe container, the group will experience new ways of communicating. Your summary of the progress on outcomes will show your strength as a leader and a listener as well as the power and effectiveness of a more quiet, appreciative approach.
As an introvert herself with over 20 years in executive leadership positions, Stefanie recognizes the importance of knowing and utilizing your natural strengths to make a difference while staying true to your authentic self.
You can find her at www.LeadWithConfidence.com supporting quiet leaders from diverse industries. As a certified Myers Briggs (MBTI) Facilitator Stefanie specializes in working directly with leaders to identify and leverage their strengths.
Click the link below to access the free 6-part series of '40 Proven Strategies for Introverts to Lead with Confidence'. Download it here: bit.ly/lwc2016guide