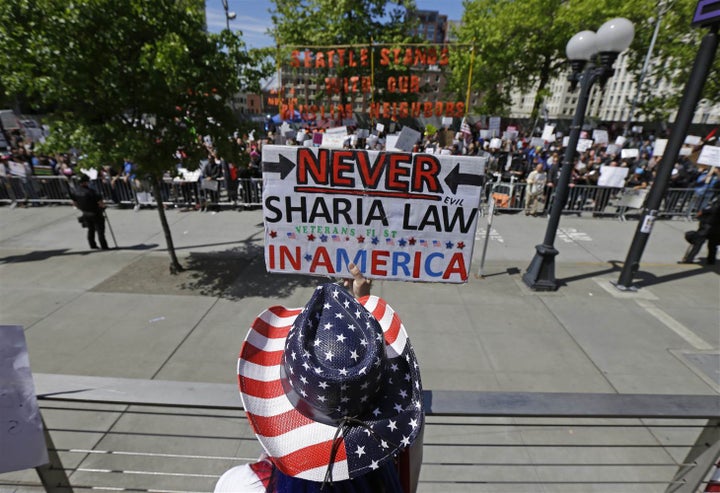 Some Americans seem to have no limit for hate. Just a few short weeks after the deadly white supremacist rally in Charlottesville, ACT for America, the nation's largest anti-Muslim grassroots organization, has scheduled an online "day of action" on Saturday targeting immigrants, Muslims, and refugees.
Originally scheduled as physical rallies in 36 states, the organization moved to the internet, citing "threats of violence" after the nation's reaction to Charlottesville and large counter-protest in Boston. However, the online rallies are still extremely concerning for targeted groups, as their dangerous and sometimes deadly rhetoric could potentially have a further reach than it would at a physical rally.
ACT for America has a history of espousing Islamophobia, as it previously held a "March Against Sharia" in June, resulting in violence and arrests. The Southern Poverty Law Center has designated the organization as a hate group (although that didn't stop President Trump from welcoming its founder, Brigitte Gabriel, to the White House). Gabriel has made it her personal crusade to eradicate Islam from America, stating that practicing Muslims cannot be loyal U.S. citizens--even accusing Gold Star father Khizr Khan of lying about his allegiance to the Constitution. She regularly spews baseless claims in the media, such as her statement that 15 to 25 percent of the world's Muslims are radicalized and intent on attacking the West.
And while experts and Muslims themselves know these statements to be blatantly false, many Americans don't. As a result of Islamophobic narratives spread by organizations like ACT for America, including through online platforms, anti-Muslim hate crimes increased 91% compared to this time last year. Muslim children are regularly being bullied in schools while women across the country are taking self defense classes, fearing harassment for wearing hijab. Anti-sharia legislation has been introduced and passed in many states, 13 of which ACT for America contributed to, impeding Muslim Americans from their Constitutional right to pray, fast, and provide charity as prescribed by their faith.
Over 200 organizations of various faith backgrounds, many of whom are participating in online counter-protests during ACT for America's rally, sent letters to mayors of nearly 60 cities in which the rallies were scheduled, warning them not to become the next Charlottesville.
The letters state, "Although ACT has removed its endorsement and branding from any rallies that may take place, many of the rallies have already been organized, and may continue with or without ACT's brand attached. In light of this possibility, and recent events, we urge you to unequivocally condemn white supremacist and anti-Muslim hatred and make it clear that bigotry and violence are not welcome."
As we observed with Charlottesville, condemnations of bigotry and violence by our elected officials are paramount in influencing public opinion and behavior. Members of Congress on both sides of the aisle were quick to condemn the events, some even calling out President Trump by name for assigning blame to "both sides." However, despite strongly denouncing the bigotry and discrimination that the protestors in Charlottesville stood for, few have spoken out against ACT for America's rallies. Words matter, and once again, Islamophobia is being given a free pass.
Some representatives have taken steps in the right direction but public support is needed to achieve meaningful progress. Senators Kamala Harris (D-CA), Marco Rubio (R-FL), Diane Feinstein (D-CA), and Susan Collins (R-ME) led a successful effort earlier this year to unanimously pass a bipartisan Senate resolution condemning ethnic, religious, and racial hate crimes. However, its House version has only garnered 43 cosponsors. Concerned citizens can urge their elected officials to demonstrate support for marginalized communities, including Muslims, Jews, Sikhs, African Americans, and the LGBTQ community, by co-sponsoring the resolution as well as the bicameral "No Hate" Act introduced by Senator Blumenthal (D-CT) and Representative Beyer (D-VA) "to strengthen federal laws that combat hate speech, threats, and attacks."
As Senator Harris stated, "If we are outraged about what happened...in Charlottesville, we've got to care about everyday discrimination as well."
Islamophobia is everyday discrimination for the 3.3 million Muslims who call America home. If our people and our politicians can agree to unequivocally denounce Nazis and white supremacists, then it is hypocritical for them to stay silent about dangerous rallies such as this one.
Wardah Khalid is President and Co-Founder of Poligon Education Fund, a non-partisan organization dedicated to strengthening Muslim American engagement with Congress. Follow her on Twitter @wardahkhalid_.
Support HuffPost
The Stakes Have Never Been Higher
Related
Popular in the Community