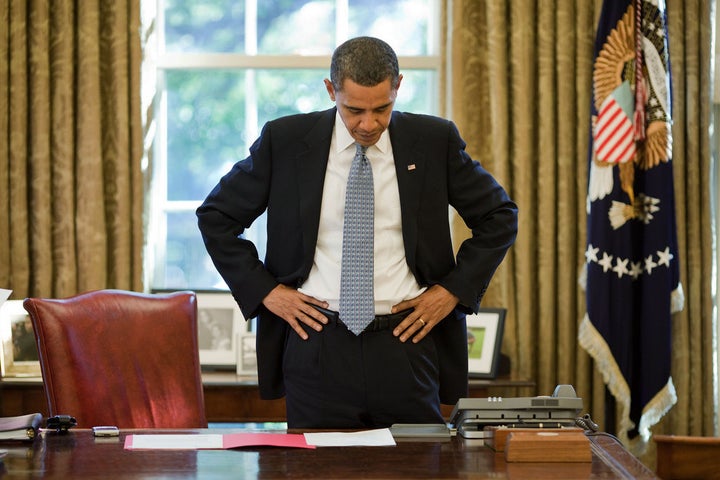 This story was updated at 6:10 p.m. ET.
As few as 0.1 percent of mortgage modifications initiated under the Obama administration's signature foreclosure prevention program involve reductions of principal, according to a federal report released Wednesday.
Research by state regulators, academics, and by the Federal Reserve shows that principal reductions lead to more sustainable loan modifications. In other words, they're the best way to ensure that troubled borrowers don't lose their homes.
But of the nearly 121,000 troubled loans that have been modified by large banks and thrifts under the administration's Home Affordable Modification Program through March, just 120 of them involved a cut in principal, according to the report by the Office of the Comptroller of the Currency and Office of Thrift Supervision.
The Treasury Department has consistently said that the share of modified mortgages that incorporate a permanent reduction in principal is "under 10 percent." Phyllis Caldwell, chief of Treasury's Homeownership Preservation Office, reiterated that figure Wednesday on a conference call with reporters, acknowledging that the figure fluctuates as more trial modifications convert to five-year plans.
The low number reported by the federal bank regulators -- less than 0.1 percent -- calls into question the administration's entire approach to modifying the mortgages of distressed borrowers suffering from negative equity, a stagnating economy, and near-10 percent unemployment.
On Tuesday, members of the Congressional Oversight Panel sharply criticized the administration's approach during a hearing with Treasury Secretary Timothy Geithner. Damon Silvers, a member of the bailout watchdog, told Geithner that the administration's $75 billion Making Home Affordable program doesn't sufficiently address the problem posed by unemployed homeowners.
"The scale of the resources simply isn't adequate," Silvers said.
Nearly 15 million workers are unemployed. More than 45 percent of them have been unemployed for at least six months.
"The inescapable reality is that the economic problems facing our country [are] exacerbating the foreclosure problem, and until we have economic policies that enable and foster private sector job creation, efforts like HAMP will continue to fail and ultimately hurt those who need help the most," Rep. Darrell Issa, the top Republican on the House Committee on Oversight and Government Reform, said Monday.
The administration announced Wednesday that five states can begin to use $1.5 billion in federal bailout money for their own local programs to help struggling homeowners avert foreclosure.
Caldwell told reporters that the state agencies estimate that as many as 90,000 homeowners could be helped.
About three million homes will receive foreclosure notices this year, estimates real estate research firm RealtyTrac. More than one million of them will be repossessed by lenders.
Through March, the largest banks reported nearly 1.2 million foreclosures in process, federal bank regulators said. In the first three months of the year those servicers, which represent more than 64 percent of all outstanding first-lien home mortgages, initiated nearly 371,000 new foreclosures, a jump of 19 percent from the previous quarter. They completed nearly 153,000 during the same period, the OCC/OTS report shows, also a 19 percent increase.
HAMP is part of the Troubled Asset Relief Program (TARP). It's scheduled to end in October.
"We only have three months left with hundreds of thousands of families facing foreclosure," Congressional Oversight Panel Chairman Elizabeth Warren told Geithner on Tuesday. "Is it time to rethink whether or not a mortgage foreclosure prevention program that is based on a group of servicers whom you describe as having done a 'terrible job' is a program that perhaps should be redesigned?"
More than 11.2 million homeowners with a mortgage, or 24 percent, owe more on their mortgage than the home is worth, according to real estate research firm CoreLogic. The firm estimates that the typical "underwater" homeowner won't return to positive equity until late 2015 to early 2016.
"In some depressed markets, the typical borrower in negative equity may not experience
positive equity until 2020 or later," the firm cautions.
A January report by the State Foreclosure Prevention Working Group noted that principal reduction is the best way to stem the foreclosure crisis.
"Given the correlation between negative equity and likelihood of default, the failure to write down principal in connection with loan modifications is a glaring flaw in current efforts," the state regulators noted in their report. With so many homeowners underwater, "doing 'business as usual' only adds to the likelihood of ultimate default."
In a bright spot, though, Wednesday's report by the federal bank regulators showed that homeowners who modified their mortgage under the administration's plan stayed current on their new mortgage at a higher rate than others. Three months after their loans were modified, nearly 17 percent of HAMP homeowners were at least 30 days delinquent on their new mortgage versus 25 percent of all modified home loans. Less than eight percent of HAMP homeowners were at least 60 days late compared to 11 percent of all homeowners with modified mortgages, data through March shows.
"These lower early post-modification delinquency rates may reflect HAMP's emphasis on the affordability of monthly payments and the requirements to verify income and complete a successful trial period," the report noted.
About four-fifths of homeowners with modified loans under HAMP saw their monthly payments decrease by at least 20 percent, data from the OCC/OTS report shows. Treasury data through May shows that homeowners in HAMP saw their median monthly payment drop by about 41 percent, meaning that half the homeowners saw a bigger drop than 41 percent while half experienced a smaller decrease.
Treasury officials stressed that the Wednesday report by federal bank regulators relied on a different set of data, so the 0.1 percent figure may be misleading. That report, which looked at data through March, reported 120,659 five-year HAMP modifications. Through March, Treasury reported 227,922 active five-year modifications.
The OCC/OTS report uses data from the largest banks and thrifts. Those firms represent roughly 70 percent of the mortgages eligible for HAMP, according to Treasury data.
On Monday, the Huffington Post requested from Treasury the total number of permanent modifications utilizing reductions in principal through May. At the time of publication, Treasury had yet to provide that number.
Treasury officials hope to see an increase in the number of HAMP modifications that incorporate reductions of principal. While the administration has ramped up the incentives it provides for principal reductions, it still relies on voluntary participation by servicers.
The low number of modified mortgages that include principal cuts may reflect the efficacy of Treasury's incentives.
More than 16 months after President Barack Obama announced his plan to help struggling homeowners, HAMP is stalling. Nearly 436,000 borrowers have been kicked out of the program while just 340,000 have received permanent relief through May.
Last month, about 155,000 homeowners were bounced from the program; just 30,000 entered the program with new temporary trial plans.
"Our current efforts to end this crisis, including the administration's initiative, have fallen woefully short," Rep. Maxine Waters, a California Democrat, said Tuesday. "[HAMP], a voluntary program with little enforcement from Treasury, remains challenged and has failed to put a dent in the epic numbers of foreclosures sweeping our country."
Herbert M. Allison, Jr., Treasury's assistant secretary for financial stability, reiterated Wednesday the administration's commitment to struggling homeowners.
"While we've made important progress stabilizing the housing market and keeping responsible families in their homes, the Obama administration will continue to do everything it can to help those who are struggling the most during this difficult time," Allison said in a statement.
Congressional criticism of the administration's approach is growing.
"Voluntary programs don't work," Waters said Tuesday. "I'm going to speak honestly: HAMP was written by the Treasury and the servicers. They're not doing anything in that program that they don't want to do. And that's why the program isn't working."
Calling all HuffPost superfans!
Sign up for membership to become a founding member and help shape HuffPost's next chapter