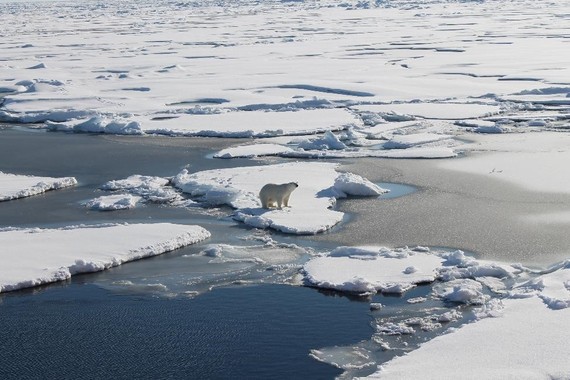 The U.S. GEOTRACES team is at 85 °N and ice cover is increasing. The captain has slowed our speed from 10 to 5 knots and fired up a second engine. As we move north into thicker ice we will continue to lose speed and require more power. The crunch of breaking ice underneath the bow is audible throughout the entire ship. There is no ebb and flow to the movement, just an unstructured shaking as we pass through different layers of ice.
At our current location >90% of the surface ocean is covered by ice, however, we have yet to encounter a floe large enough for safe sampling. There are still large swaths of open water and patches of thin first year ice, not the thick multiyear sheets we expected to encounter at this latitude. The Coast Guard will determine when the ice is thick enough for us to exit the ship, and survey the floe before the science team moves on. In preparation for sampling we have had a number of planning and safety meetings. Polar bears present a risk to scientists working on the ice and the Coast Guard will have three armed personnel (two on the ice, one on the bridge of the ship) to protect us. During our safety briefing the Coast Guard provided the following need-to-know polar bear facts:
• Polar bears sit at the top of the Arctic food web and are excellent hunters
• Adult males weigh up to 1700 lbs, females 550 lbs
• They can run up to 25 mph for short distances
• Their sense of smell ranges over one mile
• Polar bears will take a bite out of anything they think is food, including humans
If a polar bear is spotted we will drop everything and head back to the ship. Shooting a bear is a last resort that will only be taken to save human lives. If we have to abandon our gear on the ice the bear will have free range to toss around samplers and sink our supplies.
On August 25 during a sampling event, one curious polar bear spent 30 minutes checking out the Healy. He jumped and swam between ice floes just 50 ft from the ship, nose in the air trying to decipher all the foreign smells that emanate from a Coast Guard ice breaker filled with 120 humans.
Before reaching 90 °N we will occupy our first crossover station - the German GEOTRACES team onboard a separate icebreaker will sample the same coordinates shortly after we depart to compare results and assess the accuracy of our measurements. Our estimated time of arrival at the North Pole is early morning September 4th. We will spend around 24 hours sampling water, particles, ice, and sediment from one of the least explored regions of the world in terms of ocean chemistry.
Ice cover has been increasing as we near the top of the Earth. Below are images from August 17 at 74 °N, August 19 at 75 °N, and August 26 at 84 °N (top to bottom).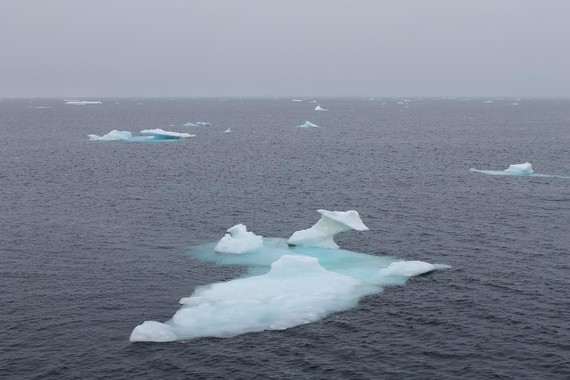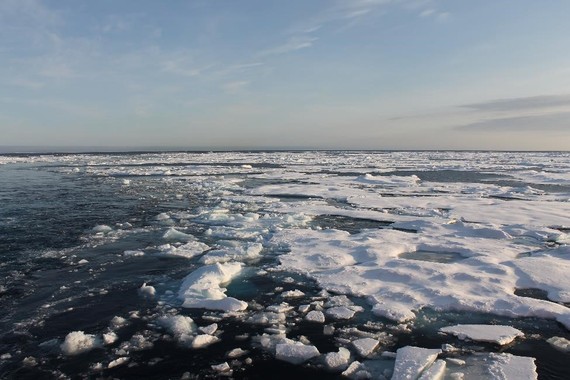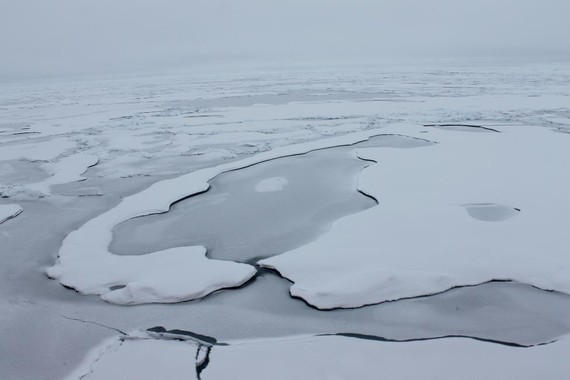 Calling all HuffPost superfans!
Sign up for membership to become a founding member and help shape HuffPost's next chapter