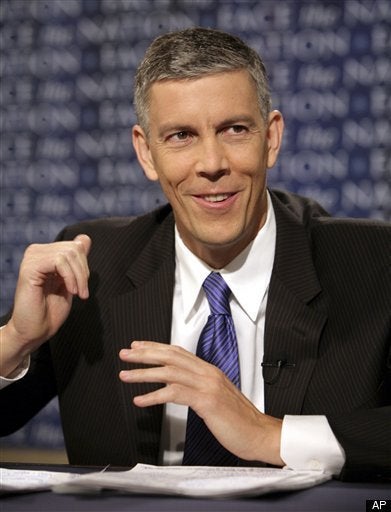 There will be no shortage of federal firepower in Denmark this week when the International Olympic Committee selects the city that will host the 2016 Summer Games. I'll leave it to the national pundits to debate the wisdom of President Obama's decision to travel to Copenhagen to lead Chicago's Olympic pitch. But if you're scoring at home, I come down on the side of those who believe that he wouldn't bother making the trip unless he'd already been assured that the Chicago Games are a done deal.
In addition to President Obama and his entourage, the IOC will get to rub shoulders with two Cabinet secretaries. Making the trip overseas will be Transportation Secretary Ray LaHood and Education Secretary Arne Duncan. Because the IOC has raised a number of legitimate concerns about Chicago's under-funded and over-crowded public transportation system, I can almost pretend to understand why Secretary LaHood is making the trip. I'd even be willing to speculate as to the promises he'll make about being able to deliver federal dollars to renovate Chicago's antiquated commuter lines during the next few years. Whatever it takes to close the deal, my friends.
But Arne Duncan? Sure, the guy played hoops at Harvard back in the 1980s, and I know he's tight with fellow Ivy League hoopster and major Obama fundraiser John Rogers, Jr. (Ariel Capital Management). But what's his role on the 2016 team? Was he brought in to lock up the vote of the delegate from Australia, where Duncan played hoops after college? Was he picked just because he can give Coach Daley some quality minutes off the bench? Or maybe the diversity-conscious Chicago 2016 team opted for NBA-style diversity by adding a slow, white big man.
Let's get real. If Team Daley needed a Chicago political figure who could break ankles with a crossover dribble, they could have called Todd Stroger's protege Tony Cole. (Todd should still have his cell phone number.) Cole is definitely a guy who could use a couple of spa days in Europe with Oprah.
Who knows? Maybe it goes beyond hoops. Maybe Mayor Daley suspects that IOC president Jacques Rogge will have some pressing questions about school reform. Perhaps Rogge will want to hear what steps Secretary Duncan is taking to ensure that the rest of our nation's public schools begin performing at the level of those in Chicago. Or maybe the IOC will want to know whether one of our neighborhood schools can play host to all Olympic shooting events in 2016.
But at the end of the day, I think it is probably all about hoops. Word on the street has Secretary Duncan making a play to assist former Memphis coach John Calipari in heading up the 2016 Dream Team. Coach Calipari likely asked the former Chicago Public Schools CEO to head to Copenhagen to clear up any and all issues surrounding the Simeon High School transcript of Team USA's 2016 point guard, Derrick Rose, lest those Team USA victories vanish the way Coach Calipari's many Memphis wins did.
Support HuffPost
The Stakes Have Never Been Higher
Related
Popular in the Community