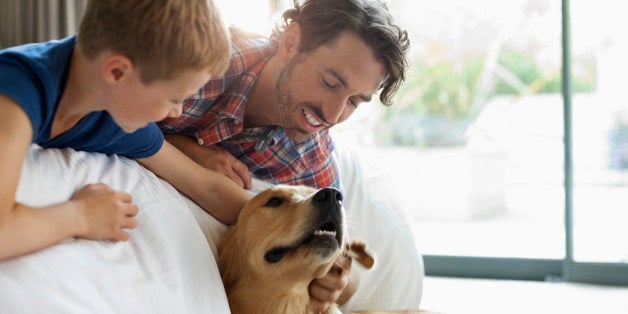 I met the woman of my dreams while living in Hawaii and was married for 15 years. Things were great for most of it. We decided to split in August, 2011. She moved out two months later. We shared joint custody of our 5-year-old son. I was devastated, but not defeated. I had my life back, at least half of it, and it was my turn to live a little.
Five months later, I received an email from my ex saying she had accepted a position 1,000 miles away and would be leaving with our son. Seven days and $23,000, later she boarded a plane while I snuggled our son and wondered how in the world I was going to handle this alone.
I felt ashamed and humiliated that my marriage had failed. But three years later I know our decision to divorce was the right one.
So, what would I tell the three year younger, divorcing me?
1. This is about you. You matter. Right now, it's more about your child.
2.If you don't have anything nice to say don't say anything at all. Stop YELLING. It may be the hardest part of parenting post divorce but it's the most important thing you can work on.
3.Keep your crazy within the confines of your home. Don't drag your friends and neighbors into it.
4.Stick with your family and let your friends come to you. You'll find out quickly who your true friends are. Be careful who you are vulnerable with. Be prepared for the fallout.
5.There will be no one in your house to help handle the little, immediate things, like "Hey, Honey! Can you throw me a roll of toilet paper!?" Nope.
6.Anniversaries, songs, movies and local spots will stop affecting you. One day you'll wake up and realize that your anniversary passed and you didn't even anticipate or realize it.
7.There's something we singles call the relationship triangle. Married couples will deny it but any single parent will tell you that it exists. Fifty percent of marriages end in divorce. That means half of your married friends are somewhere you were before you made the decision to split. You're not welcome because it's too close to home. Make new friends.
8.Eliminate your ex's friends and all toxic people from your social media outlets or just stay off of it. It's OK. You're toxic too. If you chose to stay on, choose the high road. Don't bash your ex. Period. You loved her once. Remember that. You can love her again. Just differently.
9.People will be more willing to point out what you're doing wrong than what you're doing right. Single dads, you will always be compared to moms, married and/or single.
10.People will come out of the woodwork with curiosity. Sometimes there's a domino effect. Chances are you won't hear from them again until they update their profile status to single, or post pictures of their anniversaries. Help those who seek help but don't offer advice unless it's asked for.
11.There will always be that one person. The meanest of the Mean Girls. The one who complains about being a single mom because her loving, so darn supportive husband works too much. "Yeah, he's supportive and all, but this is tough. I'm a single mom too, basically." Ignore them and remember the nights you were "baby sitting" while your ex was out with her girl friends. Your divorce is none of their business and their marriage is none of yours.
12.If you live or have lived with addiction, get counseling. You need it.
13.Join a meet-up group for single parents. YOU ARE NOT ALONE. Talk to your child's counselor. Set up a lunch date for kids with different families. THEY ARE NOT ALONE. They need to know it.
14.Take care of yourself. Your child needs you. You need You. Sleep. Eat well.
15.It's OK to let your kids see you cry. Just not too much.
16.Teach them empathy and resiliency. Divorce is a process. It takes some of us longer than others. You'll get there. And you'll find out that your story is not the worst.
17.The first time your child tells you he hates you will break your heart. When he says he wants to live with your ex, your heart will shatter. Acknowledge his feelings and hug him tighter when he's ready.
18.XBoxes and American Girls are OK but they don't equate love. Hugs do.
19.Don't date until you're ready. Don't introduce your kids to new partners until you AND your child are ready to take the risk. Learning to love again is scary. Take your time. Date behind the scenes. Don't jump into anything. Wait for the right one. Be honest with your new partner. Single dads with vasectomies go to the top of the single parents dating pool!
20.This is your time for introspection and growth. Regardless of who is to blame, you both were. There was a time to fix your marriage and you didn't. You can't fix it. But you can be a better you. It's hard. It's scary. It's challenging. But it's worth it.
So what's next on this excellent adventure? I'm not sure. Still looking for work. Still snuggling our now-8-year-old. His vocabulary and emotions have grown and it's getting harder and easier and scarier and better. Maybe I'll start a Meet-Up group to help teach our boys to be strong, thoughtful, sensitive, caring men. Maybe I'll just stick to the one boy I've got. Maybe I'll get a job in sales or maybe I'll start working with people in need.
Either way -- it's all good. The days of wine and roses may have been replaced with whines and Legos, but it certainly was an affair to remember. Thanks for the memories, darlin'. And thank you for our son. I love you both. More than even one more day...
Support HuffPost
A No-B.S. Guide To Life
Related
Popular in the Community