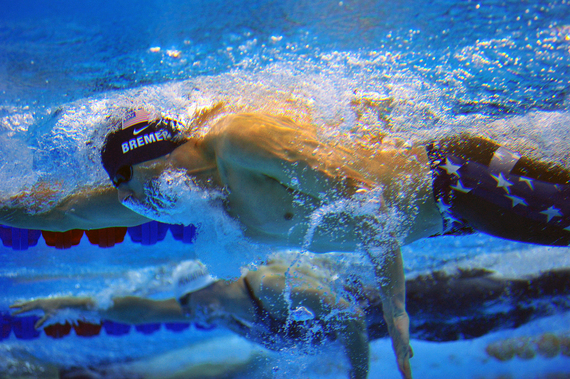 We're less than a month away from the world's best athletes gathering in Rio de Janeiro for the 2016 Summer Olympics and the Road to Rio really heated up last week with the swimming Olympic Trials. As a former competitive swimmer, I love the Olympics and watched eagerly as the hopefuls dueled in the pool for spots on Team USA.
For me, the Olympics epitomize everything that's great about competition. Athletes have given up leisure activities, time with friends, in order to pursue their Olympic dreams. It's a level of hard work, dedication and sacrifice that has a lot in common with starting and running a company.
As I dig deeper and push harder to achieve my dreams and help small business owners achieve theirs with Revel Systems, watching Olympic hopefuls compete and learning about their backstories reminds me of a lesson I learned in college: the most successful competitors often have had the hardest obstacles to overcome. You would think that it would be the opposite but, in fact, these athletes are so inspirational not just because of what they're currently achieving, but because of what they've overcome to get there.
This year, there were the expected sources of inspiration: Missy Franklin, who won gold back in 2012. Michael Phelps making his 5th Olympic team. Katie Ledecky, a fellow Stanford swimmer, whose sheer talent is breaking the mold of women's swimming as we know it.
But then, as with any Olympics, there were also a handful of hardworking, eye-catching newcomers who amazed. From the start of my career, I began noticing that there are lessons that translate from the pool to the business world and here are some key takeaways coming out of this year's Trials:
You don't have to come from wealth to succeed.
Krystal Lara, an eighteen-year-old Latina swimmer, first learned to swim through a free program with the local Staten Island parks department. When Krystal qualified for the Trials, her mom Alexandra said, "You don't understand how hard it is for a family like ours to have this result."
Now she's "Krystal the Pistol" and was giving it her all at the Trials this past week. How did she beat the odds to become part of swimming's elite? According to what she told the New York Times, it comes down to no procrastination and brutally efficient time management. While she went to the Trials this time around primarily to gain experience, I can't wait to see where her hard work and dedication takes her come 2020.
Don't let anything stand in your way.
Reece Whitley is 6 feet 8 inches tall. That's about a foot sized difference between the elite swimmers who have come before him, but he doesn't let standing out keep him from success. He didn't make it this year, but he's only sixteen-year-old and is expected by some to one day be the best 200-meter breaststroker in the world.
The director of the U.S. national team, Frank Busch, called out another Rio hopeful, Marcus Titus, for never letting anything stand in his way. Marcus is deaf, but says that he uses his disability to his advantage by not having the crowd or noises distract him and instead focusing solely on his race. To find success in the ultra competitive business world, if often takes pushing aside the naysayers who say it hasn't been done that way before or that you don't fit the mold of what success looks like.
What counts the most is how you finish the race.
People like to label me as a "woman in tech" or consider it important to denote that I'm a "female" tech CEO. Similarly, Simone Manuel is a swimming role model, but often people want to put "African-American" before that. As Simone puts it, "Like anyone else, all the symbolism disappears when you get in the water." In business or in the pool, people will try to place labels on you or pull the focus from what ultimately matters the most: outcompeting and outworking everyone else in service of your ultimate goal.
From my own time on the Stanford swim team, I competed with and learned from Olympians who taught me one of my most critical lessons in life on how the best get to the top. Going into college, I'd assumed that the best are able to succeed because they have fewer hurdles to get over than the rest of us. For example, I had mono my junior year of college and then often struggled with back and ankle injuries in college and thought that's what held me back.
In reality, the best often have more obstacles in front of them than the rest of us. They're not succeeding because their path is easier; they're succeeding because they're pushing themselves harder and overcoming more than the rest of us. I can't wait to watch the Summer Olympics because there are so many lessons that all of us can take away from their journeys to better enrich ourselves in work and in life.
Lisa Falzone is the Co-Founder & CEO of Revel Systems, an award-winning iPad Point of Sale solution for single and multi-location small businesses and enterprises. A graduate of Stanford University where she was a competitive swimmer, Lisa has led her Silicon Valley-based startup since its creation in 2010 and is spearheading Revel's mission to help entrepreneurs around the world build their dream business.
Calling all HuffPost superfans!
Sign up for membership to become a founding member and help shape HuffPost's next chapter