It could have been one of life's passing pleasures, a serendipitous opportunity to spend an evening absorbing the insights of 96-year-old civil rights leader, educator and World War II veteran Timuel Black, Jr. on what it was like to create his own pathways through life.
As we talked, however, it seemed that there must be a purpose to our fortunate table placements beyond my simple fascination with his living history. There were lessons to be gleaned, insights that apply to any young adult and ones that seemed particularly relevant to an intensely dedicated and gregarious African-American man who has lived as part of our family between college breaks during the past 18 months.
Graciously, Mr. Black was willing to share during our extended conversation.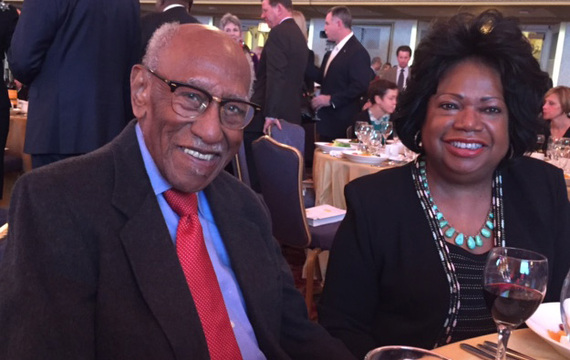 Timuel Black, Jr. has both endured and created dramatic events. The grandson of slaves, he survived the Normandy Invasion and Battle of the Bulge during World War II before making a lifelong commitment to human rights after seeing the horrors of the Buchenwald Nazi concentration camp. An educator who received his master's degree from the University of Chicago, he brought in Dr. Martin Luther King Jr. for his first Chicago appearance, organized Chicago's Freedom Trains to the March on Washington, helped elect Chicago's first African American mayor and introduced around a young man named Barack Obama who became another important first.
His history is extraordinary: his insights equally important.
"If Demetrius were sitting here instead of me, what would you tell him?" I asked from my seat next to Mr. Black at a fundraising dinner for the Kennedy Forum, a group founded by former Congressman Patrick Kennedy to improve mental health awareness and treatment.
"I'd tell him to prepare himself; academically, if academics are the right direction for him. But whatever he wants to accomplish, he needs to be prepared, really prepared. The door of opportunity doesn't swing open very often. If you're ready, you'll find a way through, but you have to be prepared," Mr. Black replied. "Barack Obama didn't become President just because he wanted it. He was ready when the time came.
"And I'd also tell him to persevere," Mr. Black added. "There's always someone or some institution to stand in the way of your success. If you know what you want to achieve -- and you know it's right -- keep working, keep pushing. Don't give up. You may even achieve beyond your dreams. I didn't grow up dreaming about a black President. But we persevered. Something greater than my dreams happened."
These lessons couldn't be better timed for Demetrius Mobley, now a Lewis University graduate student who received his undergraduate degree in four years even as basketball took him to three schools. Growing up in Chicago, he has faced more than his share of hurdles, but has always managed to leap over or around them, driven by his own ambition and by parents who have always encouraged him. As he faces new academic and athletic challenges this year, being prepared and persevering are part of who he has become.
As the Kennedy Forum evening continued, former Notre Dame basketball player, Iraq war veteran and Purple Heart recipient Danielle Green spoke about her struggles and achievements. Ms. Green overcame mental illness in her family, the challenges of daily life growing up in the Englewood neighborhood of Chicago and the loss of her left arm in a rocket-propelled grenade attack in Iraq to serve as a counseling therapist to veterans struggling with physical and mental war wounds. Her work earned Ms. Green the Pat Tillman Award for Service at the 2015 ESPY Awards.
"Her," Mr. Black leaned over to whisper as she spoke. "She's what I'm talking about. She's the example for that young man."
Certainly, Danielle Green provides an inspirational example to follow, but so too does Timuel Black. His decades as a formal educator are behind him, but this 96-year-old pioneer remains committed to teaching. At the Kennedy Forum, he spoke about lessons learned from the civil rights struggle that can apply to the battle for mental health equality.
Mr. Black had few in front of him as he looked ahead to the human rights and educational challenges that demanded and received so much of his dedication throughout a life that began as the grandson of slaves and the son of sharecroppers.
Regardless of the challenge, and despite pains absorbed during battle, Timuel Black has created a better world for himself and those around him because he prepares and perseveres, while always taking time to teach.
PHOTO GALLERY
5 Inspiring Female Entrepreneurs Over 50
Calling all HuffPost superfans!
Sign up for membership to become a founding member and help shape HuffPost's next chapter