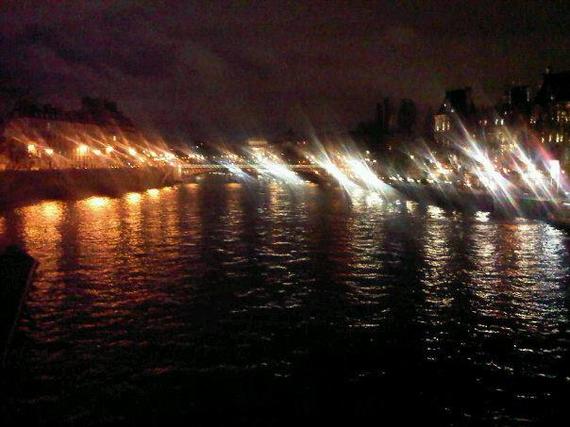 I love Paris. Thanks to my job I am fortunate enough to travel there several times a year. And I would like to offer a few words of advice to those attending (or planning to attend) the Climate Conference (COP 21) later this year.
Many tourists come to Paris with an idealized and romanticized notion of what the city will be like. And of course, the City of Lights is indeed a special place. But it is also a 'real' city, with real inhabitants, real businesses, real issues (like air pollution), etc. And those who cannot reconcile the reality with their fantasies may find that it does not live up to their expectations.
In addition to being a great tourist destination, Paris is a center of commerce and business. From those selling trinkets at the Eiffel Tower and Sacre Coeur to those multinationals headquartered there, Paris understands business. And the climate meeting is about business (as well as government) doing its part of protect conditions on Earth. This is a serious business we are in; and that cannot be lost on those outside the meetings themselves.
People come to Paris to find, or rekindle, romance. And it is certainly a great city for that. But the COP meeting cannot be only about coming together for shared experiences with people who share the same values. It must appeal to more than just our hearts. Maslow's Hierarchy of Needs tells us how important the 'social' aspect is but COP21 needs to avoid the impression that the meeting is nothing more than a giant boondoggle of wine, camaraderie and a good time, then the messages must be about more.
Learn from the impressionists. We all know that pictures of meetings are boring, especially compared to the evening in Paris when the light is just so perfect. But like the photo (above) that I took late one December evening after a long day of work; people are far more likely to see the good times one is having if that is all one chooses to share. Share both the seriousness as well as the lighter moments.
Paris is far cleaner than it used to be a few decades ago. Trash and recycling receptacles are easy to find and use. Organizers must make sure that there are enough, and that they are emptied frequently. And attendees need to use them. There is nothing quite as compelling for those who would attempt to discredit our efforts as the images of climate meetings swimming in trash.
Take inspiration from the great writers like Balzac, Victor Hugo, F. Scott Fitzgerald, Gertrude Stein and Earnest Hemingway who have found their muse along the banks of the Seine. The climate meeting must be driven by plot (what happens and what it inspires), and not just characters (big names). It must offer a compelling story. And this includes digital media where the images and tweets from the COP21 meeting will set the idea in the public's mind in real time. And please, as part of your narrative, do not equate 'sustainability' with the environment. The environmental pillar is a critical part of sustainability, of course, but advancing the human condition and increasing profitability are also essential elements that are lost too often in the words those who should know better sometimes use.
Lastly, do not waste this opportunity. I have been lucky enough to spend many days and weeks in what is acknowledged to be one of the world's most beautiful cities. I have worked long hours and hard and I have also taken advantage of my nights and weekends to enjoy the city. Do so, because opportunities like yours - and mine - are often once in a lifetime. And nothing is worse than looking back with regrets for the things not done. And that applies to advancing efforts to become better stewards on the only planet that we know that sustains life.
REAL LIFE. REAL NEWS. REAL VOICES.
Help us tell more of the stories that matter from voices that too often remain unheard.