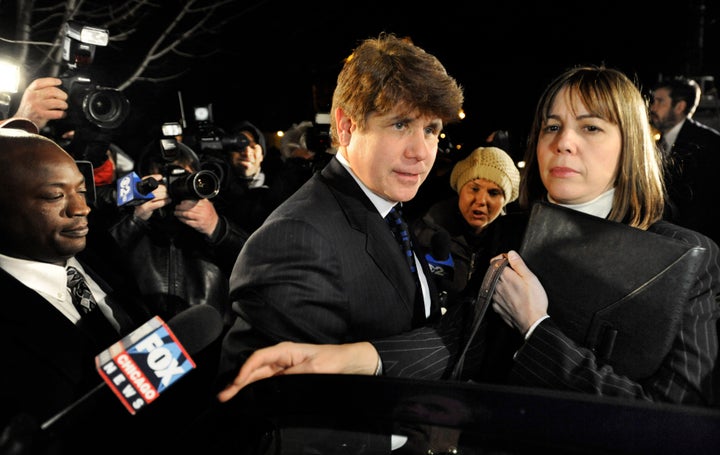 That was the public declaration of U.S. Attorney Patrick Fitzgerald, leader of the successful prosecution of disgraced ex-Gov. Rod Blagojevich, who was convicted on corruption charges and sentenced this week to 14 years in prison by US District Judge James Zagel.
But the big question going forward is quite simply: "Will it?"
Are longer prison terms the antidote to political corruption in this state? Will that be the legacy of the three-year Blagojevich spectacle?
All that remains to be seen.
Right now, however, one thing is certain: The conviction and subsequent sentencing has put a stop to Blagojevich, who conceded in court that he "must process the new realities."
That comment, delivered eye-to-eye to Judge Zagel, appeared to be part of the former governor's carefully rehearsed and carefully worded admission of contrition and guilt.
"My life is ruined, my career is over and I can't afford my home," Blagojevich said, adding that the "fight is over" because "the jury decided I committed a crime."
It almost sounded like Elvis doing a remake of the 1950's-era pop song "I fought the law and the law won."
Only moments earlier, US Attorney Reid Schar described Blagojevich as "incredibly manipulative" and "clever" while insisting that longer and harsher prison sentences will have a chilling effect on white-collar political crime in this state.
"Greed can be deterred," he said before the court.
Yet in his statement, Blagojevich never admitted personal greed -- he only apologized for crossing the line between "political horse trading" and campaign fundraising.
"I should have known better... but I never set out to break the law," he said.
Judge Zagel was not impressed.
Before handing down the longest prison sentence a corrupt Illinois governor has ever received, the judge said Blagojevich had "torn the fabric and disfigured" state government in a way that will not be easily repaired.
He also admonished Blagojevich for his media circus and combative public relations battle with federal prosecutors, calling it an example of "foolish and unworthy tactics" deliberately designed to "de-legitimize" the investigation, the investigators and the two trials that followed.
Blagojevich had already apologized for that when he was asked for mercy. Blagojevich also apologized to his family, his brother, and for his "self-absorbed behavior," which he called "childish and petty."
But he never apologized for the political culture in the state and its obsession with big money, the fractured finances that he left behind in Springfield that have Illinois on the brink of bankruptcy, or for his own large contribution to a climate of "corruption fatigue" that leaves voters cynical and disenfranchised. Nor did he say "sorry" for failing to cooperate in any other investigations involving political figures above or below his former station.
Blagojevich's long prison sentence may act as a deterrent to some politicos, who may think twice about what they do in office and certainly what they say on the phone.
But this isn't CSI or Law and Order, where the good guys always prevail.
That's why the Better Government Association, and other watchdog organizations, will continue to shine a light on government and make our public officials accountable to the people. If public confidence is to be restored -- especially in the wake of the Blagojevich scandal -- then rooting out corruption, waste, fraud and inefficiency at every level of government is more important than ever before. Better government is our right and our tax dollars have to be spent honestly and fairly.
Having said that, we also know that some in government and political life will continue to calculate the odds of personal gain versus arrest and the subsequent consequences. And some will still watch replays of the film Wall Street and get goose pimples when they hear Michael Douglas' character Gordon Gekko assert, "greed is good."
So at the conclusion of this sorry Blagojevich tale it may be best to take our cue from the man who handed down the 14-year prison term -- Judge Zagel:
"We are realists, we know it will occur again, but we want it to happen less," he said.
REAL LIFE. REAL NEWS. REAL VOICES.
Help us tell more of the stories that matter from voices that too often remain unheard.