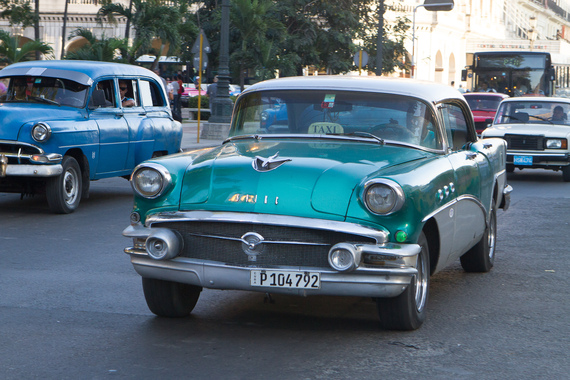 By no stretch of the imagination do I consider myself an expert on Cuba. To that end, this blog is not meant to be a political manifesto; rather, it captures what impressed and informed me on my first trip to Cuba this spring. While perhaps naïve, I wanted to reflect on the lessons that I, an ordinary businesswoman, learned, as many of the people who visit Cuba may actually be more like me than political scholars and historians.
My first memory of Cuba was as a student during the Cuban Missile Crisis, preparing for the ominous siren by taking cover under our parochial school desks. As I grew older and Cuba became a close but distant relation, I never had it on my travel bucket list, so it was somewhat of a surprise that I found my company, Gambel Communications, representing the first nonstop flight to Havana from New Orleans since 1958. The scope of our work, community and media relations, provided that a staff member and I were members of the nearly 80 person delegation including business, legal, political, religious and media representatives.
In partnership with At the Threshold, the University of Havana and the International Cuba Society in New Orleans, the week-long trip was led by Episcopal Bishop Joe Morris Doss who earned notoriety from the God's Mercy Cuban rescue mission in the 1980s. Due to the recent easing of restrictions on U.S. citizens' traveling to Cuba, our delegation visited on a people-to-people license which allowed us to immerse ourselves in the Cuban culture. The trip offered daily educational sessions in partnership with the University, as well as city tours to iconic places like Revolution Square, Old Havana and the Christ of Havana. But by far the best part was walking the streets, especially along the Malecón (sea wall), meeting the locals and learning from them. These conversations are what I carried back to New Orleans.
The parallels between Havana and New Orleans are astounding. With strong architectural influences from the Spanish and French, the ironwork and balconies look like they are straight from the French Quarter. Like many old cities, both Havana and New Orleans are rooted in urban squares. Havana has Plaza de Armas which is centered in Habana Vieja, and New Orleans has Jackson Square centered in the Vieux Carré. Both areas remain vibrant representatives of the culture, with artists, musicians, street performers and parades coloring the city centers.

So what are the lessons businesses can learn from Cuba?
While New Orleans and other historic cities such as Savannah and Charleston have recognized the importance of historic preservation, not only for tourism but also for economic development, Havana's buildings have not been maintained since the 1950s when Fidel Castro came into power, and the results have been devastating. Our tour guide estimated that three buildings crumble each day, and many are ensconced in scaffolding which has been in place for years without progress.
The historic character of the world's older cities and towns has a direct bearing on their appeal and livability. While architectural preservationists have long believed this, the growing interest in preserving historic urban areas is being increasingly addressed by economists, social scientists and others. In the area of historic preservation, it is important to recognize its economic benefits and its overall value, through the lenses of politics, landscape preservation, urban planning and real estate development. As a World Heritage Site, Cuba has recently begun to restore buildings, embracing the opportunity to not only preserve its past but also build its future. Recognizing that preservation can be key to economic development is an important lesson.
Just as we prepare for major events like the Super Bowl and the Kentucky Derby, Cuba must take a cue from its Northern neighbors. As travel restrictions become more relaxed, Cuba must strengthen its infrastructure to prepare for heightened tourism. From more hotels and lodging alternatives like Airbnb to restaurants and transportation, Cuba must invest in the hospitality industry in order to not only accommodates visitors but also to provide them with a positive experience. This is the opportunity to create ambassadors for the Cuban brand.
While much of the commerce is owned by the government, Raul Castro, since he took office, has made changes more than doubling the number of privately owned businesses, allowing them to grow from an estimated 200,000 to approximately 450,000. From the vintage cars to the paladars (restaurants in private homes), Cubans are becoming astute marketers. One of our favorite stops was La Casa, owned by a young man whose family had lived in the house for three generations. With his grandmother's residence upstairs, the restauranteur transformed the downstairs into a tranquil oasis, with an open skylight, waterfalls and soothing music. Tropical flowers adorned the small tables of two and four, and a guitar trio roamed the tiny quarters. He was proud of his daily specials, particularly the fresh green vegetables, which we had not eaten all trip. From lobster to coconut sorbet, along with the refreshing mojitos, we ate like kings. The proprietor marketed his success with framed photos of celebrity diners such as Jude Law standing in testimony to his fine cuisine. He shared his vision for his budding restaurant with the throngs of visitors who came by tour bus nightly, so it is not surprising that he enthusiastically agreed to an interview which you can view on Gambel Communications' Facebook page.
This lesson can also be called "Work Hard." The average monthly salary for a Cuban is $20. Cuban leadership is quick to point out that while the sum is paltry, citizens do not have to pay for housing, transportation, basic food, healthcare or utilities. Life's necessities are taken care of by the socialist government. But the fact remains that $20 does not go far for a family; therefore, people hold down multiple jobs, some nothing more than taking advantage of an opportunity. One night a kind young man offered to escort us to a local jazz club - for a fee; another time we took a photo of someone in traditional Cuban attire - for a fee. We were astounded to find physicians serving as doormen, and professors as cab drivers. The most coveted jobs are in the tourism and hospitality industry, athletes and artists; yet even Cuban professionals are on the lookout for opportunities to enhance their income.
With nearly 60 years under a communist regime, Cuba should look to public-private partnerships, especially with commercial developers, urban planners and preservationists, financial institutions and the tourism and hospitality sectors. Once Cuba's chief trading partner, Louisiana is poised to occupy that space. But to carve out its future in the 21st century, Cuba must create an environment of trust with international partners and a willingness to give and take. As required in some other countries, potential partners have been restricted in real estate, for example, to only owning property if there is a Cuban agent; however, the deed, as we understand it, remains with the Cuban citizen. While we were there, rumor had it that a prominent hotel had pulled out due to an unsatisfactory public-private partnership.
Even under dire circumstances, the Cubans we met, at least their personas, were positive. All is not bleak. Despite its poverty, Cuba is virtually crime-free, and nearly 100 percent of its citizenry is literate. Over and over again they thanked us for visiting their country, and they looked forward to more open relations between Cuba and the United States. One of the members of our delegation, a Cuban American, visited with his Cuban relatives in Havana. The next day he regaled us with stories of laughter and merriment as 40 plus people gathered in a tiny home simply to enjoy one another. They made their own music and merriment, lasting till the wee hours of the morning. The people we encountered on the street, in restaurants and in shops were respectful of their government but also openly shared their family stories of clandestine flight. One night we were serenaded by a charming guitarist who divulged that his grandfather and two family members had set sail the night before on their quest for freedom, and he himself had failed twice.
While Cuba, seemingly frozen in time, is not the prettiest of the Caribbean islands, the food is mediocre at best and there are really no souvenirs to buy, I would go back in a heartbeat, having fallen in love with the people and so in awe of their resilience and positive perspective. While Cuba certainly has a long way to go before becoming a viable and competitive tourist hub and economic engine, the attitude of its people will serve the country well.
This blogger graduated from Goldman Sachs' 10,000 Small Businesses program. Goldman Sachs is a partner of the What Is Working: Small Businesses section.
REAL LIFE. REAL NEWS. REAL VOICES.
Help us tell more of the stories that matter from voices that too often remain unheard.