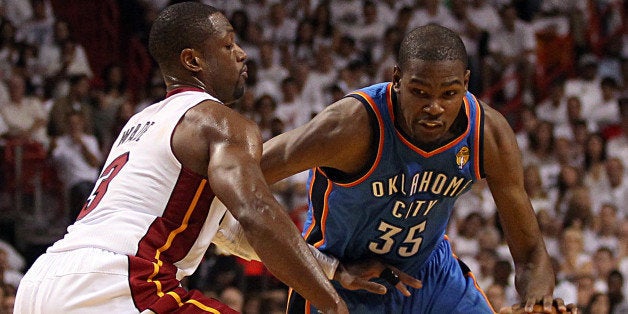 Last week, I had five minutes to interview Kevin Durant. The Oklahoma City Thunder forward is one of the NBA's best players and according to Ben Golliver and Rob Mahoney at SI.com, he's the 2nd best in the league behind LeBron. Durant was on a promotional tour for Degree's DO:MORE campaign, so for a few hours on September 24th, he hung out in New York City as the PR company ran him through its version of Paul Westhead's "System." A few moments before taping, I was asked by the producer not to bring up his fiancé (Monica Wright of the WNBA's Minnesota Lynx), Jay Z's Roc Nation Sports (his new agency) or his former teammate James Harden. My response: "Ha, no problem." None of those three topics were on my mind.
Since I had been following the release of SI.com's Top 100 players and since the Top 10 came out that day, I thought asking their #2 about the final installment may elicit a thoughtful response, something I've become accustomed to with Durant. Contrary to what Dan Patrick thinks and to what he accused me of, Durant didn't know my questions beforehand. Dan hasn't responded to emails I sent through his show page, nor has anyone picked up the phone in his studio when I've called before, during and after his show that I watch every day in the office.
After asking about his 25th birthday plans and what's better about his game (I learned that he's watching lots of Paul Pierce & Dirk Nowitzki film to pick up on their controlled pace of play), I told him that I was going to read him SI.com's Top 10 players for the upcoming season and to let me know who is missing from the list. He said that James Harden was missing and in response to me asking whom Harden should replace, Durant said, "Dwyane Wade." As it turns out, I didn't clock it out very well in my head as I had more time to ask him why he would swap Wade for Harden.
I knew immediately that we had a headline and that it was only a matter of how fast it would spread and how big of a story it would become.
CineSport is the sports video extension of newspapers across the country. We produce original video content with writers from the LA Times to the Boston Globe that gets consumed by millions of users who respect these publications as trusted sources for news and opinion. It's fair to say that publishers from South Florida to St. Louis respect our journalistic practices enough to extend their editorial voices through our video partnership.
SunSentinel.com made it a headline on their sports homepage and the Palm Beach Post made it a blog entry. Every one of the 100+ newspaper partners in the CineSport network, plus AOL, Daily Motion and others, had access to the video. The interview was viewed over 80,000 times on CineSport's Facebook page. Once it got posted online, Wade had access to it. What followed had many thinking the reaction was contrived considering Wade and Durant won Olympic gold together in 2012 and appeared in this Gatorade ad.
The 3-time NBA champion Wade posted this handwritten note on Instagram which received 117,000 likes, plus 5,020 retweets and 2,227 favorites on Twitter.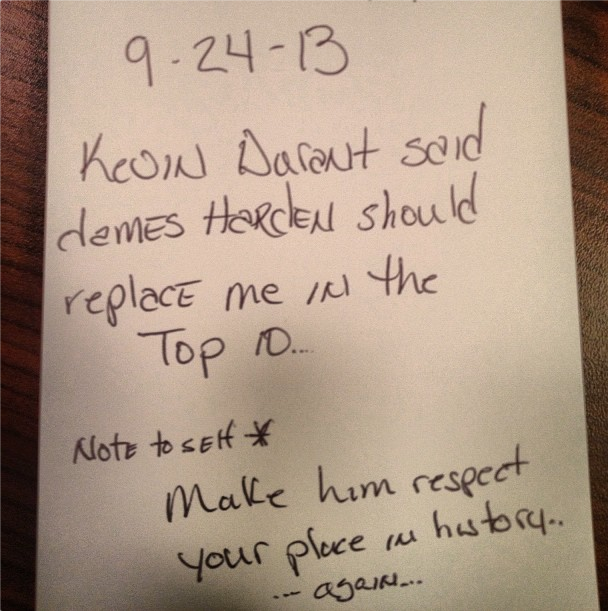 Durant's 5-word reply was retweeted 15,809 times and favorited by 8,186 followers.

That back and forth was obviously picked up by major national media outlets including SportsCenter, CBSSports.com, SI.com and Grantland. Grantland's Andrew Sharp wrote "Durant did a video interview with something called Cinesport" so I tweeted to him that I'd be glad to let him know what CineSport is. No reply.
After I commented on James Park's post on SheridanHoops.com and exchanged tweets with him, Park edited his original remarks, which claimed that the interview and the resulting "feud" was clearly staged. What I asked rhetorically to him, and to many other reporters was, why make such an accusation when I'm reachable and happy to respond. Adam Kuperstein from 560 WQAM in Miami did exactly that and asked me to clear things up on his radio show (44 minute mark).
I wasn't sure what to make of the players' comments. I found it hard to believe that they weren't texting each other while the nonsense unfolded, but then I watched the piece again paying close attention to Durant's expressions as I read the list. We've seen Durant act in commercials and this didn't appear to follow "KD Investigates, Take 2." Harden and Dwight Howard were both told CSN Houston that Durant's comments were sincere and on Friday, Darren Rovell tweeted that Durant and Gatorade were breaking up.
The Heat and Thunder play each other in Miami on Wednesday, January 29th on ESPN and again on Thursday, February 20th in OKC on TNT. Durant, Wade and their teammates will likely be exhausted talking about it by then, but that won't stop reporters from asking the questions, no matter how ridiculous some thought the coverage was at the outset.
My experience last week provided lessons in professional conduct and decorum, reporting, social media and technology. Hopefully I wasn't the only person who learned something.
A career in sports has given me the opportunity to travel the country to do play-by-play for games in Reading, PA to Olean, NY and report from Super Bowls, Final Fours, World Series, NBA Finals and Stanley Cups. In order to make the most of those experiences, I enjoy getting to taste the local flavors, so I'll end each post with a food recommendation and please pass yours along to me as well.
City: Seattle
Event: Jets vs. Seahawks - Nov. 11, 2012
Restaurant: Serious Pie (316 Virginia Street)
Plate: Pizza topped with roasted pumpkin, roasted garlic, onions, pecorino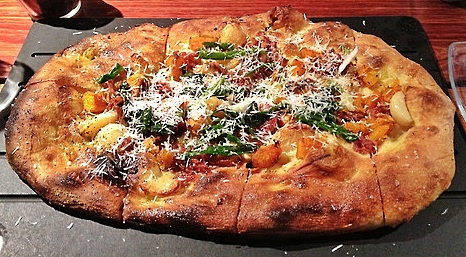 Breakdown: It was the special pie of the day and since I had never had pumpkin on pizza, the waiter didn't have to sell it too hard. My expectations were high as this spot came strongly recommended by Jordan Schultz, a Seattle-native and good friend, on top of this being my first Tom Douglas restaurant experience. The pizza crust was crisp and chewy all at the same time, the toppings spread evenly, garlic mellowed to an ideal intensity, pecorino provided a nice bit of salt, and the pumpkin had that 'mom's roasted potatoes' crunch on the outside with the creamy sweetness on the inside that you'd expect. I also mixed in a slice of my buddy's pizza: roasted seasonal mushrooms with truffle cheese - this was a bit oily which took away the natural flavors of the mushrooms. It's a great scene in the restaurant as you look out over the bakery below making for a truly unique lunch on a shockingly rainy afternoon in downtown Seattle.
Calling all HuffPost superfans!
Sign up for membership to become a founding member and help shape HuffPost's next chapter