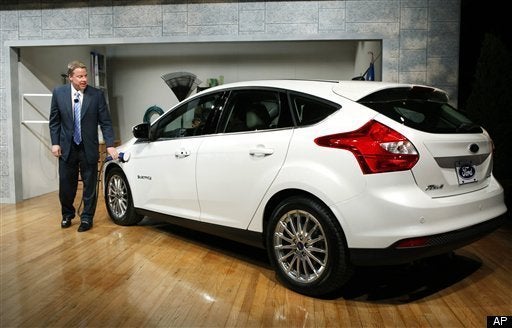 You may have heard the news: Ford reported its biggest annual profit since 1999. That's a huge accomplishment for a company that was on the ropes in 2009, a symbol of a once-great American industry in seemingly fatal decline.
Many factors contributed to Ford's shift from the breakdown lane into the fast lane: the sale or retirement of underperforming brands, the dramatic decision to close a quarter of its plants, and the aggressive reduction of its labor and health care costs.
But, there is something else they did right, something that has been lost in the recent discussions about its comeback: Ford has been engaging in unprecedented dialogues with consumers.
Today, success in marketing is achieved as a result of personal conversations and points of engagement with customers and prospects. As discussed in my recent book, Voice of the Customer Marketing, Ford designed an unprecedented social media-driven plan to create such engagements.
In 2009, Ford spent roughly one-quarter of its marketing dollars on digital and social media. This was more than double the amount spent by its competitors. Ford was clearly out front in the social networking arena, and its efforts paid rich dividends. As Ford's chief marketing executive, James Farley, put it: "If you are trying to communicate, as we are, that you have been reinventing the company, you can't just say it. You have to get the people to say it to each other."
Say it they did! They posted 11,000 videos, 15,000 Twitter messages, and over 11 million social networking impressions as part of an American Ford Fiesta prelaunch social media campaign called the Fiesta Movement.
The results were remarkable: 4.5 million YouTube views, 3.5 million Twitter impressions, and 80,000 "hand raisers" who asked to be kept up to date on the U.S. launch of the Ford Fiesta. Of those hand raisers, 97 percent did not own a Ford vehicle.
The Fiesta campaign inspired tens of thousands of people, not merely to listen passively to Ford advertising, but to engage in an ongoing dialogue with the company through channels of their own choosing: to post videos, to share feedback, and stay engaged and in touch with "The Ford Story," very often via multiple feeds. For some great insights on Ford's ongoing cutting-edge social media campaign, check out this link.
Ford's results remind us that social media represents one of the most sophisticated forms of selling. The sale is the by-product of the quality and mutual benefit of relationships and trust.
Re-think how you view customer acquisition. View it as the building of trust and engagement with an empowered group of people, (not targets). Engage them to tell you their stories with your product, make it a personal experience for them and you.
Provide them with multiple channels -- Facebook, Twitter, YouTube, e-mail, and other media -- by which to engage with, contribute to, and respond to, your company's ongoing story.
Ernan Roman is President of the marketing consultancy, Ernan Roman Direct Marketing.
Recognized as the industry pioneer who created three transformational methodologies: Integrated Direct Marketing, Opt-In Marketing, and Voice of Customer Relationship Research.
Clients include Microsoft, NBC Universal, Disney, Hewlett-Packard and IBM.

Ernan was named to "B to B's Who's Who" as one of the "100 most influential people" in Business Marketing by Crain's B to B Magazine.

His latest book on marketing best practices was published in October, 2010, and is titled: Voice of the Customer Marketing: A Proven 5-Step Process to Create Customers Who Care, Spend, and Stay.
Ernan is also the co-author of "Opt-In Marketing: Increase Sales Exponentially with Consensual Marketing" and author of "Integrated Direct Marketing: The Cutting Edge Strategy for Synchronizing Advertising, Direct Mail, Telemarketing and Field Sales."
Related
Popular in the Community