If most people are honest with themselves, the most joyful moments in their life are a result of giving. The joy of giving has been well documented. "It is better to give than receive." Remember our parents telling us this. Of course, we may have been skeptical in our younger more self-centered days, but it is absolutely true. Our greatest joy often comes from giving. My question is this. Why do we not employ "giving" more in our professional lives?
Now there is hope. I spent the last week in Boston at Inbound 13 continuing my education on the principles of Inbound Marketing. I arrived a day early to take an all-day "certification" class and then attended a three-day conference along with over 5000 other people. I was there last year and it has almost doubled in size.
For the uninitiated, Inbound Marketing is a completely different look at marketing. The premise is traditional marketing is dead. Direct mail, telemarketing, email blasts and even TV and radio do not work as they did before. Seth Godin calls it "permission marketing" rather than "interruption marketing."
The conference was hosted by a seven-year-old Boston company called Hubspot. Co-founders Brian Halligan, Dharmesh Shah and their team are making quite a splash while changing the business landscape in the meantime. Among the incredible number of speakers were three impressive daily keynoters -- Seth Godin, Arianna Huffington and Nate Silver. I follow Seth's blog daily (how does he do this?) and even attended his workshop in June in New York. Here's a relevant quote just from his blog today. "What can I contribute today," might be the very best way to become part of a community. Relentless generosity brings us closer together.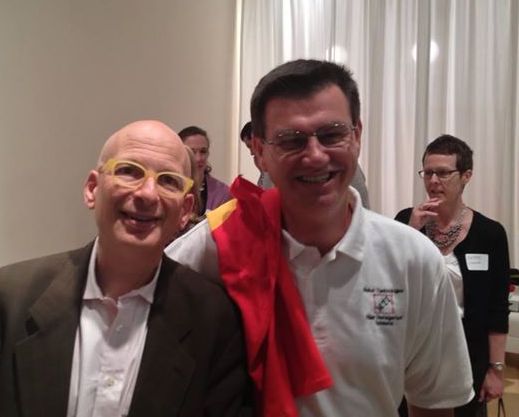 With Seth Godin in June

Of course, The Huffington Post speaks for itself regarding Arianna's influence and during election season, FiveThirtyEight.com, Nate Silver's website purchased by the New York Times, was an addiction, so I felt like the keynotes were just for me.
Not only that, we were introduced to the story of Scott Harrison and his amazing cause Charity:Water. Yes, I did the WATERWALK as a symbol of support for their "September" campaign to bring clean water to Orissa, India. It involved carrying two 40 lb. tanks of water a very short distance but realizing women often carry this as much as three miles in areas where they have no water. Currently, Charity:Water has close to 9000 water projects that will bring clean water to 3.4 million people.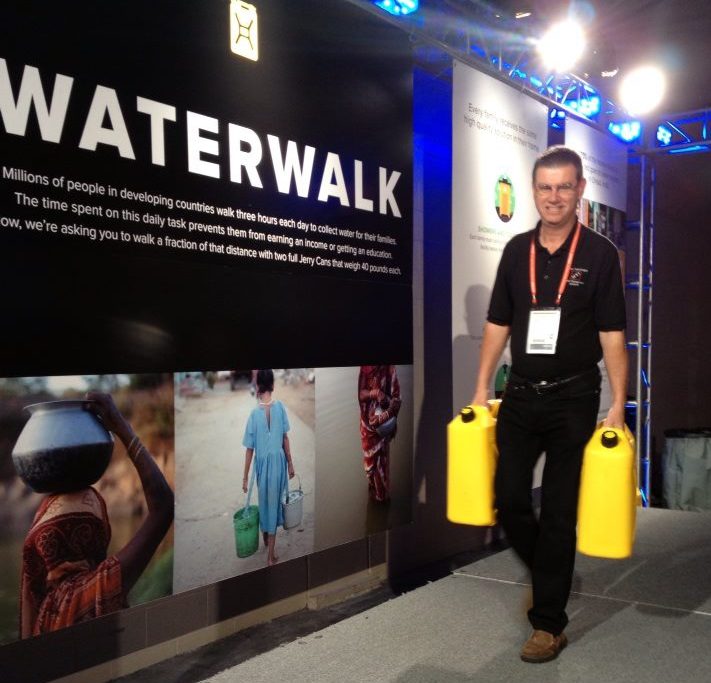 WATERWALK Charity:Water
Elizabeth Dunn, a young Harvard PhD presented some interesting findings regarding happiness research. Consider these whether it be customers or your spouse or your kids:
Experiences provide greater happiness than material things.
Scarcity increases happiness. If you do something repetitively no matter how good it was initially, it loses its impact on your happiness.
What people think makes them happy is often incorrect.
Money is important to a point but that point is not nearly as large as many of us think.
Happiness is often derived from taking risks and overcoming obstacles particularly if done collaboratively.
People almost universally derive more happiness from giving to others.
Happiness is an important element of this concept called Inbound Marketing. Happiness is bi-directional. Making our customers happy makes us happy.
Frankly, I am not sure this label "Inbound Marketing" will survive in the long run because as Hubspot co-founder Dharmesh Shah implied in his presentation, it's evolving into so much more -- a complete business philosophy and business model incorporating every aspect of a business. Here's why. It's about a spirit of engagement and giving never before encountered in business. Dharmesh called it "delightion". (His quote -- "It's not a word but it should be").
What if our number one priority is to delight? That is a gift that keeps on giving.
Maybe it's because we are from the same generation, but I was particularly inspired by Arianna's message of work/life balance. She chastised us men mostly for creating an unhealthy system and exhorted the women in the audience to help change the culture. She also challenged all of us male and female to "detox" from an addiction to our mobile devices. This addiction was illustrated quite effectively after her speech when guys on either side of me at the urinals checked their IPhones while relieving themselves -- true story and only a minute after her speech!
As someone who has survived colon cancer and delivered more than his share of eulogies, I was also touched by her comments that our professional accomplishments are not often highlighted in our eulogies. That is a fact.
So what are my takeaways from my recent enlightenment and education?
Strive to delight.
Be fearless, don't be afraid to fail.
Unplug when appropriate.
Give back to the community -- locally and globally.
We are happiest when giving -- Align professional goals and personal goals accordingly.
There is certainly a "sea change" taking place in media, marketing, how we conduct business and how we give back. This presents great opportunities for those who see, understand and employ new methods based on a spirit of engaging and giving. Keep an eye on these Hubspot folks. They are helping US change the world.
Happy "Inbound" marketing.
Related
Popular in the Community