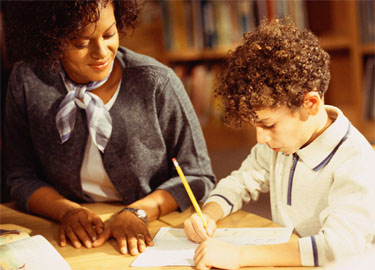 The process of moving an educational innovation from a good idea to widespread effective implementation is far from straightforward, and no one has a magic formula for doing it. The William T. Grant and Spencer Foundations, with help from the Forum for Youth Investment, have created a community composed of grantees in the federal Investing in Innovation (i3) program to share ideas and best practices. Our Success for All program participates in this community. In this space, I, in partnership with the Forum for Youth Investment, highlight observations from the experiences of i3 grantees other than our own, in an attempt to share the thinking and experience of colleagues out on the front lines of evidence-based reform.
This blog is based on an interview between the Forum for Youth Investment and Jerry D'Agostino, Professor of Education at the Ohio State University and Director of Reading Recovery's i3 project. A persistent challenge for programs that have scaled up is how to sustain for the long term. In this interview, D'Agostino shares how this long-standing literacy intervention has dealt with the challenge and how it has reinvented itself over the years in order to stay current.
Stay Fresh
Reading Recovery is a research-based, short-term intervention that involves one-to-one teaching for the lowest-achieving first graders. It began in New Zealand in the 1970's but has been in operation in the United States for 30 years and has spread across the country. Over the years, Reading Recovery has expanded and contracted depending on funding, interest from school districts, and our capacity. Today there are training centers at 19 universities that equip teachers to deliver the intervention and the program has a presence in some 8,000 schools across 49 states. With that kind of scale and longevity, it can be easy to become complacent and assume the intervention speaks for itself. D'Agostino says just the opposite is true. "We know that being the old brand that has been around for a long time can be hard," he notes. "You have to think about how to keep the brand fresh. Superintendents want the newest hot thing. Teachers have to know it will work with their kids in their classrooms. We have spent time focused on how to adjust the model to offer new features and respond to current education trends such as the Common Core. You always have to show teachers and administrators how the intervention addresses the issue of the day. For example, it isn't enough that the intervention produces strong effect sizes. For teachers, that is a meaningless number. They want to know that the program will help their third graders achieve the literacy level now required in nearly 40 states to be promoted to 4th grade."
Be Flexible but Maintain Your Core
Reading Recovery has taken seriously the idea of identifying the intervention's core elements and also responding to the educational system's current needs. They know that one-to-one instruction and 30-minute daily lessons are non-negotiable, but they also recognize that adaptations are needed. For example, innovations in the lesson framework have resulted in a design for classroom instruction (Literacy Collaborative), small groups (Comprehensive Intervention Model), and training for special education and ESL teachers (Literacy Lessons). "Our innovations have come as direct requests from schools," says D'Agostino. "For example, a school says they need something for English Language Learners and we develop something new for that one school that then becomes a part of our overall product line. It allows growth for Reading Recovery and flexibility for schools." Another non-negotiable is keeping training centralized. Although teacher leaders can receive training at one of the 19 partner universities, there are only a few places where trainers of teacher leaders can get certified. That allows Reading Recovery to maintain some quality control and fidelity over teacher leader training. "I've always been impressed with the fidelity of Reading Recovery instruction," said D'Aogstino. "I've seen Reading Recovery lessons in Zanesville, Ohio and Dublin, Ireland. The framework is the same, but each lesson is different in terms of how the teacher interacts with the student to scaffold literacy learning.
Combine Historical Expertise with Fresh Perspective
D'Agostino is quick to note that one of Reading Recovery's strengths and challenges is the longevity of its founders and senior leadership. Many of the original developers of the intervention are still in leadership positions. This allows for a historical perspective and continuity of purpose that are rare in education these days. It can also hinder innovation. That is why the organization also tries to find leadership positions for newer faculty and teachers with recent teaching and administrative experience who can bring fresh ideas and a willingness to push for some of the new adjustments to the model that schools are requesting.
Adapt, Adjust, and Meet Schools Where They Are
D'Agostino emphasizes that Reading Recovery's current success and long history is no reason to sit back and relax. "We have survived a lot of changes over the years. We've grown, we've shrunk, we've survived major threats to our program from other national initiatives. Right now with our i3 grant, we are in a great position. We are going to reach our goal of training 3,700 teachers and producing good effects. But I don't know that that will position us well for the future. In fact, I won't be happy if we just reach our goals." Sustaining an effective intervention and bringing it to more schools and students around the country means innovating, moving, pushing to the next level...and spreading the word. "Schools don't necessarily hear about government funded initiatives that achieve high evidence standards according to the What Works Clearinghouse," muses D'Agostino. "They hear from hundreds of vendors each year citing their effectiveness, so how do we distinguish ourselves? We can't just assume success in our i3 grant will lead to sustainability. Sustainability is all about results. For example, we know that the outcomes are remarkable - most of the lowest-achieving first graders accelerate with Reading Recovery and reach the average of their cohort - but we also know from our annual evaluation that there's a great deal of variation across schools and teachers. So right now we want to know, what do effective Reading Recovery teachers do and how is that different from less effective Reading Recovery teachers? Knowing more about that black box of teaching will help the intervention overall. And understanding how to foster local ownership will give the intervention its real staying power."
Calling all HuffPost superfans!
Sign up for membership to become a founding member and help shape HuffPost's next chapter