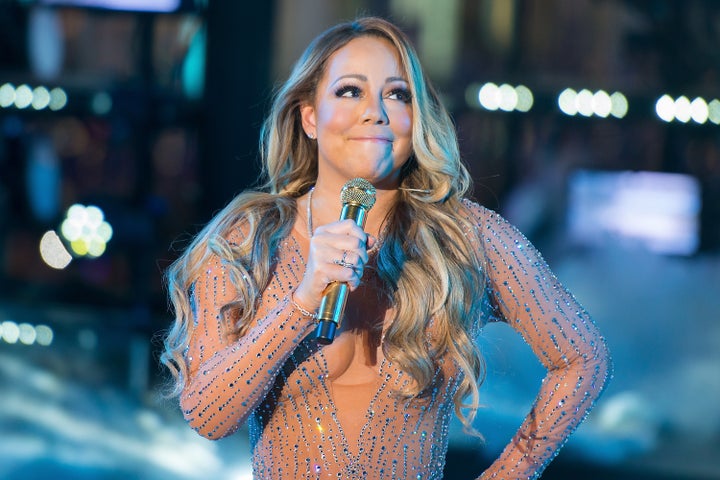 We all saw it last night and if we didn't see it live, we watched the replay, because all of our friends were talking about it. Yes, Mariah Carey, coveted celebrity superstar, messed up a set and walked off the stage like she was under the influence. Look, I'm not judging her, I was under the influence when she performed, too!
As soon as the bit ended, I got on Twitter. I knew what was about to happen. MC was about to get roasted! Like always, Twitter did not disappoint. I saw tweets blaming the Russians for hacking her show, the usual Chrissy Teigan memes and some of the funniest fake quotes I've ever read. 
Much like most of the folks on Twitter, I was waiting for Mariah's PR team to come out and clean it all up.
Turned out, MC sent her own text and beautifully ended all the drama in less than 140 characters. 
Not only did she meme herself, she shrugged it off like it was no big deal. Because to her, it wasn't. She got paid. People were entertained. It's all in a day's work for a professional like Mariah Carey. I read once that she has more #1 hits than anyone in history. This means she's done more shows, performances, and events than 99 percent of most other entertainers. Surely, this wasn't her first time where things got messed up. She handled it like a boss.
I'm no Mariah, but I've screwed up a few videos and felt like walking off the set. It happens. Especially if you're a perfectionist, or in MC's case, a diva.
Even if she had been drinking, it's her life, her career, and still her paycheck!
Let me ask you this, though: If Mariah can shrug off a supposedly career ending-performance after 50+ #1 hits, why can't you get over the past BS that is holding you down? Here you are, stressing over the small stuff, and at the same time, MC DGAF about messing up in front of the entire world. 
I think there's a lesson we can all learn here from Mariah Carey. It's simple, yet profound. "Sht happens." It's true! Sh*t does happen and no matter what you do, when it happens, you can't make it unhappen. The best thing to do is let it go and get over it. The faster you shrug it off, the faster you'll get past it. 
Sure, MC probably woke up a little embarrassed this morning, but at the same time, this is not a new game to her. She's learned how to deal with the public. The Internet went crazy when she had a breakdown. Then again, when she married Nick Cannon, and most recently when she split from her billionaire boyfriend.
She's no stranger to this and therefore, has learned to "Shake It Off" like the title to her hit song insists. 
As we make our way into this new year, maybe you and I need to take a page out of Mariah's playbook and simply shake it off and say "sh*t happens."
REAL LIFE. REAL NEWS. REAL VOICES.
Help us tell more of the stories that matter from voices that too often remain unheard.