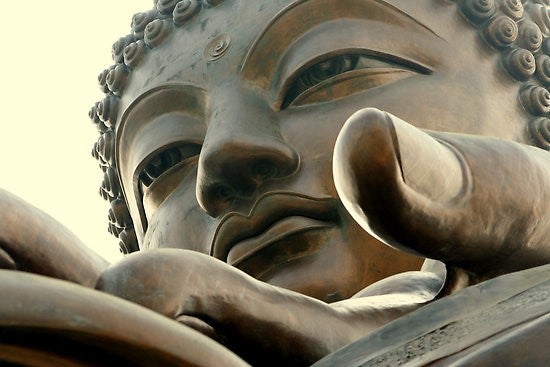 In March of this past Spring 2017, I had the opportunity to attend the World Happiness Summit in Miami, where I got to spend time with some of the most amazing thinkers and doers in the field of happiness: researchers, former Presidents, current politicians, CEOs, authors, yogis, monks, inventors- the list goes on and on. The organizers of the event did a phenomenal job of bringing the right people together and the event itself was thoroughly uplifting, communal, and inclusive.
While I cannot say enough good things about the many special and inspiring people I met at the event, I was particularly interested and excited about spending time with two of the Summit's special guests- the world's most prominent yogis – Sri Sri Ravi Shankar, who I often blog about, and Mr. Sri Dharma Mittra, whom I have only heard about in American Hatha yoga circles. With the approaching International Yoga Day, on June 21st, highlighting them today seems not only fitting but also necessary, as yoga, at least in the west, has moved slightly away from its traditional Indian roots.
As someone that used to suffer from severe anxiety, yoga has been a saving grace in my life. I used it and continue to use it to heal from trauma and remove stress. I started the physical practice 18 years ago in 1999 after an injury from long distance running and I thought the practice might help. I bought a videocassette with Rodney Yee at my local K-Mart and I never looked back. Not only did it help, but the practice stayed with me. I become certified as a yoga teacher at a local yoga studio and began to teach to others. While my yoga teacher training was holistic and invaluable, it had an emphasis on physical postures. Practicing the asanas gave me great physical vitality, but the deeper issues I faced at the mental and emotional level were not being fully addressed. I sensed that there was something more to yoga that I had not fully grasped. It wasn't until 2010, after my first Art of Living program that I experienced a deep mental and emotional relief after doing the Sudarshan Kriya. It was at that point that I learned that yoga was much more than just physical postures or asanas. Since then, for me, yoga has been an answer to controlling my overwhelming emotions, stilling my mind, and finding that deep sense of peace and happiness that we all crave.
Sri Dharma Mittra says it best, "yoga is not poses. It's not even pranayama. These help with the preparation for yoga to make the mind one-pointed. But real yoga is self-knowledge. The rest is just preparation. 80-90% of people are still busy with pranayama and postures to get good health and even mental power, but not for seeking self-enlightenment. They do it to feel better and to succeed in their career. It's not wrong. But real yoga is self-knowledge".
And what exactly is self-knowledge? Dharma speaks of a transcendental Self, which is eternal and inherently blissful, and it's our true identity.Underlying all forms of Yoga is the understanding that the human being is more than the physical body and that, through a course of discipline, which we call yoga, it is possible to discover what is beyond that physical form. Hatha Yoga, Karma Yoga, Jnana Yoga, Bhakti Yoga, Kundalini Yoga, Jiva-mukti Yoga are all just methods to attain the truth.
Sri Dharma says, "there are all kinds and types and styles of yoga to fit people and this is not wrong because there are many different types and styles of students."
In my particular case, I knew I had found the right path when I met my teacher Sri Sri Ravi Shankar. Sri Sri does all the typical things a yogi would do, he meditates, he does the postures for a healthy body, he teaches ancient yogic wisdom focused on self-knowledge, but also, he gets involved in world affairs and utilizes yogic knowledge in order to create a more peaceful world and serve society. I wanted to be like him, I didn't want to just practice yoga, I wanted to use it to make a difference. In listening to him speak at the H20 Governmental Track at the World Happiness Summit, which sought to create a conversation on making happiness a part of public policy, Sri Sri spoke of how he used simple yogic techniques and wisdom to solve complex world challenges. He was just arriving at the event after addressing the Ukrainian Parliament.
In this parliament, I could see the loss for plans and programs for what to do now because there is an aggression. If you channel your energy into thinking about the aggression you're having in your country, everyone is worked up, and when you are worked up you are not able to plan a single thing so people were getting more frustrated. So how to handle challenges? Here I would say our breath plays a very important role. For every mode of the mind there is a particular rhythm of the breath. Breath has a lot to offer us but neither at home nor at school are we taught anything about it. We carry within ourselves all these loads of anger, frustrations, and failures. We keep nurturing these feelings. We need to get rid of these feelings through exercises and learning the science of breath. How through breath you can cleanse these negative emotions and transform them into more positives ones.
The answer seems so simple: sit and breath. The Colombia peace deal was made after Sri Sri meditated with the leaders of the FARC, and he was also successful in his discussions in Iraq in 2007. He was asked what his secret was and why he had been successful even after US, European, and Norwegian diplomatic efforts had failed. Besides breath, Sri Sri emphasizes the importance of the human identity, especially when bringing Sunni, Shia, and Kurds into the same discussion.
The human identity, which is going through tremendous crisis today, with nationality, religion, race, or whatever, has to be shifted to its original identity. We are all human beings, we are all connected. It's one global family and one human society. The nature of your other identities will remain, whether you are a male or a female, gender identity, national identity, religious identity- they are necessary, they should be there, but they should not supersede the human identity for us to look into the whole mechanics about how conflict arises.
In recognizing our larger connection as human beings, we are giving a larger perspective and context to life and both Sri Sri and Dharma Mittra remind us that this is key to living a happy life. Basic needs and acute crisis aside, Sri Sri says that causes for unhappiness revolve around three things: relationships, health, and money, but often times, thinking big will put our problems into perspective. He says "for example, if you are upset with one relationship, well there are 7 billion people on this planet and half of them are men and half of them are women, look, if someone doesn't like you then you can move on. You don't have to be stuck. Remember the vastness of life and put problems in context - how big this world is and how small we think. This mismatch between the reality and our thinking causes all the issues." Similarly, when I asked Sri Dharma about human suffering he laughed and reminds us to remember how small we really are, "just the way the scientists discovered the Big Bang here, it's just a tiny one, a tiny grain of sand. There are millions of galaxies, that go one forever, from one tiny big bang. One tiny big bang is like one grain of sand in the Sahara Dessert."
When we remember this, our place in the vastness of life, why take life so seriously? That's something I notice about both of these Yoga masters, they are fun, light, and child-like, without being childish, yet they are very wise. It's not that they are making light of serious world problems, but they are going about solving them and serving others with a smile. In my interview with Sri Dharma, he made constant jokes, and when I asked him about his playful nature he told me that, "I read in the scriptures that all the wise men act like a child. The bible says only the children will enter the Kingdom of God. When you become child-like only then will be you able to catch the essence of yoga. You have to be playful." A big take away for me at the World Happiness Summit was to have fun and make life a celebration.
That is what I hope this International Yoga Day on June 21st will be about: celebration, gathering, connection, and a moment to celebrate yoga in all its forms: postures, meditation, breath work, selfless service, self-knowledge, keeping a big perspective, and having fun. Practicing yogis or not, it's our birthright to have all those things.
The organization I am a part of called The Art of Living is working in tandem with the Indian Government to create a traditional and free yoga program. We will be having yoga gatherings in cities all over the world. Here in Columbus, Ohio, we will meet specifically at The Ohio State House on 1 Capitol Square from 5-6:30. Check your local Art of Living city center for a gathering near you. If you have questions about this event, if you would like a transcription of my interview with Sri Dharma Mittra or of Sri Sri Ravi Shankar's talk at the H2O World Happiness Summit gathering, or if you just want to say hello, drop a line: jillklimpel@gmail.com
Below are some photos from the WOHASU event: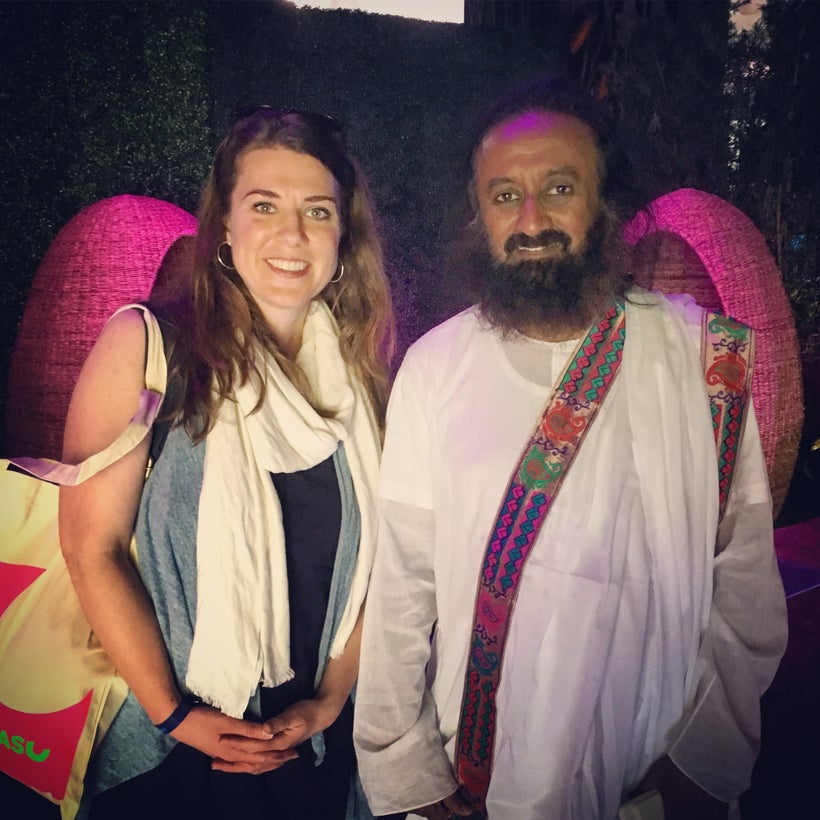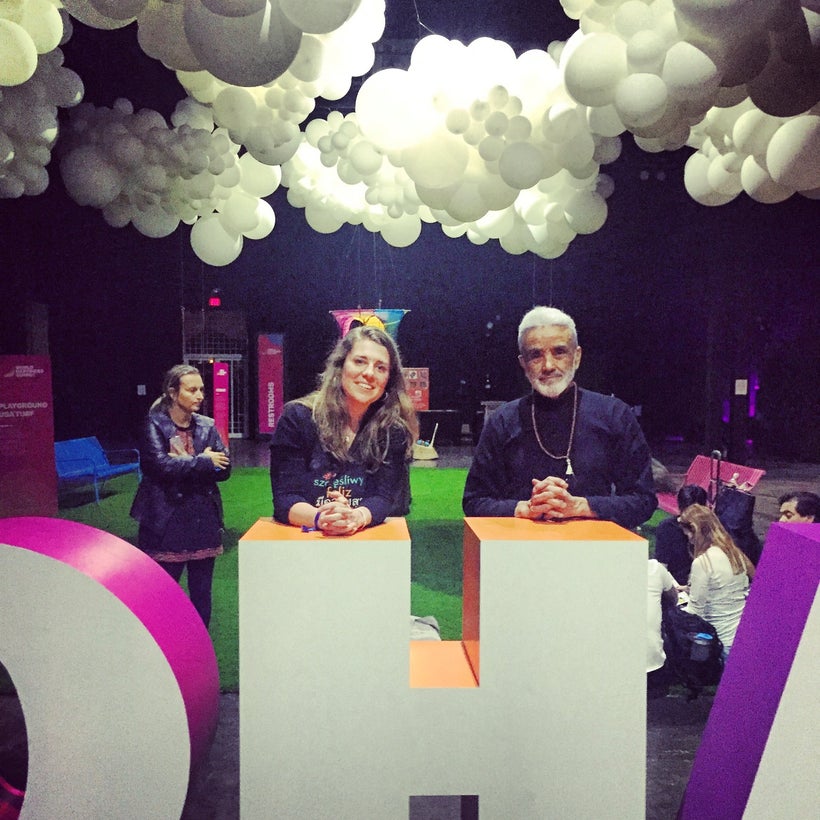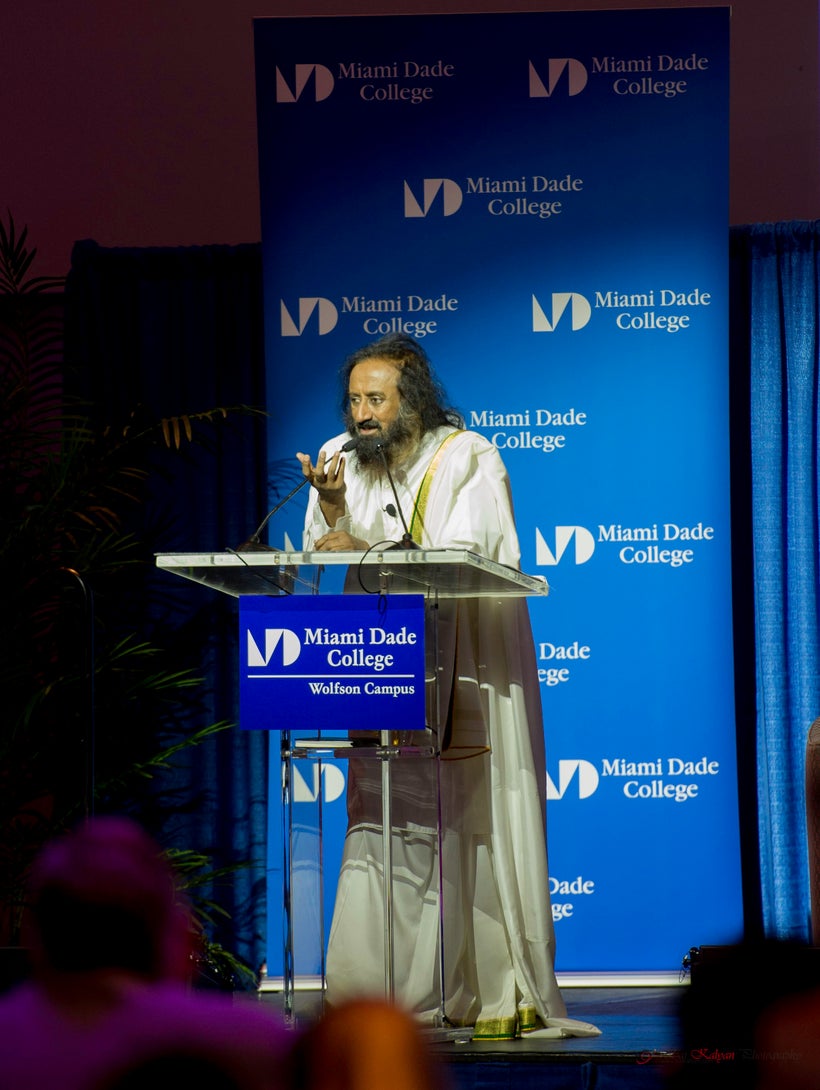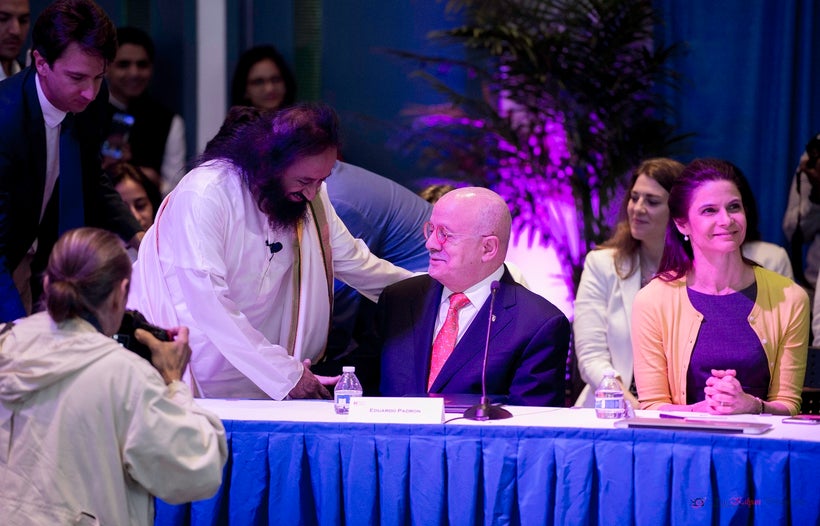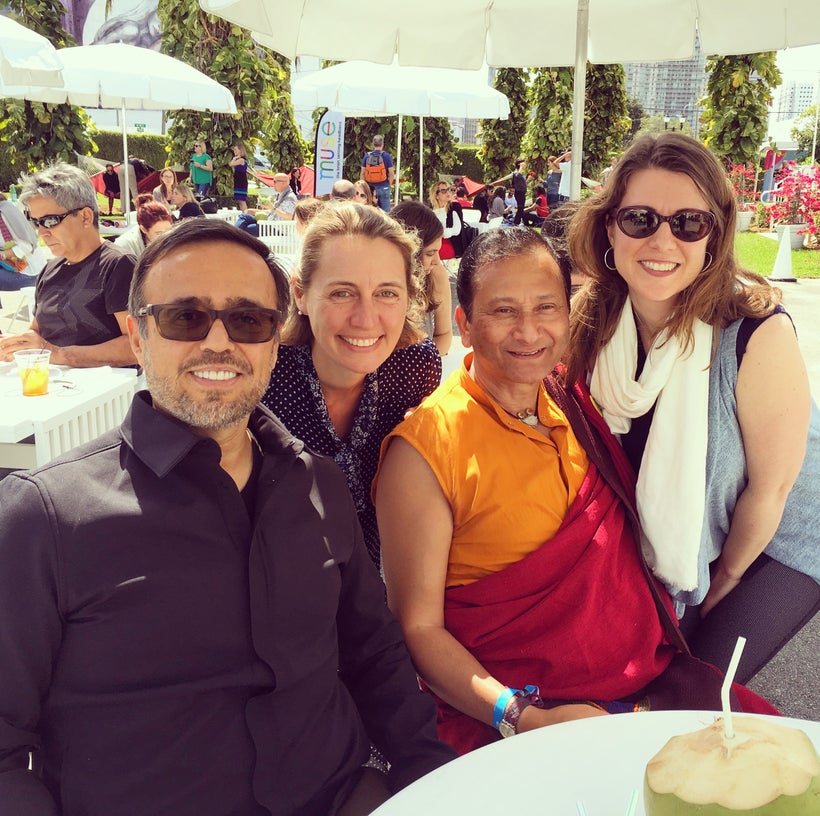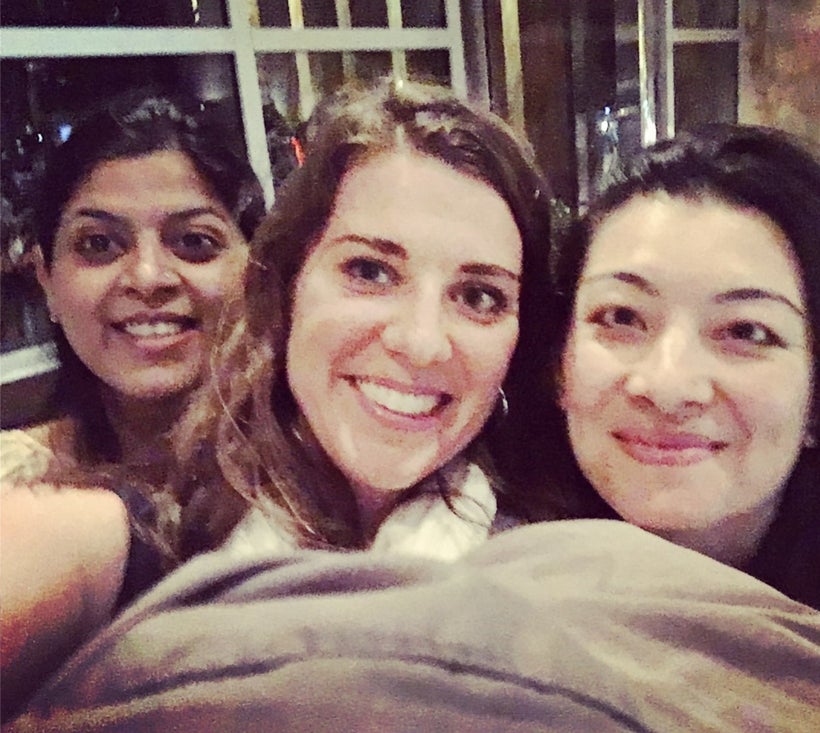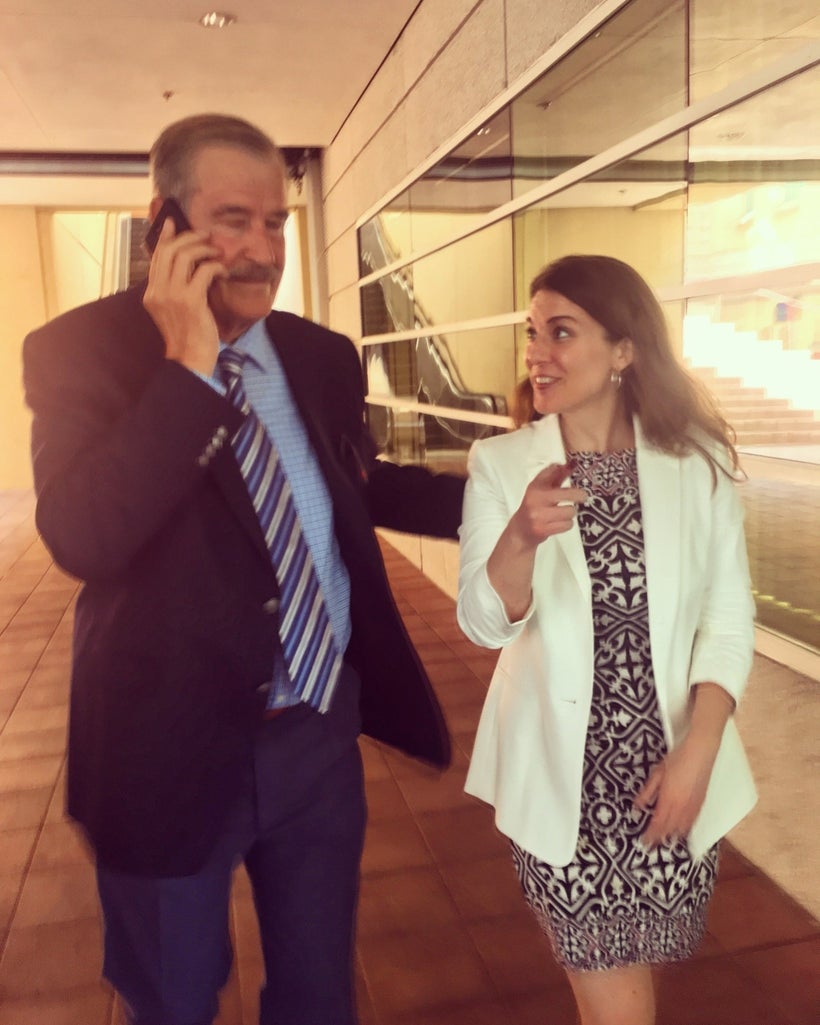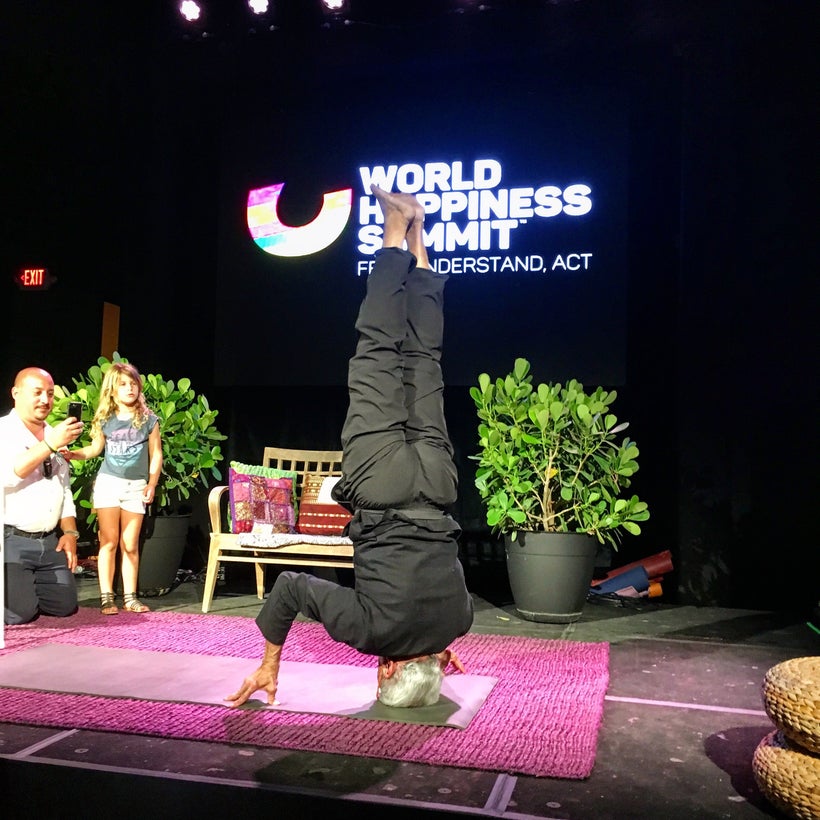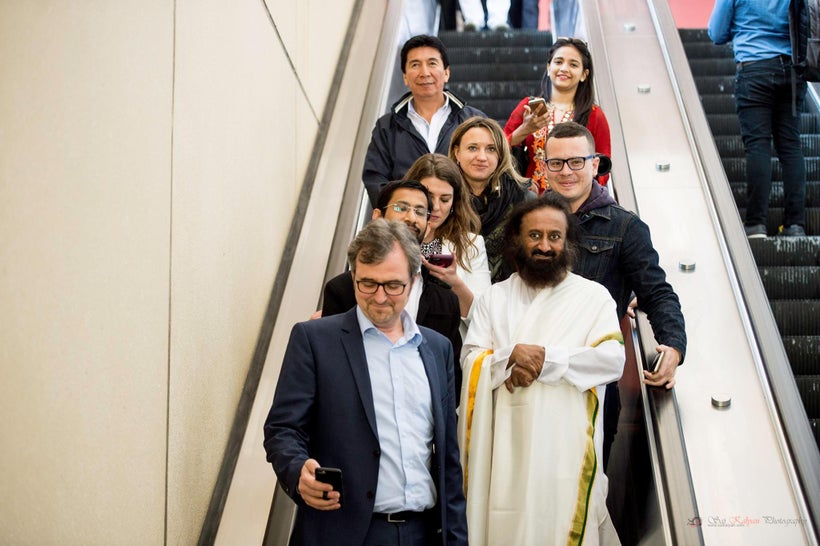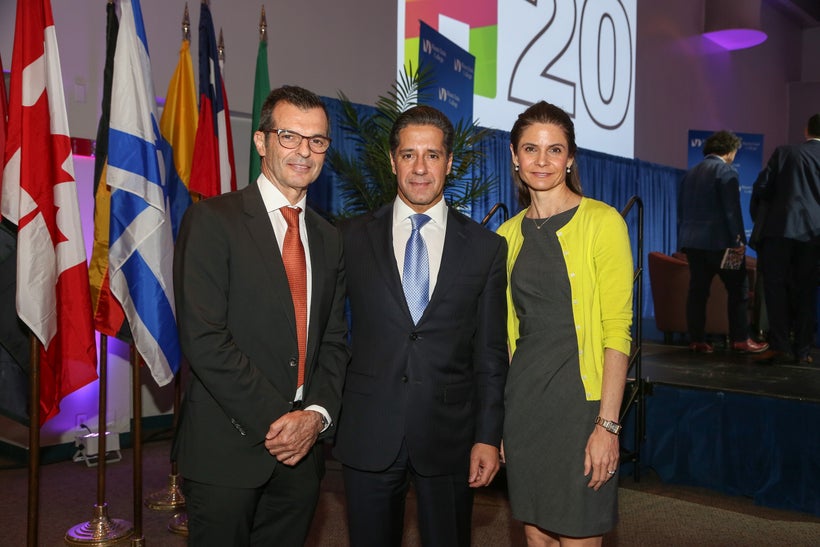 Calling all HuffPost superfans!
Sign up for membership to become a founding member and help shape HuffPost's next chapter
This post was published on the now-closed HuffPost Contributor platform. Contributors control their own work and posted freely to our site. If you need to flag this entry as abusive,
send us an email
.