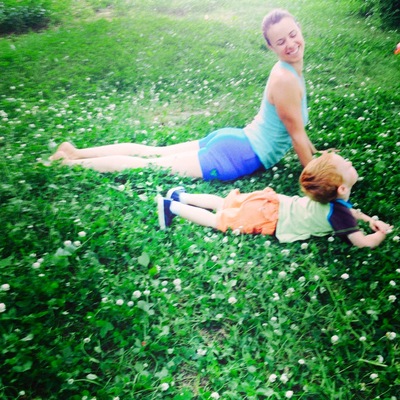 This is an interview with Jardana Peacock, based in Nashville, Tennessee, where she uses yoga as a healing tool for people working through emotional trauma and physical injury. She is a radical wellness coach and leads community wellness workshops and yoga classes, primarily in the southeast. She has written on subjects of yoga for social change and yoga and trauma.
Rob: What originally motivated you to do this work, and what continues to motivate you? How, if at all, has that motivation changed over time?
Jardana: I've been practicing yoga for over 14 years. When I first started, it was mostly physical exercise. Over time, and especially when I started going deeper into my Ashtanga practice, I began to "unlayer" some deep trauma in my own body. And then I began to experience healing and spiritual connectedness. Yoga saved my life and I wanted to share that gift with others.
People in my social activist circles knew I practiced yoga; they and my friends and family would ask me to teach them yoga to be able to get a handle on stress, and in some cases address trauma. I love sharing the practice in that way with people.
Please give me a definition of "yoga for social justice."
Social justice--it is offering accessible language, inclusive spaces, and incorporating themes of social justice in classes, workshops, and programs. It is also incorporating yoga for peace and justice into demonstrations and direct actions. (You can find an article I wrote on this topic for Elephant Journal, called "For Trayvon Martin: I Grieve Because Black Lives Matter.") And it is incorporating radical wellness and yogic philosophy and practice as foundations for how we do the work of social justice within organizations and groups.
As a white yoga teacher I'm constantly interrogating my privilege--how my whiteness is helping or hurting. I've found that when I am transparent about who I am and where I come from I can be most effective. This is because "the outsider" coming in to a space to "help" and "heal" the "other" (poor and working class, "at-risk," under-served) is not practicing social justice unless the teachers have undergone deep internal and external work around antiracism, and anti-oppression. This is especially applicable to a white person coming in with a savior mentality, who is actually only helping to reinforce oppression, not dismantle systems of oppression.
How have you been developing a fulfilling life as a yoga teacher through community engagement?
For a long time I didn't want to be a formal yoga teacher. I didn't think we needed more slim white yoga teachers! However, people encouraged me that we did need more white antiracist yoga teachers. I started teaching yoga first in the community before I became formally trained; that is my foundation and continues to inform me. Teaching for me is about connecting with people around their life experiences, because anything you teach will only be important if it connects with the student.
What, in your mind, is the relationship between a practice of mindfulness and greater social change?
Gloria E. Anzaldúa, a feminist and influential poet and writer said: "I change myself, I change the world." I believe that when you incorporate mindfulness, wellness, and spiritual practices into your life, you become more compassionate, more joyful. The same thing happens when we apply these practices in community. Social change happens inside and outside, and I believe that wellness and spirituality are both vital to ground and inform that internal and external process.
Is there a standout moment from your work?
Yes, I was leading a yoga and meditation session at a youth camp at the Highlander Research and Education Center. We were outside on one of those awesome misty mornings in the mountains of east Tennessee. There were ten students, and this was the first time most of them were learning yoga. I was leading breathing exercises and people were really having a hard time with them. I was sitting across from one youth and he opened his eyes and said "so this is breathing." It was a question but also a statement. I smiled because it was such a practical statement, a reminder that I didn't need to complicate the instruction but also an "aha" moment for him about a different way to breathe--breathing with awareness. That was a powerful day.
What advice would you give to anyone who is going to provide yoga outreach from a studio in support of community development?
Take antiracist or anti-oppression trainings first. Some I recommend are The People's Institute for Survival and Beyond, The Catalyst Project, and Highlander Research and Education Center. People don't want to be tokenized; they want to feel like they're welcome and invited into a space for real. People of color, low-income folks, folks with trauma or working through addiction issues don't want to be separate from the studio; they want to be part of the community. Outreach should be authentic, it should be about community building and relationships, and that takes a long time. I've found that accessibility is really about telling and knowing the truth about racism, heterosexism, classism and able-ism, doing the work inside and then being real about approaching the work on the outside.
Also, learn from others who are doing this work. The only community wellness conference space I know of in the U.S. happens every year in Detroit at the Allied Media Conference. It's called The Healing Justice Practice Space, where healers working for justice come together to learn and practice with each other. These spaces help connect us to each other so we don't feel so isolated in this work--so we can learn from each other and also hold each other accountable.
What are some of your ideas about, or hopes for, the future of community-based yoga in the United States in the next decade?
That it becomes more community-based. That we support efforts to introduce things like "Yoga for addiction," "Yoga for Trauma" and "Yoga for People of Color" into the studio. To employ yogis from those communities to lead those classes. When these classes happen, I hope we are supportive, and if we are white, that we act as an ally instead of protesting it or saying "This is racism, this is divisive"--because it isn't. People create alternative spaces of healing as a way to survive, not as a way to create more division. I am particularly thinking about this article that was recently posted about a people-of-color yoga class, and the incredible resistance to it by white yogis was so telling of what we as white folks need work on.
For studios, when you have classes like this on the schedule, you are saying to a population of people: I see you and I invite you. We start doing this more and then we can start doing work in community spaces, led by or invited by people of the communities we are working with. Also, I hope that more yoga for social justice teacher trainings are established, that more scholarships become available for people from low-income and working-class backgrounds. Finally, I hope that antiracism/anti-oppression training becomes a necessary part of all 200-hour teacher trainings.
Calling all HuffPost superfans!
Sign up for membership to become a founding member and help shape HuffPost's next chapter