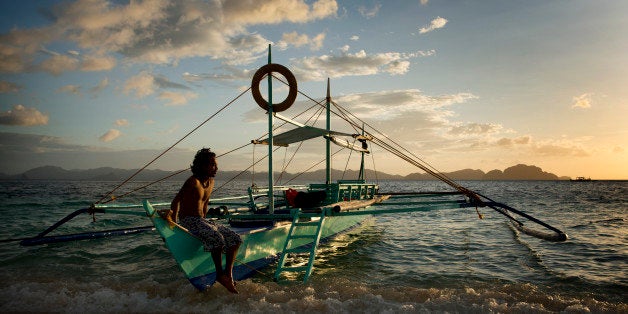 I consider myself to be afflicted with wanderlust. It's not your typical case of wanderlust characterized by adventure vacations and relaxing sojourns to countries that may or may not require rafts of immunizations, an affinity for languages, and a willingness to eat local cuisine. My symptoms of wanderlust include a burning desire to understand the political, economic and social circumstances that combine to create the day-to-day reality of the communities I visit. Serendipitously, my participation in bilateral exchange programs through the American Council of Young Political Leaders (ACYPL) and the United Nations Alliance of Civilizations (UNAOC) has allowed me to satisfy a snippet of that curiosity in places as diverse as El Salvador, Guatemala, Morocco, Jordan, Saudi Arabia, Azerbaijan, and most recently, the Philippines.
The Philippines hadn't been on my traveler's bucket list. But when I received an email from ACYPL asking whether I'd be able to serve as an American mentor to three Filipinos participating in the Young Southeast Asian Leaders Initiative (YSEALI), I immediately said "yes." My responsibilities were threefold: 1) Partner with other Colorado-based ACYPL alumni to schedule cultural outings like attending an NBA basketball game or opportunities to learn about Colorado's economic diversity through day trips to ski resorts, wind farms and cattle ranches in Colorado's eastern plains, and a natural landmark in Colorado Springs; 2) Facilitate fellowship placements in Denver-based non-profit, public health, and city agencies for Catmon Municipal Councilor Earl Tidy Oyas; Mansalay Municipal Councilor Shernan Fajutnao Gamol, and Zuellig Family Foundation Operations Associate Jenny Macaraan; and 3) Agree to serve as a mentor to advise the three on development of skills and partnerships to advance projects to benefit their communities.
In exchange, I would travel to their home communities in the Philippines to learn first-hand about the challenges they sought to address by participating in the program and see how much progress they had made in implementing their projects using the skills and networks they gained in the United States.
I don't think I had fully understood the scope of responsibility ACYPL, Earl, Shernan and Jenny were entrusting me with until I went to the Philippines. These early-career Filipino political and policy leaders had agreed to put their professional and personal lives on pause for five weeks, leaving families and work obligations behind, with the expectation that they would be immersed in meetings, cultural excursions, and professional development and networking opportunities in Washington, D.C., and Colorado. They, their families, and their colleagues trusted that their time in the United States would result in measurable benefits for their communities.
I struggle to find the words to describe the magnitude of economic opportunities and improved health outcomes that Earl, Shernan and Jenny hope to achieve as a result of their YSEALI experience. Having never met prior to this program, they drew upon different experiences and backgrounds that nonetheless manifested in a similar commitment to empowering individuals in their communities. As municipal councilors - an elected position analogous to city councilors in the United States - Earl and Shernan are in positions to allocate financial and personnel resources into their local communities to address economic, health, educational, and cultural disparities. As an expert on implementing federal health care policy at the local level, Jenny trains elected officials like Earl and Shernan on how to leverage limited financial and personnel resources to improve the health of disparate populations - which in turn contributes to economic stability for the community.
But the reality is much more nuanced and complicated than that.
The longer I've been involved in this project, the deeper my understanding of those complications has become - starting with my first reading of their biographies and program applications in July, then continuing through Skype calls about on-the-ground conditions in September when Philippine Internet access wasn't compromised by typhoons, then during the 3.5 weeks they spent in Colorado during much of October, and finally during the 10 days I spent driving, flying and trekking through Cebu, Oriental Mindoro, and Metro Manila.
Between the white sands of Mactan and island-hopping in Bulalacao, for example, I learned that publicly funded programs in the Philippines are affected by a complicated calculus that includes assessment of a given area's population; geographic size; economic output; and classification as a municipality, city or highly urbanized city. Each sub-national government unit receives an annual allocation of federal funds based on those circumstances. And Philippine provinces - equivalent to states - are comprised of cities and municipalities, but exclude highly urbanized cities located within their borders. So highly urbanized cities like Cebu City or Manila that are job centers because of the presence of international and domestic corporations means cities, municipalities and provinces must compete for revenue to support public safety-net programs. This political-economic model affects Earl's and Shernan's desire to develop innovative jobs-training programs in municipalities that are both geographically isolated from the major economic centers on their respective islands.
Adding to the complexity for each is that their respective municipalities of Catmon and Mansalay have economies that are heavily agrarian, dependent on farming and fishing for food production with limited exports to other municipalities or regions elsewhere in the country. In a 21st-century global economy where high-tech skills trump family-run farming and fishing operations, I empathize with Earl's and Shernan's desire to connect the youth in their communities to higher-paying careers to improve economic stability for families in their regions.
And yet the deep cultural heritage prevalent in both Catmon and Mansalay offers its own attractions and a basis for tourism-based economies. Catmon's St. William Parish Church tells the history of the area, from its pre-colonial times through Augustinian missionary efforts through World War II. Oriental Mindoro's coastal highway connecting the airport city of San Jose with the provincial capital of Calapan splits Mansalay Bay from the mountainous region where Mangyan communities live in the hills, separate from modern development. Each provides a glimpse into the culturally complicated history of the Philippines, which was a Spanish colony from 1521 to 1898 before becoming an American protectorate from 1898 through 1948.
I learned that the Philippines' evolution since gaining its independence has been heavily influenced by its historic ties to both Spain and the U.S., its proximity to other Southeast Asian countries, multiple generations of Chinese descendants whose origins date back to the Philippines' pre-colonial days, periodic separatist movements - the most recent resulting in the Autonomous Region in Muslim Mindanao - and a culture that values community and family over individualism. In a country whose geographic footprint spans more than 7,100 islands and boasts between 100-200 native languages, I felt a recurring tension between adherence to traditional customs and adoption of modern practices.
This tension appeared to contribute to differences in health outcomes throughout the Philippines. I was told about difficulties encouraging some Filipinos to adopt Western medical interventions - including accessing preventive health care and seeking out formally educated doctors and nurses - given longstanding reliance on traditional community healers. That, combined with economic disparities between municipalities and cities, informs Jenny's work to improve maternal and infant health by partnering with local governments to increase access to vaccinations and facility-based prenatal and birthing care. Having toured health clinics and hospitals in Catmon, Mabini, Batangas City and Manila, I saw first-hand examples of ongoing efforts to increase overall health literacy among the general population with extremely limited resources. In meetings with the mayor of Mansalay, I learned that PhilHealth - a publicly funded health insurance program equivalent to Medicaid and Medicare - requires certification of facilities before Filipinos can access PhilHealth-funded care at those facilities. So while Mabini's health clinic was PhilHealth-certified for vaccinations, it hadn't achieved its PhilHealth certification for other types of health care services - raising questions about how or where uninsured residents of Mabini could access affordable care.
Through meetings with regional Department of Health staff, I learned that despite nationwide political prioritization of achieving Millennium Development Goals for certain health indicators like decreased maternal and infant deaths, the ability to achieve those goals was largely contingent upon commitments from city and municipal elected officials to allocate scarce public resources to preventive health care. Yet cities and municipalities are required to allocate less than 10% of their annual budgets to meeting their communities' health care needs - more commonly allocating 5%-6% instead. Lists of publicly funded health-improvement options can include universal access to potable water, developing or improving solid-waste facilities, universal vaccinations, rabies treatment, regulating prostitution to decrease the spread of sexually transmitted infections, acquisition of ambulances, deploying community health workers to provide health education in remote areas, purchasing and using health information technology to track vital records, and continuous access to birthing facilities and blood banks to reduce maternal mortality attributed to postpartum hemorrhaging. And so Jenny trains mayors and city councilors about the value of increasing budgetary allocations toward preventive public health solutions after conducting a community health needs assessment.