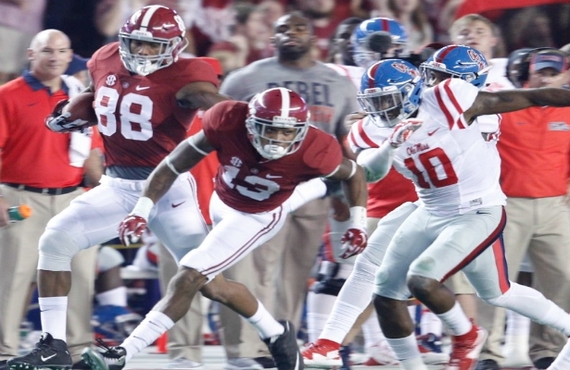 Let's take a stroll back in time. Imagine sitting down in grammar school and the teacher announcing the lessons for the day. Now let's take a stroll back in time and erase Saturday's defeat at the hands of the Ole Miss Rebels in Tuscaloosa, Alabama. The Crimson Tide faithful were left empty-handed and disappointed at the conclusion of Saturday night's events, many, even frustrated. A rough night in Tuscaloosa and a rough Saturday for the Tide Faithful as Alabama Football fell to Ole Miss 43-37.
Now, about that trip back in time to school.
What was it Coach Paul "Bear" Bryant said about losing? Something about learning to lose with class, right? What is done, is done. Let's be realists for a moment. Ole Miss is just that good, and, the Crimson Tide has some work to do. They have a ton of work to do, in fact.
Alabama did not just lose to the Rebels Saturday; they lost an impact player and a tremendous contributor to the team in Robert Foster (WR-#8).
So what is the lesson from this weekend, Week 3 of Alabama Football?
Lesson One: You cannot beat anyone when you have five turnovers. Did anyone else not see that one coming?
Lesson Two: Alabama quarterback Jake Coker is a leader, say what you want to. He proved it on the field Saturday night against the Ole Miss Rebels. Hands up for those who miss Blake Sims now.
Lesson Three: Many fans still hold their breath for extra points and field goals. No knocks against Adam Griffith; it is just a fact. Griffith will continue to improve as this season progresses, and nerves settle.
Lesson Four: The Crimson Tide needs leaders to rise up, on all sides of the ball, if it is going to be successful this year. They should not walk onto the field with their heads hanging, ever.
It is never easy to watch your team fall in defeat to another team. It is nearly unbearable to watch your team fall in defeat because of their mistakes. One thing for certain: There is going to be some intense practices in Tuscaloosa this week.
Photo Credit: Cedric Mason/Touchdown Alabama Magazine