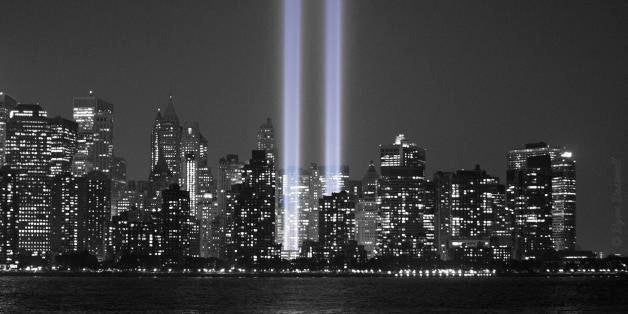 Most of us will never forget where we were 13 years ago, when we heard the gut-wrenching and disturbing news that the World Trade Center had been hit by an airplane. On that Tuesday, Sept. 11th 2001, I was a student at the University of San Francisco, living with my 3 year-old son and husband, and working diligently on my doctoral dissertation, which looked at the impact of a sudden death of a sibling.
The day began with an early morning phone call from a friend who lived in Brooklyn NY, she was crying and told me to turn on the television. As I watched the events of Sept. 11 unfold, I sat shocked and stunned, and for the next several months, was riveted by the emotional stories of people who had lost loved ones in the largest attack ever on the United States.
These stories were heart-wrenching, and although I did not personally know any of the family members of the nearly 3000 who died at the time, I mourned with them, along with the entire country. I had no idea what it was like to lose a family member in Sept 11. However, I did know what it was like to suddenly lose my 17 year-old brother and cousin in the prime of their lives, mourning the future I would never have, and having the fabric of my life forever changed.
After my brother's death, I had changed my career trajectory, and dedicated my life to helping others find hope after loss. It was frustrating to live so far away, as I desperately wanted to help these bereaved families. It was the sense that many of us felt at that time, that we had to do something to help New York City, the country, and those who were suffering.
I was determined to find a way to help, and in 2002, I was given an opportunity to work as a researcher and clinician, with the FDNY/Columbia University Family Assessment and Guidance Program. This research study looked at traumatic loss over time in families who had lost a firefighter in the World Trade Center.
At that time, I had no idea that I would be working with many of these families for 10 years and that I would still be in touch with some of them today. The individuals I worked with changed my life in profound ways, and taught me a lot about the resiliency of the human spirit. Here is what I learned from them:
1. Home visits have a positive impact.
When someone has had a loss, visit them in their home. Often times bereaved individuals are too overwhelmed with grief to leave their home environment. Following the Sept. 11 attacks, many FDNY families did not feel safe traveling to an office. Terrorist attacks cause more fear and ongoing feelings of threat. Many of the families I worked with had small children, and widows were too overwhelmed to bring their kids into an office. It was far easier for the families, if I traveled to them.
2. Actions sometimes spoke louder than words.
We often feel like we have to say something profound, supportive, or comforting after a loss, but sometimes just being there is enough. In my first session working with a middle school aged boy, all he wanted was for me to walk around the garage in his father's firefighter uniform. He asked that I not speak. Tears rolled down his face as he watched me, it was as if he was saying his final goodbye.
3. Thinking about traumatic loss in a different way brings comfort.
A widow had difficulty sleeping at night because she had an image of her husband huddled in a stairwell with two other fire fighters (where their bodies were found). She believed they were frightened. She was able to reframe her story, and believed maybe the firefighters were huddled in prayer and were at peace instead of fearful. This greatly helped her sleeping problem.
4. Children's capacity to sustain intense sad emotions are limited.
Children did not grieve in the same way as adults, they visited grief for briefer periods of time. Children needed to experience positive emotions and activities sooner than adults. It was not uncommon to work with children who were grieving and talking about the loss one minute and asking to go out to play basketball to take a break from their grief the next. Since children were not able to compartmentalize as well as adults, this was very adaptive, and served to protect them from feeling completely overwhelmed.
5. Teenagers need to understand what happened.
Two teenagers visited ground zero after Sept. 11. Their father's remains had not been found, their mother heard them ask a firefighter who was taking them through the site, if their father felt any pain? The firefighter looked at his watch and had the teenagers count out seven seconds, he told them that 's how long it took for the towers to fall. The teenagers were very relieved to hear there was no time to feel pain. I worked with other teenagers who were also concerned that their fathers' had been trapped under rubble, or suffered. When I relayed this story to them, they found it very helpful.
6. Support is both comforting and overwhelming.
Since Sept. 11 was such a significant public loss, families received mass quantities of cards and gifts from all over the world. Gifts came in the form of stuffed animals, blankets, statues, life quilts, plaques and jewelry etc. Some of these gifts were appropriate but others were disturbing. Several families were sent a brass replica of a crushed firefighter helmet and a cross made from the original metal at the World Trade Center site. While some found these comforting, many found them disturbing.
7. Continuing reminders can be stressful.
There have been many public reminders over the years; ongoing media stories, terrorist threat levels, subway searches and NYPD anti-terror drills. Today there are still 44 memorials in NYC. I worked with a young child in elementary school, who had difficulty concentrating because a large Sept. 11 poster, saying 'Never Forget,' hung in her classroom. After speaking with her teacher and having it removed, her concentration improved significantly.
The Sept. 11 families I worked with often reminded me that although this was a very public event for the rest of the world, it was a very private moment for them. The reality is that they have not forgotten or had closure, but rather they have honored, remembered, and incorporated the deceased firefighters into their lives in new ways. In fact, keeping memories alive in their hearts has been an important part of their healing journey.
All of us who have had a loss know that love never dies and that although we are poorer for having lost, we are so much richer for ever having known. I am honored to have worked with these families, and to have been able to take their journey with them, out of the darkness and back into the light.
If you or a loved have experienced a loss, you don't have to walk this path alone. Please visit my website at: www.opentohope.com, where you can watch cable shows or listen to radio shows about people who have transformed their lives after loss and found hope again. May your ongoing connections with those you have loved and lost sustain you even during your darkest hours.