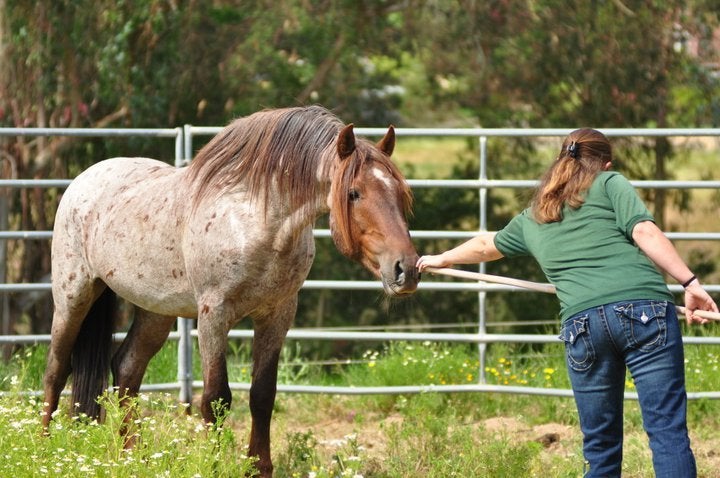 As you read this article, please remember this was a project of love. I learned a great deal with this project and I enjoy sharing it and Aries with others.
In 2010, I was on a mission to find a wild mustang that would be the star of a film project I was planning. I was going to publish weekly videos following the gentling and training of a wild horse. Despite what recent news is saying, American Mustangs are a threatened breed. Because of various political forces, their future as part of the American West is not guaranteed. If they are not continuously protected, this unique and iconic treasure will be gone. I wanted to share the story of one horse so that people would see how incredible mustangs are and would be moved to help secure their future running wild. I called the project "To the Heart of a Mustang." I had no way of knowing how perfect that title would be.
I selected an 11 year old horse, a stallion recently rounded up. His flaming red coat and deep wise eyes caught my attention as soon as I saw him. And his name just leapt into my head: Aries.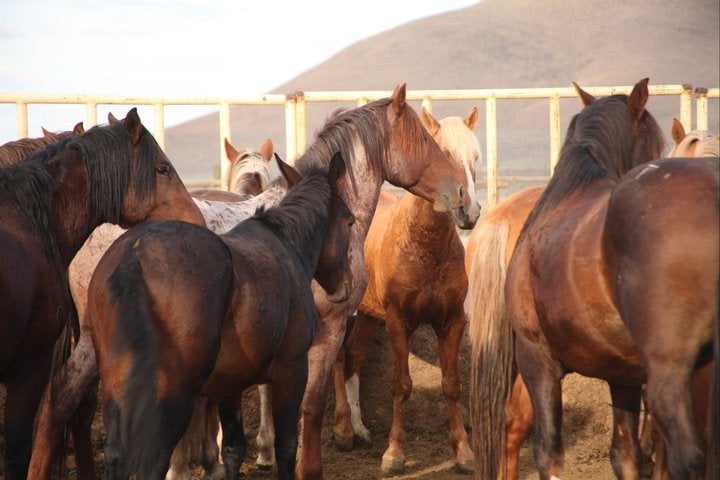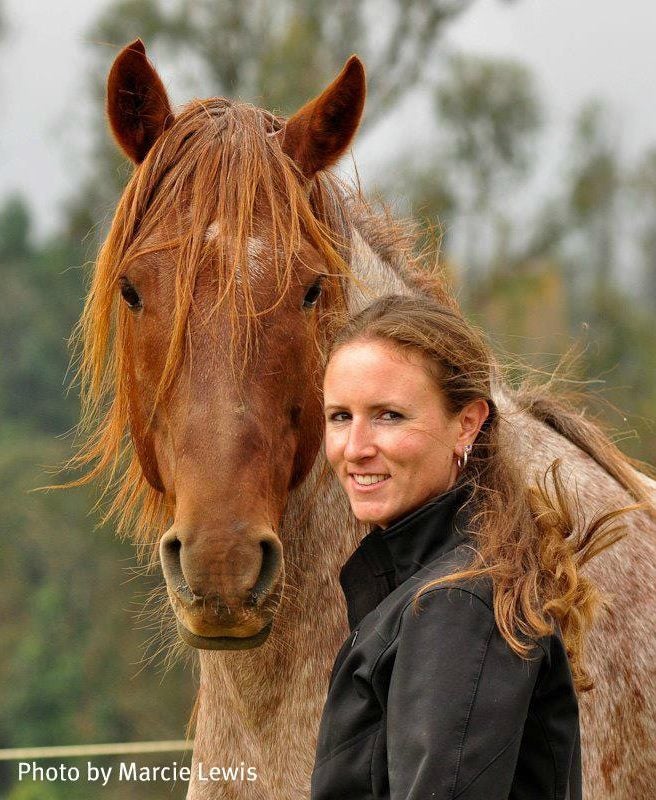 It's now 2016, and although I still have Aries, we no longer publish videos. Looking back, here are some of the major lessons I learned while taming a wild horse.
Patience is definitely a virtue
A wild horse forces you to do a lot of things that we take for granted with a domestic horse. One of the most important lessons I learned by working with Aries was to reward "the thought." When asking for something like a step, we forget how many little steps there are that lead up to that big step. By rewarding the thought or the smallest movement, I gave Aries validation that his thought was correct well before he ever moved. This gave him confidence that he was reading my requests correctly, and our communication began to build.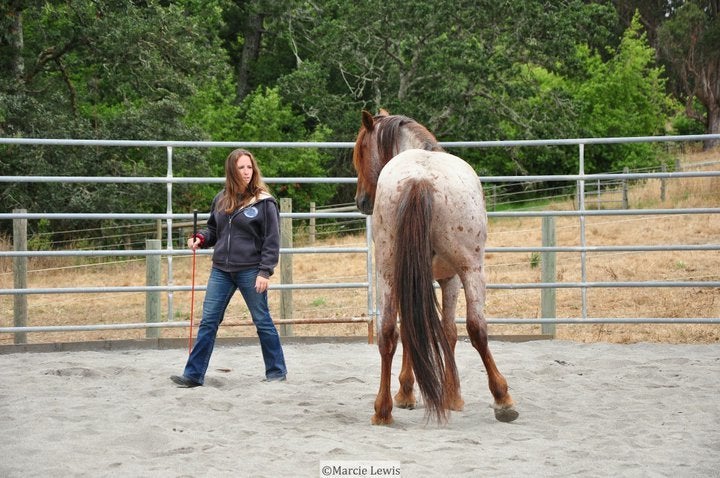 It took over 6 months to touch him. Allowing this predator to put her hand on him was just not something he felt he could do. My friend Lena and I worked with Aries using a rope to gently, but persistently, keep him focused and build his confidence. Every time he'd try to flee, we would let him go, but kept the rope on him so we could get his focus back again. If I had held him there that would have broken all the trust I'd spent six months building. Gradually, he fled less and less. And finally, he did it. Lena was the first to actually touch him. When I got my turn, I approached him from the front. He lowered his beautifully sculpted head and let me place my palm right over his star.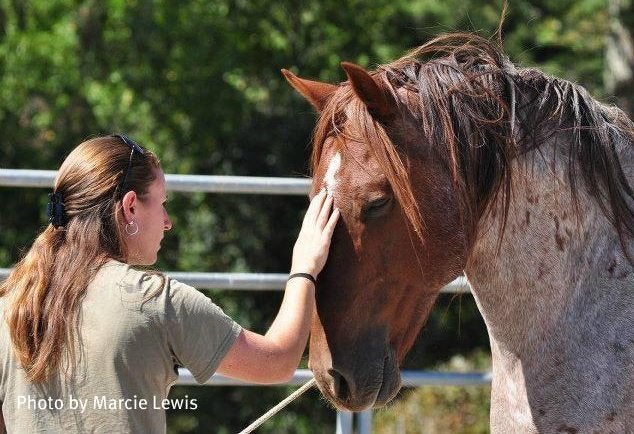 Aries taught me to never go into the arena with a plan. If I said, "Today I am going to get the saddle on him," Aries would invariably show me seven other areas that we needed to address first. If I went in with a rigid plan for the day, I'd be dismissing all the information Aries was giving me. I learned to just go in and start and see where the work took us. The day I taught Aries to get into a horse trailer, he hopped in quite quickly, so the session was over within 20 minutes. I decided to try putting a bareback pad on with a girth for the first time. The day was going very well, why not try?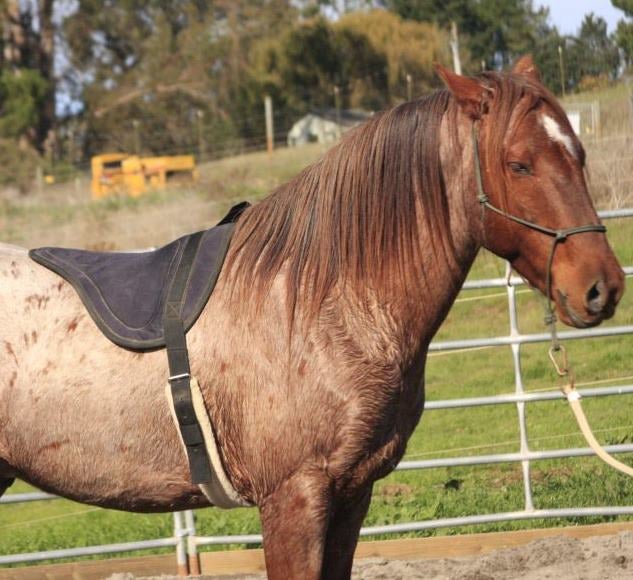 And Aries wore that bareback pad with ease. In one day, with no plan, I taught Aries to load in a trailer and wear a girth for the first time, which may sound simple, but imagine it from his perspective! Get into a clanging metal box on wheels that you can't see out of and then allow something on your back that feels a bit like it's strangling you. Sure, no problem.
Within a couple of months, we were riding successfully out on trails.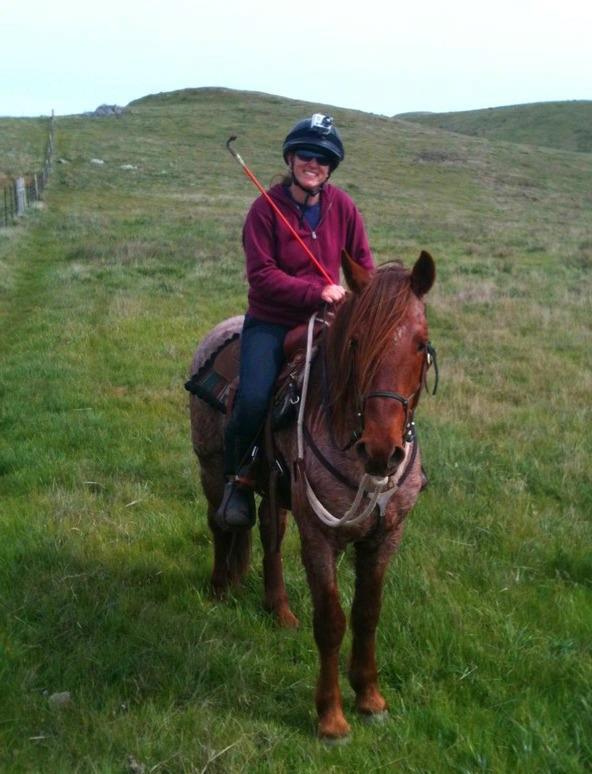 You can't know everything
About 4 months after I first sat on Aries's back, things started to go wrong. One day, while tightening the girth (which I always did slowly), Aries just exploded, bucking frantically. After he calmed, I took the saddle off, checked it, and replaced it. No bucking. I rode. No bucking. A few days later, it happened again, wild, frantic bucking after tightening the girth. I stopped riding him. I knew there was something wrong, and now I was terrified to get on him. He felt like an unexploded bomb, ready to blow at any moment. Ultimately, I discovered Aries had developed stomach ulcers. He probably got them originally when he was rounded up, and because of the increase in work we were doing or because of a change in feed or some other reason, the ulcers resurfaced. When he would react to the pain from the ulcers, there was no calming him, no reasoning with him. His wild instincts for self-preservation would take over and for him it was life or death.
Once I confirmed it was ulcers, Aries began treatment and recovered well. But some damage had already been done, to both of us. He was very nervous about the saddle and more specifically the girth. I spent months with just a bareback pad and fluffy girth trying to reacquaint him with the feeling. He would allow the pad and girth, but was still very clearly worried about having the girth drawn under his belly and secured, even very loosely.
Around that time, I ended up taking a job in Australia, working for a horse trainer. I thought the time off and time spent on pasture eating grass would heal Aries's mind as well as his stomach. Sadly, even with a clean bill of health, Aries never again accepted a saddle consistently. I could have sent him to a horse trainer that would have ridden through the frenzied bucking and bolting, but I couldn't do that to Aries. Riding him wasn't that important. I just wanted him to be content with life, not afraid or in pain.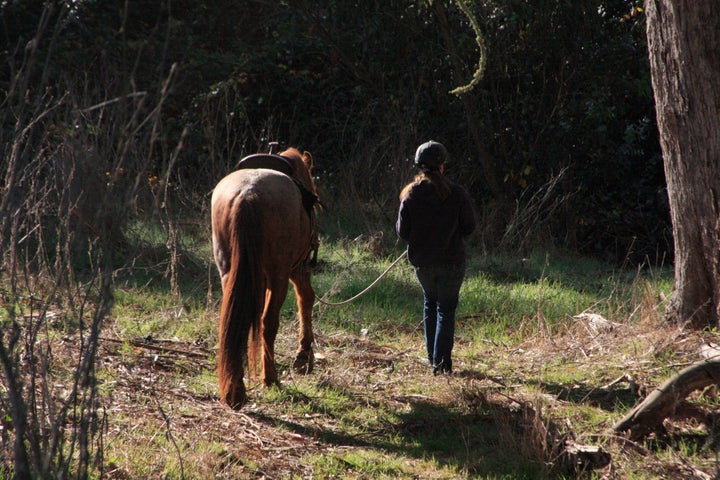 After having him for over a year, he still had not let me in to his heart. He trusted me to a point, but I could tell he was holding back. It wasn't until the summer of 2012. His stomach ulcers were healing, and I was doing a lot of body-work and massage therapy with him. One day, while scratching his shoulder, his upper lip pursed, and he started to twist his head like so many horses do when you find their itchy spot. He leaned into my hand and just let go and groaned, clearly enjoying being scratched. I'd been scratching and petting this horse for months and NOT ONCE did he show any sign that he enjoyed it. But that day there was a change. It was also around this time that Aries started to let me touch his nose.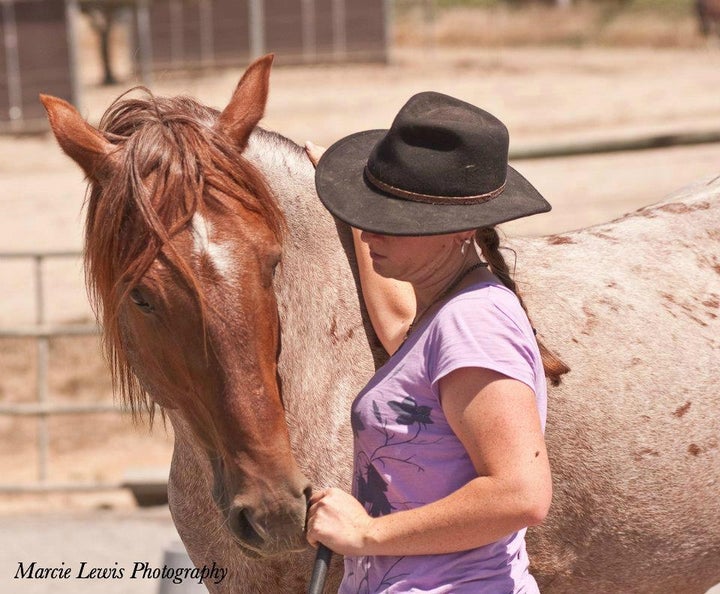 Over the following months, he got more and more generous with his nose. He began to explore with his nose. I was told that one sign of confidence and trust in a wild horse is when they investigate things with their nose. Almost a year and a half after getting him, he finally trusted me enough to surrender that last little bit of himself.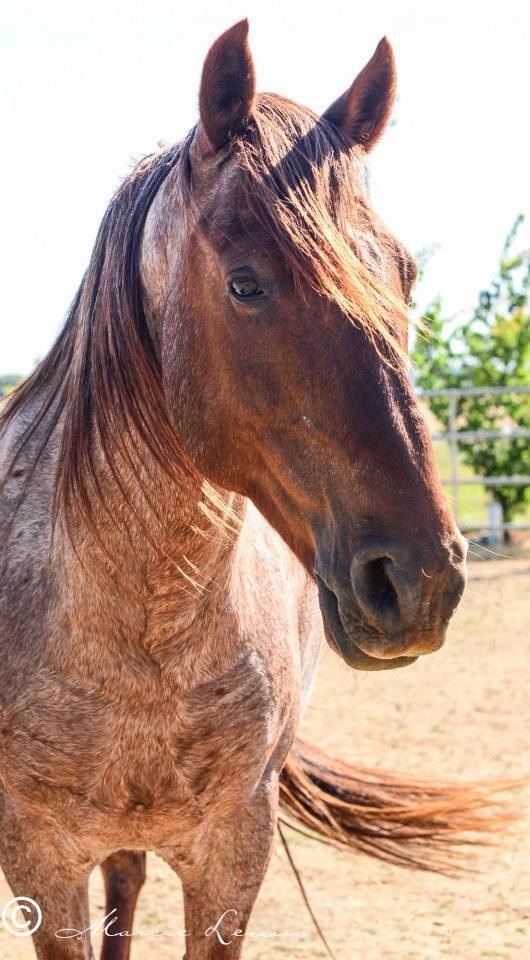 When people first meet Aries, they are usually struck by his powerful presence. He has a quiet power to him. He always felt that way to me. But once he started to trust me with his heart, this soft side came out. He is quite loving and very protective. When I spend time with him, I feel like he's always watching out for me. It's in the quiet moments when we are alone that he allows himself to express and receive affection openly. He will rest his great head against my arm, or place it over my shoulder, just being there.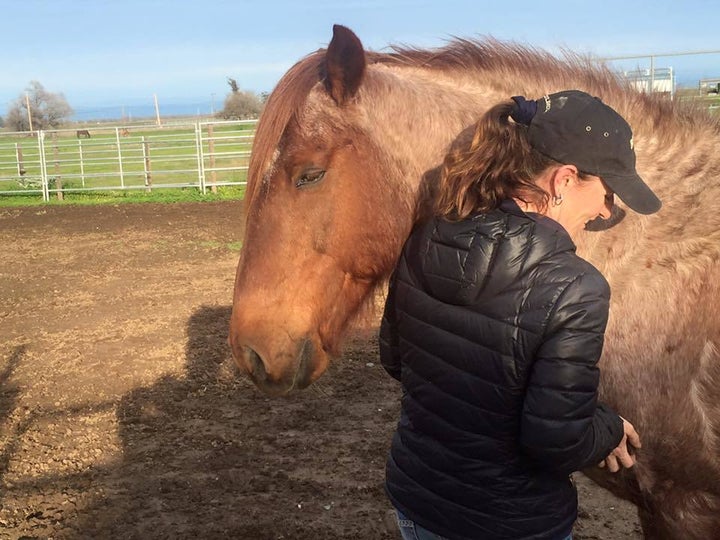 The To the Heart of a Mustang project has been one of my greatest challenges. Aries has forced me to really examine what kind of person I am and who I want to be. The saying "the horse is a mirror for you" applies doubly for wild horses. Sometimes that mirror is harsh. Some horses will ignore your moodiness, but a mustang will react to what your heart is telling them. And you might not always like what you see. It's humbling and eye opening to gentle a wild horse. There is no better feeling in the world than when a wild, free spirited horse chooses to give you his heart. It's a gift and an honor.
To the Heart of a Mustang episodes can be seen on YouTube: Pilot episode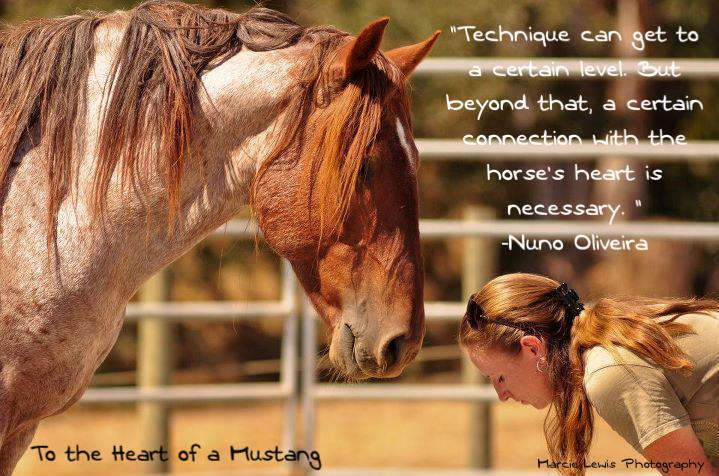 Related
Popular in the Community