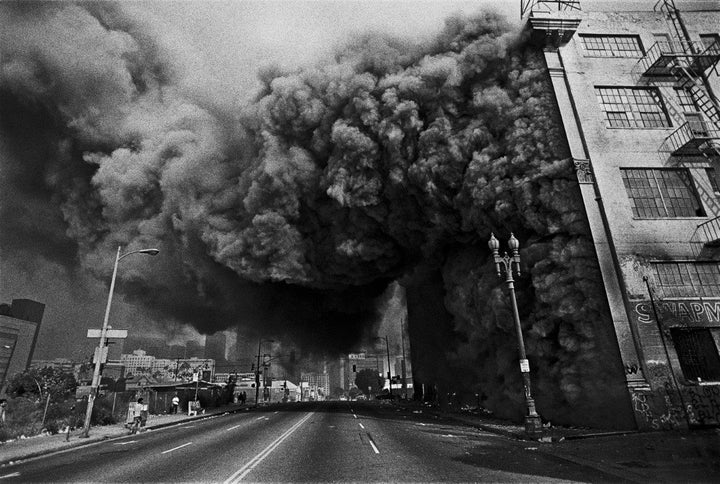 "A riot is the language of the unheard," Dr. Martin Luther King, Jr. once said.
On April 29, 1992, the unheard were unleashed, leading to one of the most disturbing chapters in the history of Los Angeles.
When the civil unrest over the verdict in the Rodney King case ended five days later, the toll included 54 people dead, 2,000 injured and 12,000 arrested. More than 1,000 buildings were set ablaze and 4,500 looted, resulting in over $1 billion in property damage. As a newly elected member of the City Council, I saw our recently renovated district office – a mini-City Hall – become a smoldering ruin.
Even now, 25 years later, not all of the social and economic injustices that became kindling for "the unheard" have been snuffed out. And yet, I believe quite a lot has been done – just not enough. I call it strategic dissatisfaction.
In 1992, 30 to 40 percent of the population in parts of South Central and Southeast LA lived below the poverty line. While the mean household income in the Westside approached $100,000, South Central and Southeast LA residents earned only about $25,000 and $22,000, respectively. That's if they could find a job at all, with the unemployment rate at 13.7 percent and 17.4 percent in those neighborhoods, respectively, compared to 8.4 percent citywide.
Watts was among the communities that struggled the most, with an unemployment rate of 26 percent and a household income of just $12,000, leaving almost half of its households reliant on some form of public assistance.
Aside from crushing poverty and high unemployment, too many communities were also plagued by gang crime and a crack cocaine epidemic, along with indisputable racial and ethnic tensions. Back then, such areas were perceived as ominous. That is changing, and it's a good thing.
In recent years, South LA and the rest of LA County's Second District have drawn tremendous public and private investment. This urban landscape, which once seemed to have a liquor store at every corner, now includes the $2-billion Crenshaw/LAX Line set for completion in 2019 and the new $1-billion Martin Luther King, Jr. Medical Campus in Willowbrook, poised for even further expansion.
These and other projects in and around commercial centers targeted for destruction in 1992 have created thousands of jobs in recent years and will continue to do so. Residents are reaping the benefits of local worker hire policies, wage theft crackdowns, and increases in the minimum wage and living wage.
All told, communities within LA County's Second District have seen 5.5 percent employment growth over the last eight years, coinciding with a 20.13 percent increase in annual wages. If this trend continues, we should be able to chip away at the poverty rate, which, in South LA, has stubbornly refused to budge from about 33 percent since the time of the civil unrest.
Homelessness remains at crisis levels but, for the first time ever, we can see the light at the end of the tunnel. Just this March, voters made history by agreeing to tax themselves over a decade to provide unprecedented resources — $3.5 billion — for ending and preventing homelessness countywide. Measure H is the only revenue proposal ever attempted, much less approved, during an off-cycle election. It will go hand-in-hand with Proposition HHH, a $1.2-billion bond measure to build affordable housing in the city of LA.
Even before voters approved either ballot measure, LA's Second District saw 2,200 affordable housing units built over the last eight years, and 800 more are in the works. Increased government investment has also led to the construction or renovation of several parks, libraries and school-based health centers, though many more amenities are still needed.
Law enforcement and policing remain problematic, though a number of reforms have been carried out over the decades. The LA Police Department has strived to increase diversity within its ranks to more closely resemble the city's demographics, and has placed greater emphasis on community policing rather than being a militarized occupying force. The LA County Sheriff's Department made similar changes and, for the first time, has both an Inspector General and a Civilian Oversight Commission looking over its shoulder.
Despite these changes, complaints of racial profiling, excessive use of force, and other abuses have never gone away.
These days, instead of Rodney King, we hear the names Ezell Ford and, elsewhere in the country, Trayvon Martin, Tamir Rice, Eric Garner and Sandra Bland, among others. The police shooting of Michael Brown triggered violent protests in the streets of Ferguson, Mo., as recently as three years ago.
On April 29, 1992, the rage and anguish of a community that had long suffered injustice and neglect were finally laid bare. Against a fiery backdrop on primetime news, broadcast worldwide, they demanded social justice and economic progress. For a while, it seemed to have an effect – reforms were vowed, investments pledged, an uneasy truce declared.
But, 25 years later, poverty still holds a firm grip on many in South LA, which has among the highest rates of homelessness in LA County. The streets are dotted with vacant lots where planned grocery stores, retail shops and restaurants never materialized. Meanwhile, after years of steady decline, violent crime is on the rise again in South LA, straining an already tenuous relationship between police officers and the community.
We cannot afford to wait yet another quarter of a century before heeding the call of "the unheard." On April 29, 2017, we are closer than ever to delivering on promises of jobs and community revitalization, and to ensuring that law enforcement is professional and accountable. We must seize this momentum and pick up the pace, if we are to avoid repeating the mistakes of the past as we chart a path for the future.
Calling all HuffPost superfans!
Sign up for membership to become a founding member and help shape HuffPost's next chapter