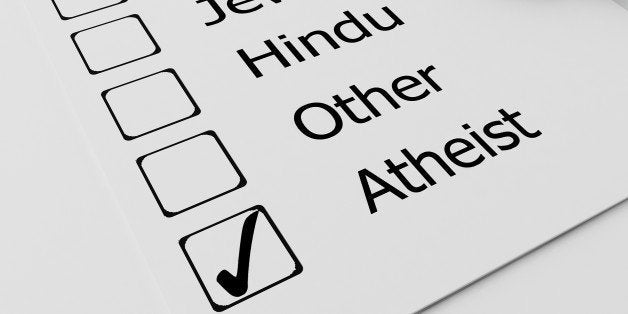 The Atheist Alliance of America National Convention 2014 held earlier this month in Seattle, Washington granted me the opportunity to interview, converse with, and listen to renowned speakers, comedians, and influencers in the atheist movement including the likes of David Fitzgerald, Dr. Steven Pinker, Dr. Rebecca Goldstein, Richard Haynes and Dr. Richard Carrier.
This year's convention drew in approximately 100 attendees throughout the weekend, according to Amy Monsky, Executive Director of Atheist Alliance of America (AAA). Monsky states that the AAA National Convention has several primary goals including: to bring atheists together; to hear great speakers; to network and socialize; and to raise awareness through education.
Below is an overview of the sessions I attended, the conversations I had with presenters and experts, and the interviews I conducted.
Horus Gilgamesh: Atheism Can Cause Death Threats
According to Monsky, there were last-minute changes made to the program when one of the speakers, author Horus Gilgamesh (pen name) of "Awkward Moments Not Found in Your Average Children's Bible" blog, received a death threat to his home address prior to the convention. Subsequently, he decided not to attend the conference for safety reasons.
The letter revealed the blogger's identity reading, "Hello Horus or should I call you [real name]?"
The letter, posted on the author's blog, concluded with: "I'll see you up in Seattle next week. You won't see me."
Signed: "God's Little Helper."
Monsky further stated that the letter was "creepy, but what was especially disturbing about it was because it had his real identity and real address..."
Many of the speakers and attendees wrote Horus Gilgamesh on their name badges to show their support and solidarity for the atheist blogger.
In the session, "Game Changer: Getting School Administrators to Seek out Organized Secularism", August Brunsman, Executive Director of Secular Student Alliance, spoke to the increasing need for secular groups on university campuses. Currently, Secular Student Alliance has 300 groups nationwide promoting secular and nontheistic values through community, advocacy, service, and education.
Brunsman posits that religious organizations like Campus Crusade for Christ (Cru) tend to have more staff members and campus organizers nationwide. Thus, having greater influence on university campuses across the country. Brunsman noted that a key area of growth for the organization is to expand their administrative staff to provide greater services to each of their groups.
A primary issue in continuing to scale the organization is that "over 90% of funding for Secular Student Alliance comes from individual donors."
With increased interest from nontheist affiliate groups, Brunsman hopes to continue maximizing the efforts of Secular Student Alliance to U.S. university campuses. Secular Student Alliance affiliates welcome atheists, agnostics, humanists, freethinkers, skeptics, naturalists, Pastafarians and many others.
The Washington-based weekly radio show, "Ask an Atheist," is dedicated to atheism, skepticism, Secular Humanism, and issues of separation of church and state.
I spoke with Executive Producer Sam Mulvey after his session "Blasphemy Laws & You." I welcomed Mulvey's thoughts regarding the separation of church and state in relation to Mars Hill Church founding Pastor Mark Driscoll's rants promoting misogyny, homophobia, among other forms of prejudices.
While Mulvey disagrees with Driscoll's teachings, he believes that Driscoll should be protected by the First Amendment. However, Mulvey adds that this is a complex issue and that the state should take interest if people begin to act on Driscoll's beliefs and if people are getting hurt.
Religious Freedom Hurts Women
The Religious Freedom Restoration Act of 1993 (RFRA) has recently influenced the Hobby Lobby decision. Hobby Lobby, a craft store chain, and its sister company, Mardel Christian bookstore, asked for an exemption from an Obamacare requirement that it provide insurance coverage for morning-after pills and other emergency birth control methods and devices, according to Constitution Daily.
Diana Castillo, State Chapter Coordinator for Secular Coalition for America and presenter at the AAA Convention, believes the RFRA is preventing adequate family planning services and contraceptive access to women, stating that the RFRA is "depriving women of what they desperately need in their daily lives." She provided AAA attendees with a petition to repeal the RFRA.
For over 30 years, Marsha Botzer has been an activist of the LGBTQ and progressive communities. She believes that the atheist community can better serve those who identify as lesbian, gay, bisexual, transgender, or queer by affiliating with LGBTQ organizations and communities, welcoming LGBTQ individuals into different atheist organizations, and showing greater support for the transgendered community.
I ask Botzer how she feels about Christian organizations and affirming churches that welcome those who identify as LGBTQ. She states that it's fine as long as the religious organizations "truly welcomes them; that not a part of them [their identity] is left behind."
Prevalence of Black Churches
The documentary, Contradictions, produced by Jeremiah Camara and presented at the AAA Convention, highlights how African-American communities across the U.S. are saturated with churches. In Camara's documentary, the influx of churches in African-American neighborhoods is explained as a structural landmark of the community, yet also correlated with "impoverishment, despondency and deprivation."
The church was often used as a space where African-Americans could gather and share ideas during the Civil Rights Movement. Ayanna Watson, Founder of Black Atheists of America, stated in the documentary that, "now, we [African-Americans] cannot separate the church from religion."
Further the documentary shows how Black churches often prey on women through providing a more "emotional" environment.
An Interview with "Brother" Richard Haynes
Richard Haynes used to be an evangelist and minister. Haynes is now President of Atheist Nexus International and acts as a consultant for nontheist organizations throughout the U.S.
Haynes shared his views on atheism, opened up about his former religious life, and talked about his goals for promoting nontheistic values.
I ask Haynes if conversion is a goal in the work he does as a proclaimed atheist. While he believes everyone is entitled to be "evangelical" in their beliefs, his "ultimate goal is peace and unity amongst all people."
Regarding his conversion to Christianity, he describes himself as "born a heathen" having not regularly attended church growing up. He highlights a "troubled" childhood filled with abuse which prompted his leaving home as a teenager.
Even after leaving home, he recalls his love for science. However, he explains how his interest for science and atheism quickly faded:
"...as is often the case, very few people will help you or give you a sandwich unless they're telling you about Jesus, so I out of desperation - a lot of atheists don't understand this - how you can fall for some of this stuff - I literally was able to create that little God box that I put my belief in - of God and faith - where I wouldn't allow reason..."
He further elaborates, "It ['born again' experience] was very genuine, very real. It changed my life. Probably without it, I would probably be dead."
Haynes went on to lead a mega-church in Atlanta, Georgia which he later left due to several scandals within the church. His transition from his faith spanned over 14 years. He mentions that many people along the way ask him if something bad happened to him that prompted him to leave his faith. He states that nothing bad necessarily has to happen to leave your faith, it's sometimes just about "allowing questions."
To Haynes, "atheism is simply a lack of belief in god/s." He continues to say that it's not that one knows there is no god, but that one does not believe in god/s.
As a former believer myself, I ask Haynes if he misses his previous relationship to god.
Haynes responds, "Yes, I do actually. A lot of atheists would hate that I said that. I don't miss god because he didn't exist. I do miss that feeling of communion...it did change my life."
Haynes goes on to say that he misses how welcoming and loving the church community was. However, he believes that the atheist movement and community can also provide that sense of communion and belonging to members, and to those who are seeking an alternative to their religious beliefs.
While I don't entirely consider myself an atheist, I was thoroughly impressed with the caliber of speakers and activists in the atheist community. My alignment with the overall goals of atheism, humanism and non-theism were expanded in fortuitous ways, and I realized how important the atheist movement is to challenging systematic ideologies in the political, social, economic and religious realm.

Steve Hill, Atheist and Comic, sums it best, "Atheism can just make us more human."
The author of the article is not employed or otherwise affiliated with Atheist Alliance of America or its affiliate groups, sponsors, and partnerships.
REAL LIFE. REAL NEWS. REAL VOICES.
Help us tell more of the stories that matter from voices that too often remain unheard.