Now that BP's Macondo oil well has been declared "dead," as reported by Adm. Thad Allen on September 19, the real challenge begins. What is the state of the Gulf and what will it be in 5, 10 years and beyond? To simply take a "snapshot" of the Gulf today is an immense task, involving careful measurement of contaminants in the land, sea and air, as well as health impacts -- short-term and long-term -- on wildlife and on affected populations.
For such a "snapshot" to have real meaning, a side by side analysis of the same information collected before the oil spill would be required -- a difficult task, since a central, open access environmental and public health "library" does not exist for the Gulf or for any region, for that matter. As the Gulf begins a return to equilibrium, we need a series of such massive data sets to gain a perspective on whether a quicker recovery is possible using the best tools available.
Any picture of the Gulf is further muddled by confidentiality agreements mandated by BP for contracted scientists. The information collected by these scientists may not be available publicly for many years to come. The National Oceanic and Atmospheric Administration announced September 19 that they will assemble a team of scientists to measure the environmental impact of the oil spill. Independent measurements will be critical, as will open access to the information.
Not willing to wait for public agencies to respond formally to such an environmental disaster, a group of university students and their professor decided to experience it themselves, to see it, smell it, and, yes, even sample it. While results from the samples are pending, the story of lessons learned could not wait.
The students' journey, like the process of learning itself, took some unexpected twists and turns, inspired by Mahatma Ghandi's imperative: "You must be the change you wish to see in the world." What did they learn?
Traditional learning takes place in the classroom guided by textbooks. While this approach can be effective for transmitting facts, there are major limitations. Textbooks present information fixed in time for the student to absorb. Classrooms limit the experience of learning by their physical boundaries and by scheduled blocks of time that can pressure an instructor to "cover material" -- not to be confused with learning.
Meaningful, deep learning is a personal, idiosyncratic process -- you can never predict which experiences can suddenly spark passion, creating a drive to apply the new found knowledge to do a greater good. It is not a one way street. Prof. Melissa Harris-Lacewell, who taught a course "Race, Disaster, and American Politics" at Princeton University that included a class trip to New Orleans soon after Hurricane Katrina landed, described how learning is a dynamic exchange: "...students always teach you at least as much, and maybe more, than you teach them."
Disasters present both challenges and opportunities. The BP oil spill offered an opportunity to engage our students in service to a community well beyond the boundaries of our campus and, importantly, to grapple with problem solving that is directly connected to our day to day lives.
On July 26, seven students from the "Be the Change" community service group at Kean University and their professor Dr. Norma Bowe set out on a journey to volunteer in the Gulf regions of Alabama, Mississippi and Louisiana affected by both Hurricane Katrina and the BP oil spill. Originally planning to volunteer with cleanup efforts in Alabama and Louisiana, things changed upon the realization that BP had taken control of any volunteering connected to the oil spill. The students participated in a debriefing at the Alabama Costal Foundation in Mobile, Alabama and learned of the devastation on the local population.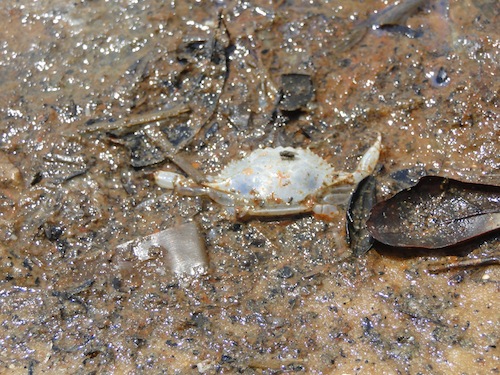 BP tried to tell the local population all was well but most everyone didn't believe it. I was astonished to learn of the resiliency of a neighborhood that started collecting human hair to make booms to keep the oil from the shore line. I felt so good about being there to support those suffering from the devastation. Most everyone down there has had their livelihoods destroyed. It makes me want to continue standing up for what I believe in and be the critical thinker that my college education is helping me be. --Elissa Hyer, Senior Biology Major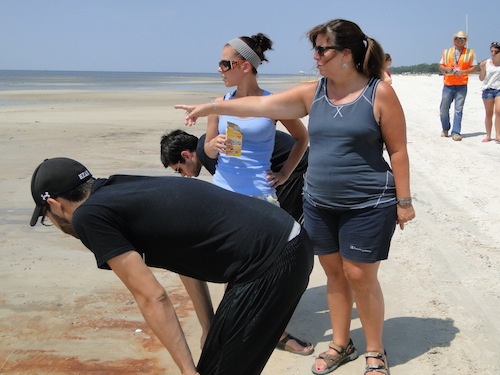 The Katrina Recovery work in New Orleans was a great success. The group did construction on a senior low income housing project still in need of repairs. The residents of the facility poured out of their apartments to greet and thank the group. The students were horrified to see the conditions still existing five years after the hurricane.
I have been so flooded with emotions on this amazing journey. From the start I had a general idea what to expect, but couldn't have braced myself for the amazing relationships we would form and the heartbreaking stories I would hear. -- Mario Da Costa, Junior Chemistry Major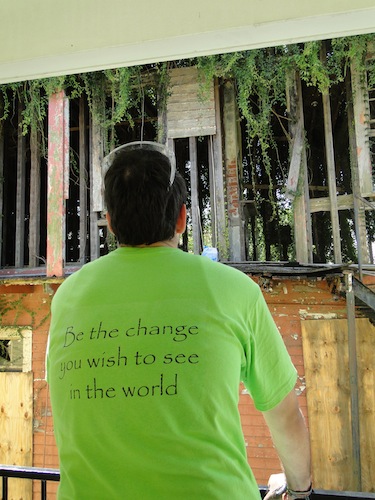 I am now the master of scraping and sanding. As I worked I thought about how easy it is to accomplish large tasks with a group of willing and dedicated people. I also know now, life is a process and there are stages to it as a project. We often have a hard time appreciating the stage we are currently in but I believe that one day we will understand how important the 'sanding' and 'priming"' will be to the finished product... The people we have become! -- Kayla Duncan, Senior Communications Major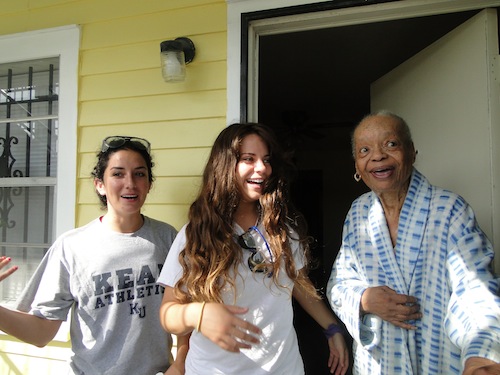 If I had gone through everything that they had, a major hurricane, losing everything, a long recovery, and an oil spill... would I have the strength to smile again? -- Becca Bowe, Sophomore Theater Major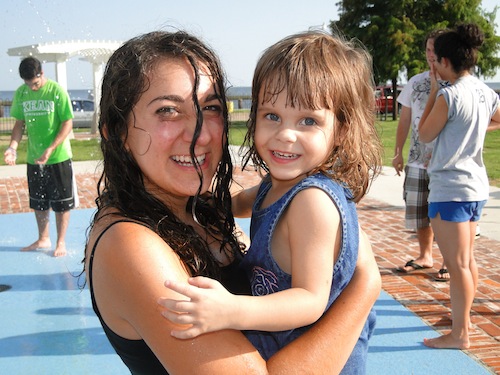 Their next stop was to support the efforts of the wildlife cleanup. Lacking the necessary training to handle wildlife, they decided to support those that did in any way they could, such as preparing and distributing boxed lunches. The wildlife center had been moved abruptly two hours inland and they found it on an army base in Hammond, Louisiana. Needless to say, they did not have the security clearance to visit or assist. They did make it as far as the front desk. Disappointed that they could not volunteer, several of the students went into "journalism mode." A trip to the Piggly Wiggly grocery store down the street from the base proved to be an opportunity for several of them to interview residents, including the sheriff about their opinion of the clean up and the state of local wildlife.
This is crazy! Why would they move birds off shore for clean up? The wildlife rehabilitation is now located in an army base and the street is off any map. I am more than ready to figure out why these things do not add up. -- Nicolette Maggio, Senior Psychology Major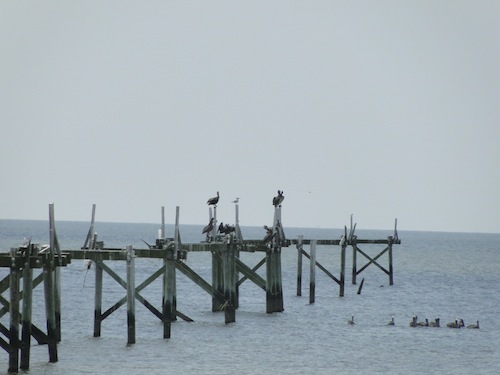 Media and government controlled? How will we ever know the truth? -- Kayla Duncan
The group's last stop was Pass Christiana Beach, Mississippi. They witnessed the beaches sullied with crude oil and the workers sub-contracted by BP trying to clean it up with shovels and plastic bags. The workers allowed the group to help by pointing out debris and tar balls along the shore line. While they were there, a Coast Guard photographer came to take pictures of the workers. He posed them on a tiny stretch of cleaner beach while just feet away the water was filled with hundreds if not thousands of dead jelly fish. One of the students (Benito Nieves) observed this and quietly took a sample of the sand, water, oil and dead jelly fish in a water bottle.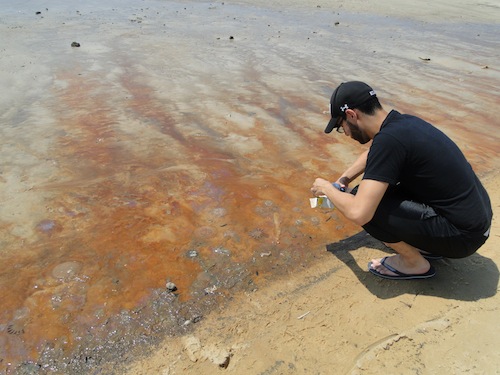 As their journey approached an end, here several students reflected:
Why is this trip important to you?
We healed others, reflected on ourselves and helped communities as much as we could. Never have I experienced such life changing events. -- Mario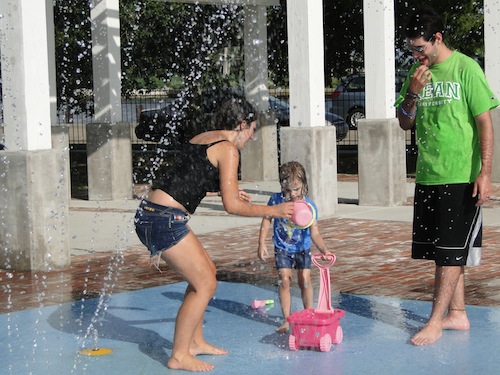 I miss being squished into a car with my friends who had such guts, heart and passion to change the world. I looked out at a beautiful sky and it looked close enough that I might touch a cloud, but I just wanted to hug my "Be the Change" friends. We made a difference in the world. That difference will always give me strength. -- Nicolette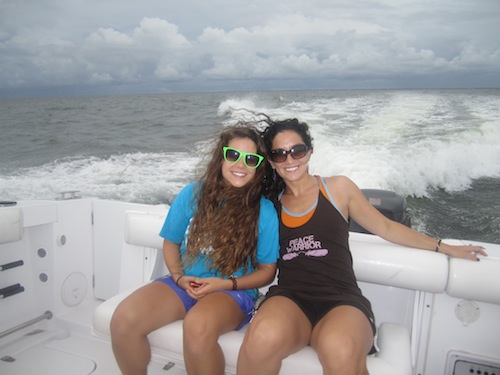 I don't think the trip was anything we expected it to be. There were more struggles, more rewards and effective spontaneity. Instinct led the journey more often than not. A highlight I will remember is resiliency. -- Benito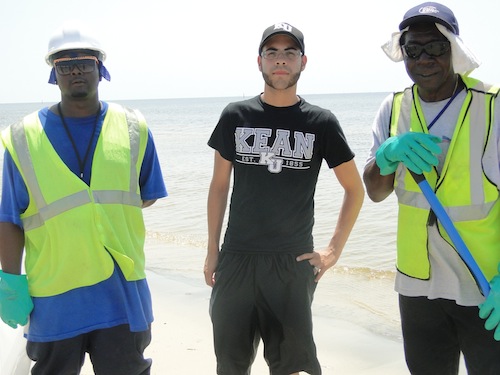 The people here will be in my heart forever. My biggest fears are their constant reality and they face it with grace and compassion. They inspire me to be a better me. We are most powerful when we are vulnerable. -- Becca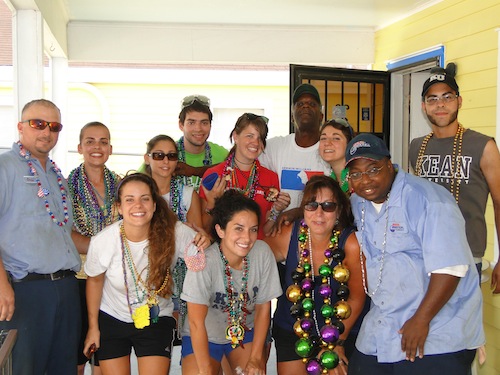 I am so happy to be part of the solution rather than the problem. -- Alexandra Bastos, Early Education Major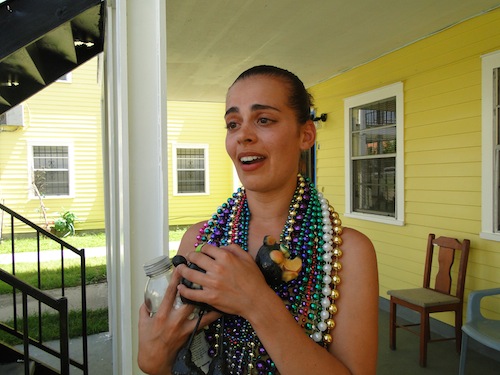 The smallest things can make the biggest difference in the world. We are a small group but the impact we have made is immeasurable. We will carry this experience with us throughout our lives. I want to inspire change so that the world can be a compassionate and peaceful place. -- Elissa
Did their journey foster a "Be The Change" spirit? The changes sparked by the trip are showing already...
On August 26, 2010, Dr. Bowe, Kayla Duncan, and Nicolette Maggio returned to the Gulf to collect samples to be analyzed independently.
Elissa Hyer and Mario Da Costa will be involved in their respective science programs to assist with the analysis of the Gulf specimens.
Kayla Duncan prepared a video and photo presentation in her communication class regarding the trip.
Nicolette has decided to become an environmental attorney.
Becca, Alexandra, and others participated in a Women's Leadership conference in Rhinebeck, NY.
The "Be the Change" group has been invited to Virginia Polytechnic Institute to present on a panel at the International Peace Symposium this November.
This journey affected each of us deeply; below is from a dream:
It is late afternoon, and the sun is glistening off the swells of the ocean. Separating me from the inviting waves is a stark, black picket fence spanning the beach as far as the eye can see. I am pulled towards the ominous barrier. As I come closer, each picket of the fence is transformed into silhouettes which, unlike the uniform pickets of the fence, are shadows of the families that live in the nearby communities. Surprisingly, I can pass through them as if they are vapors. My right foot feels heavy. It is weighed down by a large pool of crude oil, sinking downward. Realization ensues that I am now one of the silhouettes, immobile. Waves wash over me, releasing me from the burden of the oil. My silhouette becomes fragmented into thousands of smaller, sharp angled pieces. This cold comfort is oddly refreshing. -- Anonymous
REAL LIFE. REAL NEWS. REAL VOICES.
Help us tell more of the stories that matter from voices that too often remain unheard.