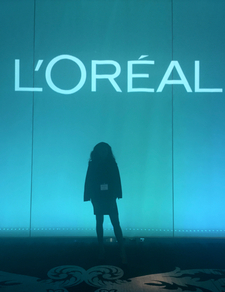 Interning this summer at the world's largest cosmetics company, L'Oréal , has been an experience I still find incredible. Foremost, I knew that I wanted to pursue a career in cosmetics but it was not until I began my internship that I understood just how much I enjoyed the personal care and cosmetics industry. The way science is deeply integrated into the core of L'Oréal made my undergraduate studies worth it. Using my knowledge of chemistry along with my passion for cosmetics products, I was able to adapt and fit into L'Oréal almost immediately. Interning this summer has taught me quite a lot about myself especially when it comes to my aspirations about life. I strongly believe that all students regardless of the field of study should intern. It is a great way to obtain valuable experience that one cannot find in a lecture hall. The following are some key leanings I've found from my internship.
Growth
During my 11-week internship, the growth I was able to attain was monumental. Primarily when it came to my self-confidence. Since I worked independently I was able to understand the entire scope of the project. I also became accustomed to troubleshooting different issues. I often did additional research into the compounds and technologies I was using in order to better understand how critical they were to my project. These skills allowed me to present key ideas and findings to my project manager with the support of the data I obtained. By the time of my final presentation, in front of a panel of senior leaders, I grew tremendously from what is expected from an undergraduate student.
Adaptability
Quite different than working in a research lab, there is a lot that one has to adapt to while working in industry. For starters, the company I worked for is a French company. Seeing as though I am a French minor adjusting to the myriad of French accents and conversations were not difficult for me. However, it was a characteristic of L'Oréal I deeply enjoyed. For those with no experience at all, it might call for an adjusting period. Moreover, because the company was so large adapting to the different departments was also critical. I met with various people across the company. Some people worked in entirely different departments where as some simply worked on the next step of my project. The ability to connect with so many people is why I was able to adapt to such a large company. My ability to adapt to such a change in environment is why I stress the importance of interning. The environment that you become accustomed to in a university setting is far different than what the real world has to offer.
Networking
Through this internship I was able to network with various people in the company. Primarily through events such as mixers, 1:1 meetings, and team activities interacting with others made the internship worthwhile. Through those connections I was able to get a lot of feedback and advice on how to proceed with my career objectives. I spoke with individuals who's career tracks differed from their educational tracks simply because they were able to find something they felt was more rewarding. Education of course is the key but establishing yourself in a company was another recurring theme I saw from those with whom I interacted. Networking also allowed for the opportunity for me to speak with individuals I would normally have never encountered. Those connections enabled to me to understand just how broad of a company L'Oréal is while allowing me to understand the importance of each sector.
Rewarding
Above all the most joy that came from interning was how rewarding it felt to work for such an industry leading company. For most of my life I have been obsessed with cosmetics. I played with my mother's lipsticks as child as most youth but I also focused my science fair project on the removability of concealers. Being able to use my undergraduate knowledge of chemistry in a field of beauty has highlighted the culmination of my hard work. While my internship was aimed at achieving career experience it was a precursor of how rewarding it felt for my hard work to reach such an industry.
With that, I encourage all students at a university level to intern in the field of their studies so that they can physically apply what they have been taught.
REAL LIFE. REAL NEWS. REAL VOICES.
Help us tell more of the stories that matter from voices that too often remain unheard.