John Kiara, 15, wipes sweat off his forehead as he stares down at a stair set of his height.
He runs a few steps, hops on a skateboard and jumps down the drop. The impact of landing shakes his balance slightly off and he falls forward on the concrete. Kiara brushes his hands off the sand dust, grabs the board and runs up the stairs for another try.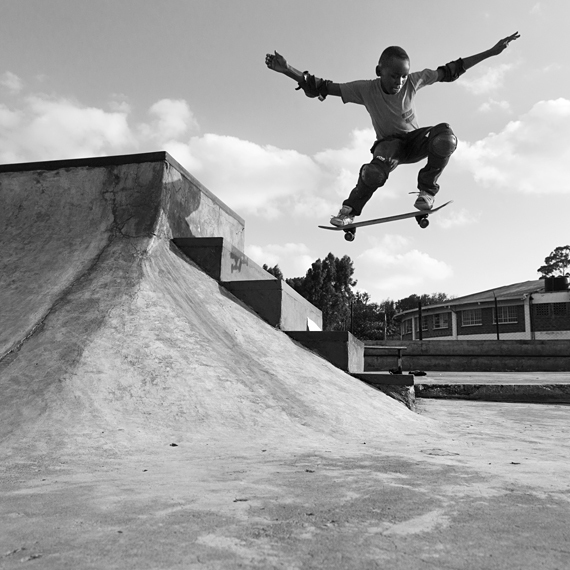 All photography by Janne Riikonen
It is Tuesday afternoon in Nairobi and the sounds of play and joy fill Shangilia Skatepark, the first and only skatepark in Kenya. Daniel Gluche, a skateboarder himself and one of the masterminds behind the skatepark, observes Kiara's skating from a distance.
Kiara is focused, ready for a second shot. This time he lands the jump right on the trucks and rolls away maintaining his balance. He cracks a wide smile, the feeling of success is his reward for pushing himself.
"Skateboarding has tough me discipline and to be courageous", Kiara tells.
For now he skates the park nearly every day, as he does not have a chance to attend high school due to high tuition fees. He lives in the adjacent slum of Kibagare, where drug abuse and petty crime blossom among idle youth. Skateboarding is his way to spend leisure time productively.
He is an epitome of skateboarding's positive effects justifying the need for the skatepark. Living in a babylon city - as Gluche calls it - skateboarding can teach the children something special.
"In Kenya money rules and people are generally very materialistic. Even globally people are getting more selfish and lack empathy towards others. Skaters have a different connection, on a board everyone is equal and skin color doesn't matter anymore", he explains.
"Skateboarding brings the people together from different tribes, backgrounds and economic statuses."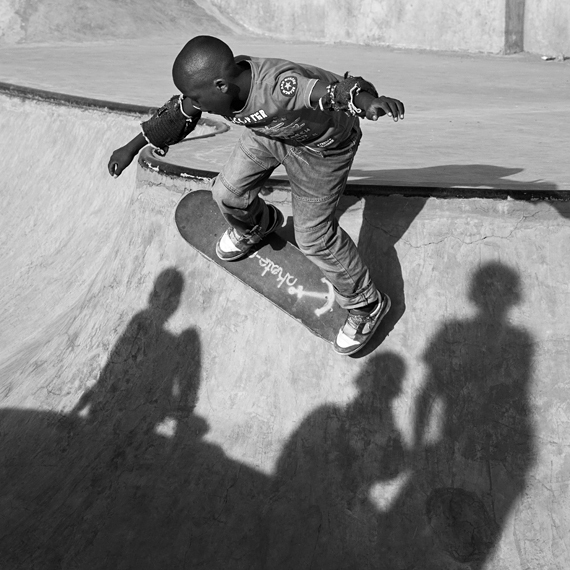 John Kiara drops into the pool and surfs the concrete waves with full concentration. While waiting his turn Zacharia Mwaniki, 14, studies his friends lines and movements in the ramp. After a clean run and sharing a fistbump, the friends quickly move to another section of the park for the next tricks.
The park currently has 17 boards for the use of the children, most of whom cannot afford to buy one of their own. Skate shoes, safety pads and helmets are also provided.
The use of the park was recently scheduled by age groups due to the lack of equipment. When there was no such system, the stronger characters used to take the boards from the shyer and younger ones, and so got to skate more.
Although there is a chronic shortage of all equipment, the park itself is very satisfying. The 1000 square meter park has a great variety of obstacles: Handrails, quarter pipes, stair sets, flat bars, curbs and the pool.
The park is located on the property of Shangilia School of Performing Arts. The orphan school founded by a renowned Kenyan actress Anne Wanjugu bases on similar philosophy as the skate-project: Empowering the children by building their self-confidence through the activities.
They saw similar possibilities in skateboarding, and so bestowed their land for the use of skatepark.
And by most of the visitors being attenders of the Shangilia orphanage, the skatepark acts rather as a playground than a skate spot. It is a place for the children to experience something new, to overcome their doubts and most importantly to enjoy their time.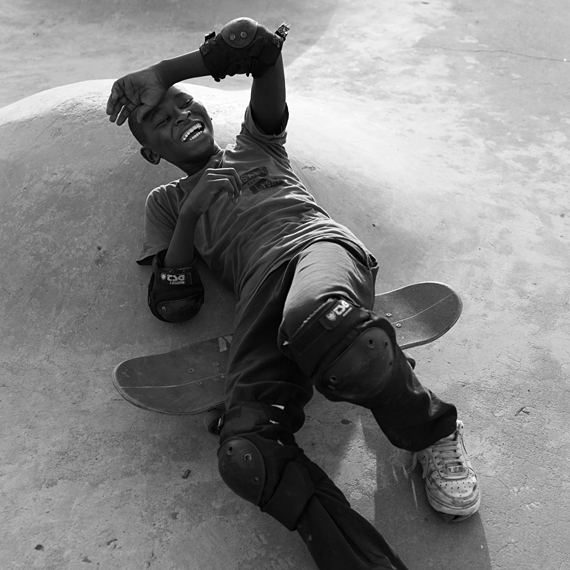 It all started in 2008. Gluche was strolling at the town of Nairobi after a work meeting as he heard a familiar sound. "No way, this can't be true", he though, as he recognized the purring sound of skateboard's bearings.
Gluche found the tiny skater community of Nairobi and started to skate again after a few years of break. They used to gather at Uhuru park, jumping at a set of stairs and gaps, while by-passers gazed at them marveling. The biggest dream for the small but dedicated group of skaters was to have a proper skatepark in the city.
Shortly after Gluche found an article about Skateistan, a sport-for-development-project established in Afghanistan's capital Kabul in 2007.
A bulb illuminated: What if something similar could be done in Kenya? Gluche contacted Skate-aid, a German organization that supported Skateistan, to propose his idea. Skate-Aid got immediately interested in Gluche's proposal and sent a director to visit Kenya for project planning in the following spring. Funding got fixed and all seemed feasible, but the biggest issue turned out to be where to build the park.
Buying a piece of land is a hassle in Nairobi, where land grabbings are common and corruption is very high. That is when Shangilia School of Performing Arts helped greatly by permitting the land usage for the skatepark.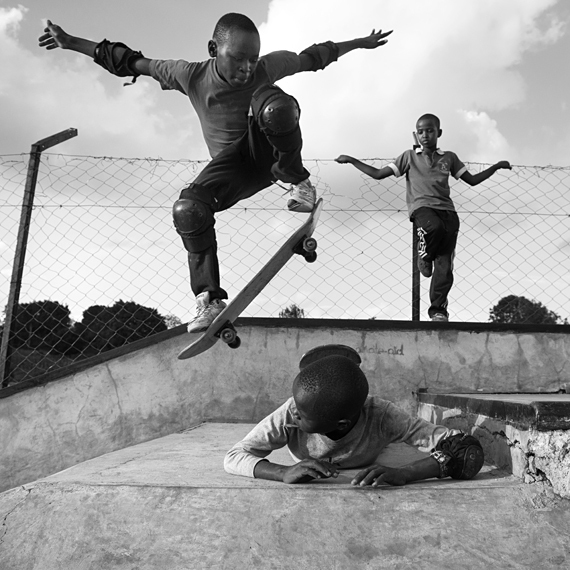 At 6.30 p.m. the sun sets and the session is over. With lighting the skating could continue until 9 p.m.
Having given their all, Kiara and Mwaniki take off the safety pads and place the skateboards into the shelves of the barrack. Only now, after a few hours of sweating, the boys have the first drinks of water.
Gluche is highly satisfied with the achievements of building skate culture in Kenya and the East Africa. He works as a regional director for Skate-aid East Africa and also coordinates other projects in the region.
Besides doing good for others, the chosen path allowed him to reboot his life and also brought him back to skateboarding, his "first love".
"For me to skate again, at the age of 38, is one of the biggest blessings. When living in Germany I had an own IT project company. I sat at the office until 10 p.m. every day, I got chubby and frustrated thinking that life cannot go on this way. I worked for the money, not for a reason anymore."
"The idea of Skate-aid is to build self-sustaining systems and then move onwards, to other countries and communities where similar projects would be needed."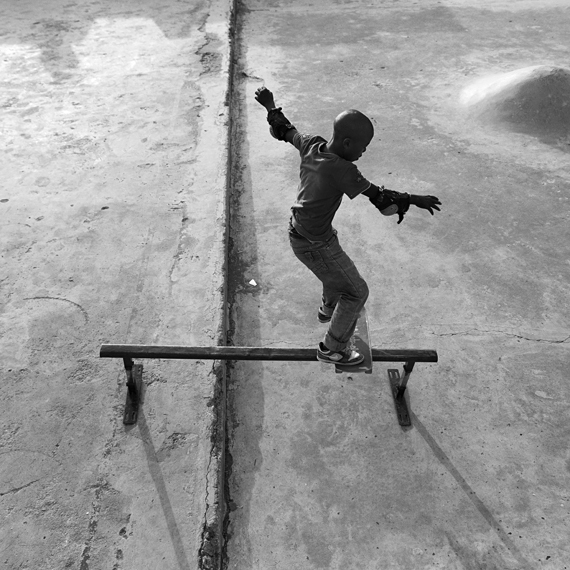 Skate-aid currently runs projects in 15 countries across the world, with the focus on developing countries. In addition five projects have been launched in Germany, where one of the aims is to help the refugee youth to integrate into a new society through skateboarding. The sport unites people and builds bridges between cultures.
"Some people thought we are crazy and actually laughed at us for bringing skateboards to children who have more urgent needs like food and clothing", Gluche tells.
But instead of bringing a quick relieve, he wanted to develop something more pregnant and meaningful.
"Life certainly is not easy here, but from skateboarding these kids can learn a valuable lesson; no matter how many times you fall, you need to get back up again."
John Kiara greets his friends and Gluche for goodbye and ambles home just around the park's corner. Tomorrow he will be back again, for another lesson of life on four wheels.
Calling all HuffPost superfans!
Sign up for membership to become a founding member and help shape HuffPost's next chapter