My 38th birthday present to myself was Arianna Huffington's 6-week #ThriveOCourse on Oprah.com. At the time, I felt myself floating in a dangerous sea of constant overwhelm. I was growing one business while preparing to return to another, raising my 2-year-old toddler boss, averaging 4-5 hours of sleep on a good night and battling almost-daily migraines.
It was hearing Arianna's story about passing out at her desk and waking up in a pool of blood that finally gave me the wake-up call that I needed. I thought about how hard I was working, trying to do everything and be everything to everyone, and neglecting my own well-being in the process. By the time I finished watching the intro video, it felt like Arianna was in a lifeboat and I was reaching out my hand for her to save me from myself.
In the subsequent weeks, I actually learned how to increase my productivity by sleeping more, thanks to one of Arianna's first lessons on "Sleeping Your Way to the Top." I'm also meditating more, getting more exercise, experiencing fewer migraines and being much more selective about the people and projects that I give my time to. I'm comfortably using "No" as a full sentence now, with no further explanation given, something I never considered until Arianna shared it.
Perhaps the most jarring change in my life was putting myself on a much-needed digital detox program. Although it was difficult at first, taking breaks from my devices and the constant demands of e-mail and social media has given me the opportunity to be more present with the people and moments that matter most in my life.
One such moment came during the last week of the course, which I like to think of as my final exam. Up until that point, everything I'd done was about improving my own life, but this test was about how well I could apply the final lesson on giving to others. I'd just dropped off my daughter at school and I stopped at a local CVS before heading to work. The clerk asked how I was doing and when I ask him the same, he replied, "Not good. I have nothing to be happy about."
I immediately recalled two things from course. The first was Arianna's question, "When was the last time you were at the supermarket and you looked up and smiled and really connected with the person behind the register?" The second was a quote from Arianna's very wise mother: "Don't miss the moment."
"The work can wait," I thought to myself, "this is a moment that could change his life and maybe mine too."
The clerk's name was Mohamed, and I shared with him the 10-finger gratitude exercise that was one of our assignments during the course. The idea is to use each of your 10 fingers to name something that you're grateful for every day.
At first, Mohamed told me that he couldn't think of anything, so I started the list for him. We went back and forth, each listing something that he could be grateful for until we got to 6. I told him that I wanted him to think of the rest for homework and that I would be back to check on him in a week.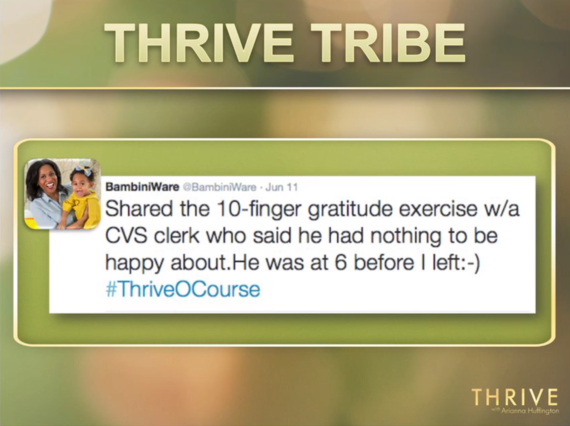 I had no idea that Arianna had seen my tweet about Mohamed until she mentioned it during our final live office hours call. When I visited Mohamed this week, I was surprised to see how happy he was when I walked in. It was almost as if he'd become a different person. I told him about Arianna's interest in his story and how we were both anxious to hear an update from him.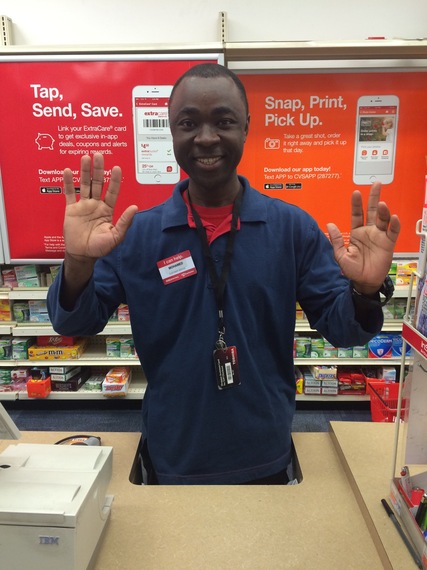 He began by telling me that he realized that I was right, and that he'd started reflecting on all of the things that he was really grateful for in his life. In fact, he'd actually lost count. So, in the midst of customers shuffling in and out of his checkout line, I waiting patiently while Mohamed gave me his top 10:
1. God. Mohamed is thankful that he knows God and that God has protected him throughout his life (see #9, below).
2. Good health. He's thankful that he has good health, even though he was a little worried when I asked him to hold up his 10 fingers because he has nerve damage in his left arm and all of his fingers would not be straight.
3. America. He's thankful for the opportunity that he had to come to the US eight years ago from Sierra Leone to start a new life in the land of opportunity.
4. Family. Mohamed told me that the reason he wasn't happy during our first interaction was that he missed his family. Even though he's happy to be here, he really missed feeling connected to anyone.
5. Family in America. In the week that passed, Mohamed found out that a cousin in Sierra Leone won a Diversity Visa to come to the US and he was really excited about having him here. Mohamed wasn't worried at all that his family didn't yet have the money to send him. They'd already made a plan to save and pool their money together to finance everything, and that made him very happy.
6. Job. Mohamed is the first person you see when you walk in the store and he always has a smile for you, even on the day that he was feeling sad. I've watched him keep a kind demeanor even when customers have been rude to him. He's very proud of the great performance reports that he's gotten from both his store and district managers.
7. Money. He doesn't make much, but Mohamed is so grateful for what he does have.
8. Shelter. Mohamed can't afford an apartment in DC, so he lives in someone's basement. He's thankful, nonetheless, that he has food and shelter when so many other people are homeless.
9. Protection. He has another job at a 7-Eleven that's been robbed three times and once at gunpoint. On all three occasions, Mohamed is thankful that he was not there.
10. Growth. Mohamed told me that he's an introvert, but he doesn't want to be one forever. He's thankful for the opportunity to strive to do better in this area and many others in his life.
I couldn't have imagined a more fitting test to culminate my experience as a #ThriveOCourse student. One of the many things that I'm thankful for is the opportunity I had to meet Mohamed and share what I learned with him. I'm thankful too for what I learned from him about recognizing the beauty of what's really important. As I listened to his list, I starting thinking about how trivial the things that I often worry about are in the grand scheme of my existence. #FirstWorldProblems
Last, but not least, I'm so thankful to Arianna and OWN for providing the spark and practical tools I needed to move beyond living, working and surviving to THRIVING.
Related