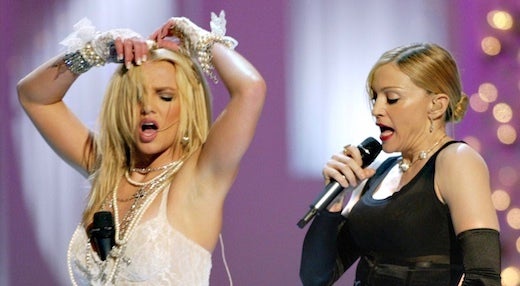 Over the summer, I interned for an LGBTQ-rights organization in Chelsea. One day, after a fellow intern named Andrew said he likes to watch videos of choreography on YouTube, I asked him if he had ever seen Madonna's music video for her "MDNA" single "Girl Gone Wild." He chuckled and said no. (There was a hint of condescension in his voice, as if Madonna was lame and so of course he hadn't seen it.) I pulled up the video and hit play.
The video begins with Madonna uttering a prayer of repentance to God, expressing her deep regret for her sins and her even deeper desire to be good, before breaking into a hypnotic house beat that doesn't win awards for originality but still does the trick. (The first words of the song are "It's so hypnotic…") The video comprises everything that made Madonna a gay icon over 30 years ago: a clever, calculated nod to religion (usually Catholicism) that may or may not be irreverent; an exploration of the cross-sections between sexuality, goodness, and evil; her "look the camera in the eye" confidence and unapologetic display of female sexuality and empowerment; and beautiful, buff, half-naked men (wearing makeup in this video) who writhe around on the floor like women. In the video's best scene, Madonna channels Brigitte Bardot in a black catsuit, her blond hair teased high in a quintessential 1960s-Parisian style, and performs brilliant choreography with male dancers who wear nothing but black tights and impossibly high platform stilettos. On a superficial level, the song itself manages to do what all of the best gay anthems do: make you want to dance and make you feel sexy. More profoundly, it strikes upon a deeply-held desire of many, if not most, gay men: to experience life — and sex — as an uninhibited, unashamed and invulnerable woman.
I could tell that Andrew was impressed by the video. I asked him if he had ever seen Madonna's iconic "Vogue" performance from the 1990 MTV VMAs. He shook his head. As I pulled up the video that I've seen at least 100 times, I told him that I was 7 years old when I watched the performance on live television, tagging along on a baby-sitting job with my teenage sister. (My fundamentalist Christian mother would never have allowed us to watch it in our home — Madonna was a blasphemous enemy of the Church — so needless to say, we never told her.)
The performance is iconic for many reasons, the first being the song itself. "Vogue" is one of the best dance songs ever produced, and it is also one of the gayest. Not only is it inspired by the vogue style of dance that originated in the Harlem drag balls of the 1980s, but it also mentions a number of other gay icons explicitly, like Marilyn Monroe, James Dean, Jean Harlow, and Bette Davis. Secondly, the costumes, designed in the 18th-century-style of Marie Antoinette, are frilly and elaborate, like sugary confections.
And then there are the lithe male dancers—all legs in their short shorts and white court shoes—who vogue flamboyantly. Much could be written about Madonna's back-up dancers in the performance, who became gay icons themselves after the film Truth or Dare debuted in 1991. Truth or Dare documents Madonna's 1990 Blond Ambition Tour, providing a behind-the-scenes look at her life and also the uniquely intimate relationship that she had with her dancers. The most groundbreaking aspect of the film was its uncensored portrayal of the lives of gay men during the height of the AIDS crisis. There are scenes where the men kiss one another passionately after Madonna dares them to, and others where they speak candidly about sex and dating, the club scene, and the importance of gay pride and visibility. The film—and, arguably, Madonna—gave a voice to these men when a conservative administration and the Religious Right were doing everything that they could to silence them.
Andrew was impressed by the "Vogue" performance, too. I told him that the first time I saw Madonna in concert was during her 2004 Reinvention Tour, when I was 21. She opened the show with "Vogue," adorned in a modernized version of the 1990 VMAs costume, and it was nothing less than a religious experience for me. I've seen Madonna in concert four times since then, including twice for her Confessions Tour, which coincided with the release of one of the best pop albums of all time, Confessions on a Dance Floor.
In 2003, during another iconic VMAs performance, Madonna French-kisses Britney Spears during a medley of her songs "Like A Virgin" and "Hollywood." Madonna is the groom in a black tuxedo and Britney the bride in a wedding dress fashioned after Madonna's get-up from her first-ever VMAs performance in 1984. In gay media, the kiss symbolized a passing of the scepter from the queen of pop to the reigning princess (sorry, Christina Aguilera), and it immediately elevated Britney to the status of gay icon.
I'm a huge Britney fan. (I'm always a little embarrassed to write this, because it feels like I'm admitting that I'm a fan of Barbie.) In terms of musical talent, she pales in comparison to Madonna, but when she appears on stage, she is magnetic. Britney is at once the prom queen, the head cheerleader, the kindergarten teacher, and the stripper. She is damaged and vulnerable to the point of pitiful, and yet, evidently, she is indestructible. She is a gay icon because of her oh-so-innocent/"not that innocent" Monroe-like sensuality, her sweet, almost saccharine nature, her beyond basic but addictive pop songs, her dance moves, her phoenix-out-of-the-fire comeback from a series of mental health crises, and her unmistakable tenderness. Britney is camp. She is a fashion plate. A doll. Britney is a drag queen.
During my internship, I always kept an eye on what was happening on social media concerning LGBTQ issues. I was happy to see that, for Pride Month, Britney composed a "love letter" to her LGBTQ fans. She wrote,
"You've always been so vocal about what a positive impact I've had on you—that I've instilled joy, hope and love in you at times when there was none. . . . That my story gives you hope. But I have a secret to share [with] you. You see it's actually you that lifts me up. The unwavering loyalty. The lack of judgment. The unapologetic truth [and] acceptance! Your stories are what inspire me, bring me joy, [and] make me and my sons strive to [be] better people. I love you."
I found the sentiment genuine and endearing, and I loved that she mentioned her sons in the letter. Britney also wrote that she is proud that her music has inspired the LGBTQ community. To me, everything that makes up Britney's career as an artist—her songs, her videos, and her performances—are greater than the sum of its parts. Thus, it's difficult to think of specific songs that 'inspire' without thinking about a dance break in the video or a provocative awards show performance. I suppose the best example would be her song, "Stronger."
"I'm stronger than yesterday, now it's nothing but my way, my loneliness ain't killing me no more …" The lyrics to "Stronger" aren't sophisticated, but the message of strength, determination, and, most importantly, freedom from loneliness, appeals to all marginalized communities. As a gay person, especially a closeted gay person, the loneliness can be crippling. Harboring shame and fear of rejection, without being able to voice these feelings, is the worst kind of isolation. In that same vein, an inability to share with others one's hopes and dreams for romance—the crush he's developed on a schoolmate or how hot he thinks Colin Farrell is—is also terribly isolating.
But beyond the lyrics to any of Britney's songs, the main reason Britney appeals to the gay male community is her pure, unfettered 'girly-ness.' When I was in my late teens, suffocating from toxic masculinity and terrified of expressing my femininity, Britney was my secret outlet. I could listen to her music or watch her video and for a few minutes become a self-possessed, sexy, and sweet young woman with perfect makeup and a toned tummy, who gets all the cutest guys. Alone in my bedroom, suddenly there would be gender fluidity and freedom.
I could go on and on about Madonna and Britney Spears, not just because of the somewhat guilty pleasure that they arouse within me, but also because they encapsulate so many aspects of modern gay popular culture. And I've grown up with them: Britney is only a year older than me, and her first album debuted not long before I came out, and Madonna's first single, "Everybody," was released in late 1982, only months before I was born. I identify with their music, their artistic expression, their tenacity, and perhaps most importantly, the broad portion of the spectrum of femininity that, together, they encompass. Madonna and Britney might not be the most self-forgetting, philanthropic gay icons to ever walk the earth, but they have unequivocally accepted us, given us a voice in times of crisis, befriended us, employed us, and most of all, they have never failed to entertain us.
BEFORE YOU GO