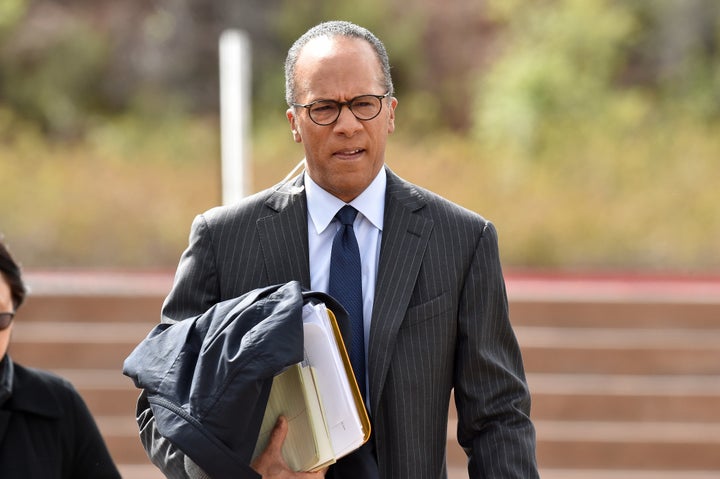 NEW YORK  ― Lester Holt didn't look like a man worried that as many as 100 million people would soon be watching his every move, parsing his every word for signs of bias.  
After wrapping up "NBC Nightly News" on Tuesday night, Holt headed west to a rooftop lounge where colleagues were celebrating the 25th anniversary of "Dateline," the weekly newsmagazine he also anchors. "I like the idea of being 25 again," he joked with partygoers before jumping on bass for a few songs with his band, the 30 Rockers. The cocktail-sipping crowd, which included NBC News chief Andy Lack and network stars like Chuck Todd and Andrea Mitchell, requested, and received, an encore.
The veteran journalist takes on a much tougher gig Monday night, when he moderates the first presidential debate between Hillary Clinton and Donald Trump, and the massive audience at home won't be as forgiving. The highly anticipated faceoff is expected to rival some of the biggest moments in television history and presumably top the 67 million viewers who tuned in for the first 2012 debate between President Barack Obama and GOP challenger Mitt Romney. 
Television anchors seek out the biggest stage possible, and moderating a presidential debate brings prestige. But along with it comes intense pressure that's only been heightened this election cycle by Trump's persistent criticism of the "rigged" process and a debate over whether it's the moderator's role to fact-check the candidates' misstatements or outright lies. 
"All that we're asking is that if Donald Trump lies, that it's pointed out," Clinton campaign manager Robby Mook said Sunday on ABC's "This Week." Trump campaign manager Kellyanne Conway said later on the same program that moderators shouldn't be "virtual fact-checkers."
Into this highly charged atmosphere steps the 57-year-old newsman, a seemingly unflappable presence on the air for decades, who'll face intense scrutiny. Holt may not be the most widely known TV news star, but he's highly regarded inside NBC as a steady hand behind the anchor desk who can go for long stretches of time during major news events. It's how he earned the nickname "Iron Pants." 
After anchoring the local news in Chicago for 14 years, Holt went national with MSNBC in 2000 and became a go-to anchor during rolling news events such as the Florida recount and Iraq War. His portfolio continued to grow after shifting to the broadcast network in 2003, eventually becoming weekend anchor for "NBC Nightly News," co-anchor for "Weekend Today" and "Dateline" anchor.
In February 2015, Holt stepped behind the "NBC Nightly News" anchor desk as the network was embroiled in scandal over Brian Williams' false claim about coming under fire in Iraq and other alleged exploits. NBC officially handed Holt the reins, a promotion which made him the first African-American journalist to solo anchor a broadcast network evening newscast.
"We are not unaware that there are a lot of eyeballs on us right now, and there will be," Holt said at the time. "We are going to try to deliver every day."
Holt will not only face a lot more eyeballs during the debate than he does on the "Nightly News," which averages nearly 9 million viewers a night. He'll also face Trump, a candidate who has waged an unprecedented attack on the press and has repeatedly suggested he won't be treated fairly.
Trump's pre-emptive complaints have been seen as a classic attempt to "work the refs" ― to influence the moderators, consciously or subconsciously, to go easier on him for fear of being perceived as biased.
While Trump described Holt as "a good guy" weeks before he was selected as moderator, the Republican presidential nominee has since been sowing doubts about the journalist's ability to be fair ahead of Monday's debate. "Look, it's a phony system. Lester is a Democrat," Trump said on Fox News, his preferred network. "I mean, they are all Democrats. Okay? It's a very unfair system."
Holt is actually a registered Republican.
Trump's willingness to routinely make such false claims presents a challenge for Holt, who will surely be criticized if he allows outright lies to go unchallenged. 
Fox News anchor Chris Wallace, moderator for the third Clinton-Trump contest, sparked controversy earlier this month by saying he doesn't view his role as a "truth squad" and expects the candidates to fact-check one another. 
Days later, during a widely panned performance moderating a presidential forum, NBC "Today" show host Matt Lauer failed to challenge Trump's lie about immediately opposing the Iraq invasion.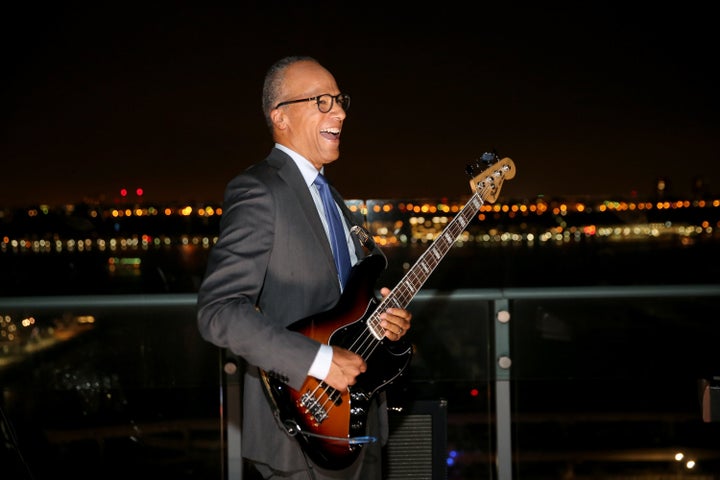 Holt hasn't said where he stands on the fact-checking issue ― or anything about his debate plans. An NBC spokesman who accompanied Holt during Tuesday night's event said the moderator wasn't commenting in advance. 
NBC sources told CNN's Brian Stelter that Holt won't be a "potted plant" during the 90-minute debate, and can be expected to set the record straight if necessary. The network declined to make anyone available to comment on Holt's preparations.  
But the topic has come up on air.  
Todd, who serves as NBC political director and host of "Meet the Press," stressed last week on MSNBC's "Morning Joe" that the focus should remain on the candidates, not the moderator, during a discussion about fact-checking. 
"Good grief, leave the man alone," Todd said. 
"It's about Trump and Clinton at the end of the day, not about any of the moderators," he continued. "If the moderators are the story after the debate, that's a disservice. That's either the candidates or the campaigns wanting to deflect on bad performances or whatever. We can't take our eyes off the two candidates."
"Of course, of course," co-host Joe Scarborough responded. "I'm just saying, though, nobody's really moderated a wrestling match." 
CORRECTION: This story previously stated that Lester Holt was the first African-American to anchor a broadcast network evening newscast. He is the first African-American anchor to solo anchor such a newscast.
REAL LIFE. REAL NEWS. REAL VOICES.
Help us tell more of the stories that matter from voices that too often remain unheard.
BEFORE YOU GO